Podcast: Play in new window | Download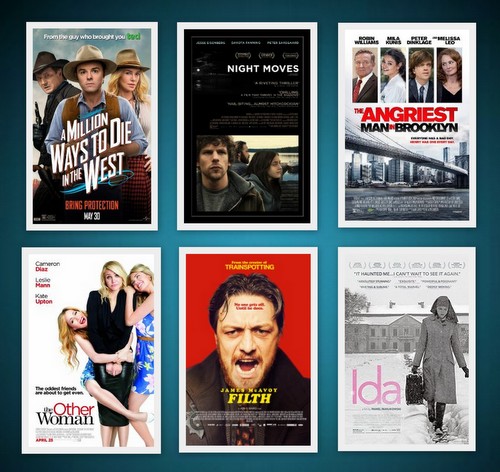 This episode is dedicated to film critic Jeff Vice…
For Episode 088 of Movie Podcast Weekly, your favorite four film critics review "A Million Ways to Die in the West," "Filth," "Night Moves," "The Angriest Man in Brooklyn," "Ida," and "The Other Woman."
Movie Podcast Weekly typically features four hosts (and frequent guests), who give you their verdict on at least one new movie release that's currently in theaters, mini reviews of what they've been watching lately and specialty recommendation segments. New episodes release every single Monday.
SHOW NOTES:
I. Intro
— The untimely loss of film critic Jeff Vice
(Eric D. Snider's Jeff Vice Obit)
— Poll question results: The winner for Jason's birthday bash = The Terminator franchise
II. Mini Reviews:
Karl:
The Frozen Ground = 8 ( Definite Rental )
The Other Woman = 7 ( Rental )
Josh:
Comedy Central Presents (Stand-up Specials):
Rory Scovel (Must Watch / Stream It)
Kyle Kinane (Must Watch / Stream It)
Chelsea Paretti (Stream It)
Pete Holmes (Stream It)
Marc Maron (Stream It)
Doug Benson (Stream It)
Maria Bamford (Avoid)
Donald Glover (Avoid)
Anthony Jeselnik (Avoid)
The Story of Film: An Odyssey – Part 3 – The Golden Age of World Cinema = 5 ( Stream it; lower priority )
Jason:
Twister, Forrest Gump, Avatar (and Titanic)
Saw = 8 ( Buy it! )
The Living Daylights = 5 ( Low-priority Rental )
Next Week's Bond: License to Kill (1989) – join us!
Andy:
The Starving Games = 4 ( Avoid )
InAPPropriate Comedy = stopped watching it – 4 ( Avoid )
Austenland = 5 ( Rental )
Jackass 3D = 8 ( Avoid )
III. Feature Review: A MILLION WAYS TO DIE IN THE WEST (2014)
Jason = 4 ( Avoid )
Andy = 5.5 ( Avoid )
Josh = 2 ( Avoid )
IV. Feature Review: NIGHT MOVES (2014)
Josh = 6 ( Rental )
V. Feature Review: THE ANGRIEST MAN IN BROOKLYN (2014)
Jason = 4 ( Avoid )
VI. Feature Review: IDA (2014)
Josh = 8 ( Rental )
VII. Feature Review: FILTH (2014)
Jason = 7.5 ( Strong Rental )
VIII. Wrap-Up and Witless Banter
NEXT WEEK:
We will be reviewing EDGE OF TOMORROW and CHEF and BLENDED and THE DOUBLE (as well as The Story of Film Part 4 and License to Kill.)
Links for this episode:
From Josh: Star Wars Influences Feature-length Mash-up
Josh was joined by the late Jeff Vice (and others, including Jeff Goldsmith) when they covered Sundance 2012 on: The Documentary Blog Podcast
NEW! Remember to add Movie Podcast Weekly to your Stitcher playlist here: Stitcher.com
Follow Movie Podcast Weekly on Twitter: @MovieCastWeekly
Check out Book Review Podcast
Horror Movie Podcast Ep. 016: The Sacrament and Contracted and We Are What We Are and Lizzie Borden Took an Ax
Josh covers streaming movies: Movie Stream Cast
We'd also like to thank The Dave Eaton Element and Dave Eaton himself for the use of his music for our theme song.
Special thanks goes out to singer-songwriter Frederick Ingram and the Blue Claw Philharmonic for the use of their music and the voice talents of Midnight Corey Graham from The Electric Chair Podcast, Willis Wheeler from the Terror Troop Podcast and Spike Real for their help with our recommendation segment intros.
If you like what we do here at Movie Podcast Weekly, please subscribe and leave us a review in iTunes. If you want to support the show, we have PayPal buttons in our right-hand sidebar where you can make a one-time donation or you can become a recurring donor for just $2 per month.
You can always contact us by e-mailing MoviePodcastWeekly@gmail.com. Or you can call and leave us a voice mail at: (801) 382-8789. And you can leave us a comment in the show notes for this episode.
Thank you for listening, and join us again next Monday for Movie Podcast Weekly.