Podcast: Play in new window | Download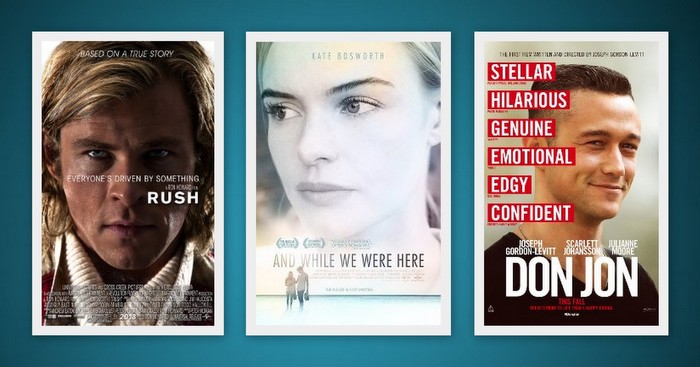 For Episode 053 of Movie Podcast Weekly, we fully intended to bring you three feature reviews, but you only get about two and a half reviews… That's right — as a Movie Podcast Weekly first — one of your hosts WALKED OUT on one of these movies, so we couldn't rightfully give you a few review with ratings… The three films under consideration this week are: Rush, And While We Were Here and Don Jon. We also get into a discussion about the depictions of marriage in movies… Don't miss it!
Movie Podcast Weekly features four hosts (and frequent guests), who give you their verdict on at least one new movie release that's currently in theaters; mini reviews of what they've been watching lately; and specialty recommendation segments. New episodes release every single Monday.
SHOW NOTES
I. Intro
— Final episode of Breaking Bad
— Tuesday, October 1 will be 1 year for us!
— A big shout-out to Brian Champagne
II. Listener Feedback (and Love)
— Donation and comments from Chad
— Jeff Hammer's request
III. Mini Reviews
Karl: Love Actually (fully extended version — thanks to Scott Teal), The Kings of Summer
Jason: Quatermass, Star Wars Episode IV fan cut, The Office Season 9, Bloodline
Josh: The Descendants, Take This Waltz
Andy: Home Movie (2008), Drive, Upstream Color
IV. Partial review of DON JON:
Jason: No Rating (Walked Out After 15 Minutes)
Josh: No Rating (Only Caught the Second Half at a Film Festival)
V. Feature review of AND WHILE WE WERE HERE:
Josh: 5 ( Rental )
VI. Feature review of RUSH:
Jason: 6 ( Rental )
Andy: 7.5 ( Theater / Rental )
VI. Genre Recommendation Segments:
ROBOTIC ROMANCES WITH KARL HUDDLESTON:
TV Show: New Girl
ANDY'S ABSURD ASSOCIATIONS: A Better Movie About Pigs Than Upstream Color:
Delicatessen (1991)
JAY OF THE DEAD'S CREEPS AND CRIME:
Crime: Casino (1995)
JOSHUA LIGAIRI'S CONTINUING EDUCATION:
Documentary (Reality TV): Survivor: Blood vs. Water
VII. Wrap-Up
Next Monday on MPW: We'll be reviewing Gravity, and perhaps Runner Runner. Join us!
Links for this episode:
See frequent MPW guest Willis Wheeler on Toy Hunter
Dead Dog in Freezer Story: All About Autism Podcast, Ep. 059 (starts at about the 26-minute mark…)
Josh says check this out about marriages in movies: I Do and I Don't
Jason recommends: The Donut Show, Ep. 007: Men, Women and Duck Dynasty
Follow Movie Podcast Weekly on Twitter: @MovieCastWeekly
Follow Joshua Ligairi on Twitter: @IcarusArts
Check it out! Josh stars in a reality TV show for documentarists: Pursuit of the Truth
Check out THE DONUT SHOW
Especially for HORROR FANS: Horror Movie Podcast.com
Listen to Jason's Movie Stream Cast here: Movie Stream Cast.com
Special thanks goes out to singer-songwriter Frederick Ingram and the voice talents of Midnight Corey Graham from The Electric Chair Podcast, Willis Wheeler from the Terror Troop Podcast and Mr. Ron Baird for their help with our recommendation segment intros.
We'd also like to thank The Dave Eaton Element and Dave Eaton himself for the use of his music for our theme song. Today is Dave's birthday — happy birthday, Dave!
If you like what we do here at Movie Podcast Weekly, please subscribe and leave us a review in iTunes. If you want to support the show, we have PayPal buttons in our right-hand sidebar where you can make a one-time donation or you can become a recurring donor for just $2 per month.
You can always contact us by e-mailing MoviePodcastWeekly@gmail.com. Or you can call and leave us a voice mail at: (801) 382-8789. And you can leave us a comment in the show notes for this episode.
Thank you for listening, and join us again next Monday for Movie Podcast Weekly.