Podcast: Play in new window | Download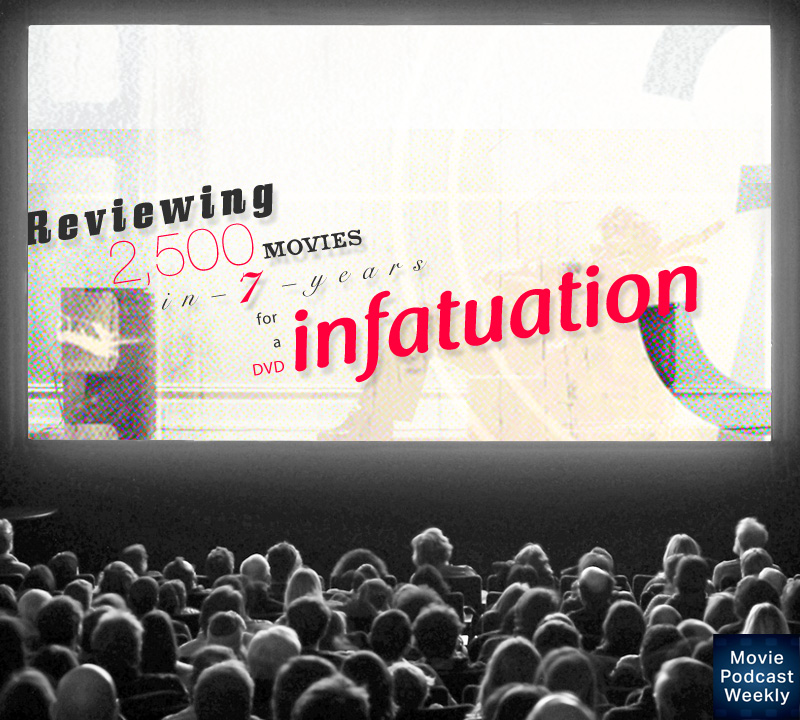 It's difficult to even find estimates of how many movie review blogs and websites exist on the Internet. Perhaps no one has dared to attempt a head-count. But just to provide some context, as I write these show notes, there are presently more than 1 billion, 39 million live websites on the Internet. So, I would speculate that at least 39 million of those are movie review blogs. I'm kidding, of course.
The actual figure is probably much higher…
Despite the incalculable number of movie sites, there is one man whose movie-reviewing efforts truly stand out: This BONUS episode of Movie Podcast Weekly consists of an interview with the most prolific film reviewer that I know personally, Mr. Dave Becker (aka "Dr. Shock") of Perkiomenville, Pennsylvania, just outside of Philadelphia. I found Dave and his remarkable blog at DVD Infatuation.com on Twitter in 2010, the year he endeavored to review one film a day — every single day — until he reached his goal of watching and reviewing 2,500 movies.
For those of you mathematicians out there, Dave Becker's self-imposed "movie challenge" is just two months shy of being a 7-year commitment. And now, six years later, Dave only has one year to go until he completes his challenge.
This podcast episode has both celebrations and confessions of a real-life cinephile, Dave Becker, a man who clearly has an unmistakable compulsion that compels him to purchase and collect films on DVD and Blu-ray, amassing to date somewhere around 9,300 film titles! (Some are collections and some are Blu-rays, but if we assumed that all of those films were purchased individually from the $5 bin at Walmart or some gas station's discount rack, you're looking at an investment of at least $46,500 in movies that were bought over the past 15 years, an average expense of about $3,100 annually!)
And then there's the investment of time… Dave Becker spends an average of about 3 hours every day watching a movie from his personal collection and then writing and posting his review at DVD Infatuation.com. If we crunched the numbers over the past six years, Dave has invested about 274 full, 24-hour days into his challenge!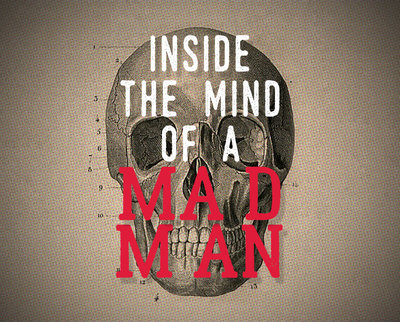 So, what drives a man to spend so much time and money on what many would consider to be "a thankless job"? Where do Dave Becker's determination and inspiration come from? That's exactly what this BONUS episode of Movie Podcast Weekly attempts to explore. I ask Dave some very personal and pointed questions about regret and the kinds of sacrifices he's had to make in order to complete his challenge (and it's not over yet).
I also ask him a number of questions that other cinephiles might wonder about, such as how Dave chooses whether to review a director's cut, extended cut or theatrical version of a film. We also have some time well spent discussing our nostalgia for the brick-and-mortar video stores, as well as outdated media like VHS tapes and laser discs.
We even talk about that alluring red curtain that many video stores had, and Dave even confesses his secret methods for stealing quick glimpses of the Playboy Channel as a curious youth.
Dave also describes a dark time in 2011 when he was hospitalized and had to suspend his blog-writing for 10 days. (The end of this episode yields an odd update of this nature, as well.)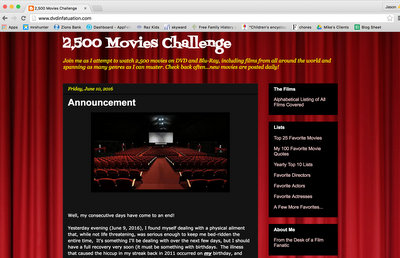 Movie Podcast Weekly is a show where four hosts review new movies that are currently playing in theaters or streaming online. But this BONUS episode is an exploration of one man's love and commitment to the cinema. It is simultaneously astounding, amusing, touching and horrifying. This show is a must-listen for anyone who loves movies or reviews films either for a living or for a hobby.
I'd like to thank Dave Becker for his time and his candor during this interview. I consider him a friend and an inspiration. You can follow Dave's work at the following links:
Blog: DVD Infatuation.com
DVD Infatuation Facebook
DVD Infatuation on Twitter: @DVDinfatuation
Dave's horror podcast: Horror Movie Podcast
Dave's other horror podcast: Land of the Creeps
And I'd also like to thank Juan Esparza, listener and friend, who contributed his artistic talents to the artwork for this episode. Thank you, Juan! Follow Juan on Twitter @TheReaperOfSoul
Jason Pyles, host
Movie Podcast Weekly
---
E-mail us: MoviePodcastWeekly@gmail.com.
Leave us a voicemail: (801) 382-8789.
Follow MPW on Twitter: @MovieCastWeekly
Leave a comment in the show notes for this episode.
If you're new to our show… Movie Podcast Weekly typically features four hosts — Jason, Andy, Karl and Ryan Elliott. In most episodes, we generally give you our verdicts on at least one new movie release from the current year that's playing in theaters, as well as several mini reviews of whatever we've been watching lately. New episodes release every single week!
---