Podcast: Play in new window | Download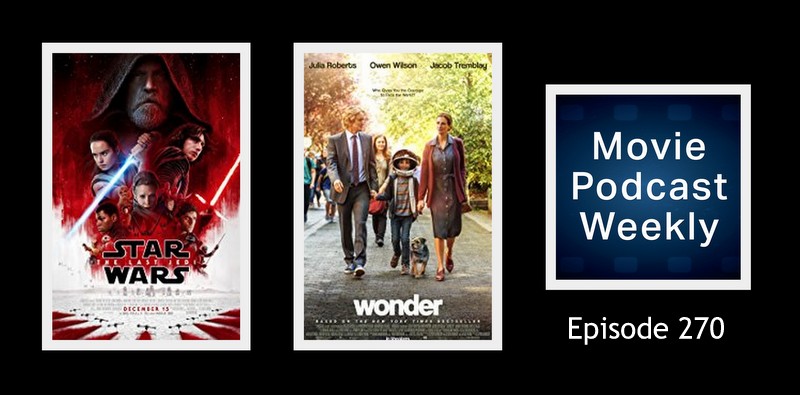 Writer-director Rian Johnson's divisive Star Wars: The Last Jedi (2017) has stirred a lot of controversy but has slightly tipped the scales favorably overall. But what do your Movie Podcast Weekly hosts think? There seems to be a lot of concern among our listeners regarding MPW's critical perspective… In Episode 270, we dedicated most of the show to discussing "The Last Jedi." We begin without revealing any spoilers, and then we provide a warning and a SPOILER section to our Star Wars review. It's your MPW crew (minus Andy), as well as three special guests: Mattroid from The Sci-Fi Podcast and We Deal in Lead and Kyle and Kris are Pitchmen; William Rowan Jr., also of The Sci-Fi Podcast; and Star Wars fan and MPW listener, Alan Kennington. At the end of the show, Jay brings you a quick Feature Review of Wonder (2017). Join us!
If you're new to our show… Movie Podcast Weekly typically features four hosts — Jason, Andy, Karl and Geek Cast Ry — along with frequent guests. We give you our verdicts on at least one new movie release from the current year that's currently playing in theaters, as well as several mini reviews of whatever we've been watching lately. New episodes release every single week!
---
SHOW NOTES:
I. Introduction
— Welcome special guests Mattroid and Alan Kennington (with William Rowan Jr. to join us later)
— As we record this episode, it's "Avatar Day," Dec. 18.
— Subscribe here to our Movie Podcast Network – Special Features episode where we fight about Avatar
— Genre classification of Star Wars
— Jason won first place in a karaoke contest (by rapping)
---
II. New in Theaters This Past Weekend [ Friday, December 15, 2017]:
Star Wars: The Last Jedi
Ferdinand
Miss Kiet's Children
Hedgehogs
The Ballad of Lefty Brown
Beyond Skyline
Permanent
Birdboy: The Forgotten Children
The Thousand Faces of Dunijia
---
FEATURE REVIEWS HAVE TIME STAMPS:
[ 0:13:04 ] III. Feature Review: STAR WARS: THE LAST JEDI (2017)
Jason = 7.5 ( Theater / Buy it! )
Karl = 8.5 ( Theater / Buy it! )
Ryan = 7.5 ( Theater / Buy it! )
Mattroid = 8.5 ( Theater / Buy it! )
Alan Kennington = 9 ( Theater / Buy it! )
William Rowan Jr = 8 ( Theater / Buy it! )
(Andy = 8)
[ 0:48:37 ] IV. SPOILERS BEGIN FOR THE LAST JEDI
[ 1:29:23 ] V. Special guest William Solo Jr. (Continued spoilers for The Last Jedi)
---
[ 2:06:17 ] VI. Feature Review: WONDER (2017)
Jason = 8.5 ( Theater / Buy it! )
---
VII. Wrap-Up / Plugs / Ending
---
COMING UP ON MPW NEXT WEEK:
Episode 271 where we'll be reviewing "Jumanji: Welcome to the Jungle" and "Brawl in Cell Block 99" and "Patti Cake$." Join us!
---
LINKS FOR THIS EPISODE:
Contact MPW:
E-mail us: MoviePodcastWeekly@gmail.com.
Leave us a voicemail: (801) 382-8789.
Follow MPW on Twitter: @MovieCastWeekly
Leave a comment in the show notes for this episode.
Ryan's new Facebook page
Ry's BIO
Ryan's New Facebook Page
Ry's flagship show: Geek Cast Live Podcast
DONATE here to facilitate the creation of more Geek content!
Blog: Geek Cast Live
Web site: Geek Harder.com
Facebook
Twitter: @GeekCastRy
Jason recommends supporting: Operation Underground Railroad
Listen to MPW:
Add MPW to your Stitcher playlist: Stitcher.com
MPW on iTunes
MPW's RSS feed
Right-click to download the MPW 100 Rap
Josh's links:
Hear Josh named as one of the Top 5 Up-and-Coming Directors on The Film Vault Podcast!
Twitter: @IcarusArts
Josh covers streaming movies on: Movie Stream Cast
Hear Josh on The SciFi Podcast
Hear Josh on Horror Movie Podcast
If you're a Horror fan, listen to Jason and Josh on HORROR MOVIE PODCAST
We'd like to thank The Dave Eaton Element and Dave himself for the use of his music for our theme song. Buy Dave's Eaton's music: BandCamp.com
---
If you like Movie Podcast Weekly, please subscribe and leave us a review in iTunes. If you want to support the show, we have PayPal buttons in our right-hand sidebar where you can make a one-time donation or you can become a recurring donor for just $2 per month. (Every little bit helps!)
Thanks for listening, and join us again next week for Movie Podcast Weekly.
---