Podcast: Play in new window | Download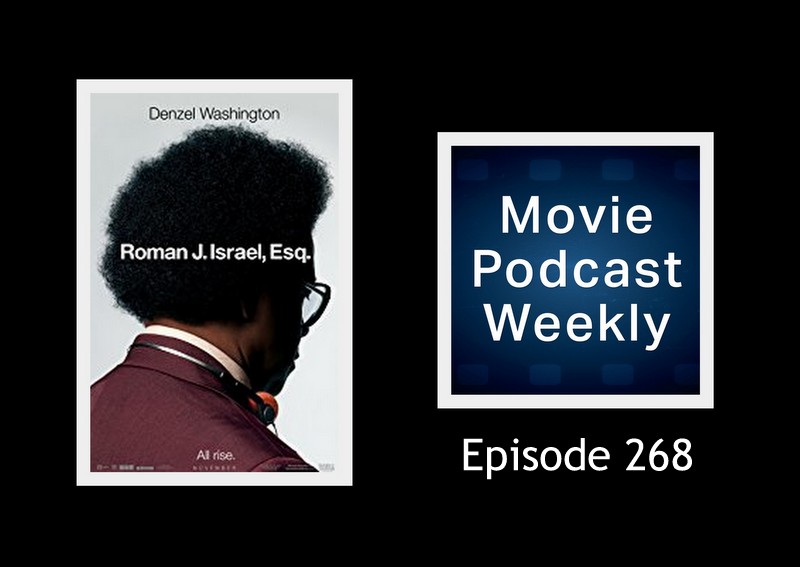 Episode 268 of Movie Podcast Weekly is an unusual two-hander, where your only hosts are Jason and a guy named Andy, just two good buddies talking about movies. During this show, Andy and Jay talk about several movie-related topics that are on Jason's mind, and they bring you a Feature Review of Roman J. Israel, Esq. (2017), starring Denzel Washington. It's more fun than it sounds. Join us!
If you're new to our show… Movie Podcast Weekly typically features four hosts — Jason, Andy, Karl and Geek Cast Ry — along with frequent guests. We give you our verdicts on at least one new movie release from the current year that's currently playing in theaters, as well as several mini reviews of whatever we've been watching lately. New episodes release every single week!
---
SHOW NOTES:
I. Introduction
— Just Jason and Andy tonight
— How Andy and Jason started reviewing movies together
---
[ 0:06:00 ] II. Movie Topics and Maybe a Couple of Mini Reviews
Jason and Andy: John Kraskinski and Elizabeth Banks responded to Andy
Billy Joel SLC concert 2017
Batman Begins origin story
Mark Hamill story
"Godless" on Netflix
Redbox is 15 years old
Avengers: Infinity War trailer
Jurassic World: Fallen Kingdom – 15-second pre-teaser
Jason's rant about laid-off film critics
Predictions about Star Wars: The Last Jedi
MPW Episodes 252, 253, 254 and 255 are coming this month!
Top 10 Movies of 2017 lists – use USE THIS TEMPLATE to make your Top 10 of 2017 lists. DEADLINE: Wednesday, December 27
---
III. New in Theaters This Past Weekend [ Friday, Dec. 1, 2017 ]:
The Shape of Water [ Limited ]
Wonder Wheel
The Disaster Artist
Alien Invasion: S.U.M. 1
24 Hours to Live
Psychopaths
Brotherhood of Blades II: The Infernal Battlefield
Padmavati
The Tribes of Palos Verdes
The Swindlers
Love Beats Rhymes
---
FEATURE REVIEWS HAVE TIME STAMPS:
[ 1:16:11 ] IV. Feature Review: ROMAN J. ISRAEL, ESQ. (2017)
Jason = 6.5 ( Rental / Stream it )
---
V. Wrap-Up / Plugs / Ending
---
COMING UP ON MPW NEXT WEEK:
Episode 269 where we'll be reviewing "Lady Bird." Join us!
---
LINKS FOR THIS EPISODE:
Contact MPW:
E-mail us: MoviePodcastWeekly@gmail.com.
Leave us a voicemail: (801) 382-8789.
Follow MPW on Twitter: @MovieCastWeekly
Leave a comment in the show notes for this episode.
Ryan's new Facebook page
Ry's BIO
Ryan's New Facebook Page
Ry's flagship show: Geek Cast Live Podcast
DONATE here to facilitate the creation of more Geek content!
Blog: Geek Cast Live
Web site: Geek Harder.com
Facebook
Twitter: @GeekCastRy
Jason recommends supporting: Operation Underground Railroad
Listen to MPW:
Add MPW to your Stitcher playlist: Stitcher.com
MPW on iTunes
MPW's RSS feed
Right-click to download the MPW 100 Rap
Josh's links:
Hear Josh named as one of the Top 5 Up-and-Coming Directors on The Film Vault Podcast!
Twitter: @IcarusArts
Josh covers streaming movies on: Movie Stream Cast
Hear Josh on The SciFi Podcast
Hear Josh on Horror Movie Podcast
If you're a Horror fan, listen to Jason and Josh on HORROR MOVIE PODCAST
We'd like to thank The Dave Eaton Element and Dave himself for the use of his music for our theme song. Buy Dave's Eaton's music: BandCamp.com
---
If you like Movie Podcast Weekly, please subscribe and leave us a review in iTunes. If you want to support the show, we have PayPal buttons in our right-hand sidebar where you can make a one-time donation or you can become a recurring donor for just $2 per month. (Every little bit helps!)
Thanks for listening, and join us again next week for Movie Podcast Weekly.
---