Podcast: Play in new window | Download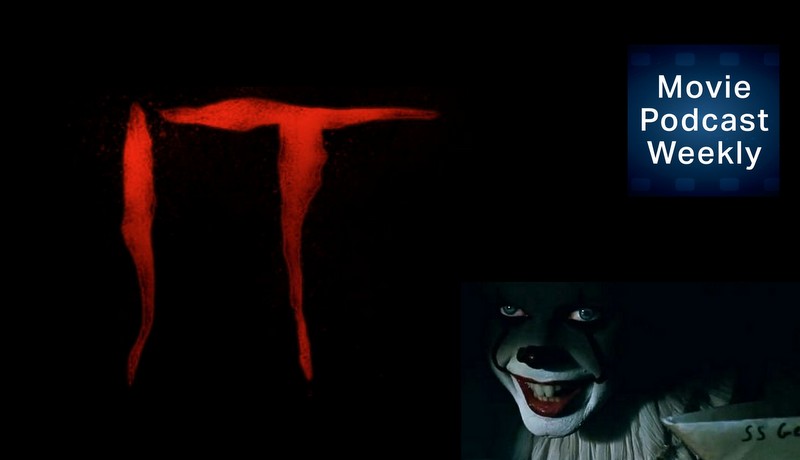 Movie Podcast Weekly is back on schedule! Here is Episode 256. (Episodes 252 – 255 will release in the coming weeks.) But we're jumping to the current week so we can get back on track with the current weekend's films. This weekend we bring you a Feature Review of It (2017), as well as our Summer Movie Recap 2017 and MPW's Fall / Winter Preview. Join us!
If you're new to our show… Movie Podcast Weekly typically features four hosts — Jason, Andy, Karl and Geek Cast Ry — along with frequent guests. We give you our verdicts on at least one new movie release from the current year that's currently playing in theaters, as well as several mini reviews of whatever we've been watching lately. New episodes release every single week!
---
SHOW NOTES:
I. Introduction
— This episode was recorded on Sept. 11, 2017
— Sept. 12 is Ryan's birthday!
— Karl's birthday present for Ryan
— Acknowledging Hurricanes Harvey and Irma and their aftermath
— Agenda for this episode
— Episode 256 will release on Sept. 12. (Episodes 252 – 255 are still coming.)
Ep. 252:
The Dark
Tower (with Cartoon Joe)
Wakefield
Ep. 253:
Detroit
Annabelle: Creation
Aftermath
Brimstone
Ep. 254:
Wind River
Girls Trip
The Hitman's Bodyguard
Logan Lucky
Ep. 255:
Good Time
Dave Made
a Maze
Brigsby Bear
— "Gone With the Wind" pulled from a Tennessee theater
— USA Today's "10 movies that prove 2007 is the best film year of the 21st century" (and Karl's 2007 pick)
— Juan's debate about "Blade Runner"
---
[ 0:43:32 ] II. Mini Reviews
Karl: Star Trek II: The Wrath of Khan, Ozark and Breaking Bad, Game of Thrones Season 2: Episodes 1-3
Ryan: * * *
Jason: The Green Mile, Hidden Figures, The Truman Show, Lego Jurassic World: The Indominus Escape, It (1990)
Andy: Ryan Hamilton: Happy Face, Gabriel Iglesias Presents The Gentleman Jerry Rocha, Looney Toons: Back in Action
---
III. New in Theaters This Past Weekend [ Friday, Sept. 8, 2017]:
It
Home Again
9/11
Fallen
Gun Shy
The Limehouse Golem
Memoir of a Murderer
The Good Catholic
Second Nature
Napping Princess
Rememory
Man in Red Bandana
School Life
Trophy
---
FEATURE REVIEWS HAVE TIME STAMPS:
[ 1:25:29 ] IV. Feature Review: IT (2017)
Jason = 9.5 ( Must-see / Theater / Buy it! )
Andy = 9.5 ( Theater / Buy it! )
Ryan = 9.5 ( Theater / Buy it! )
(Catherine Campbell = 8.5)
---
[ 1:46:06 ] V. SUMMER MOVIE RECAP 2017
---
[ 1:58:54 ] VI. FALL / WINTER PREVIEW 2017
---
VII. Wrap-Up / Plugs / Ending
---
COMING UP ON MPW NEXT WEEK:
Episode 257 where we'll be reviewing "American Assassin" and "Mother!" and "Brad's Status" and "Unlocked." Join us!
---
LINKS FOR THIS EPISODE:
Contact MPW:
E-mail us: MoviePodcastWeekly@gmail.com.
Leave us a voicemail: (801) 382-8789.
Follow MPW on Twitter: @MovieCastWeekly
Leave a comment in the show notes for this episode.
Ryan's new Facebook page
Ry's BIO
Ryan's New Facebook Page
Ry's flagship show: Geek Cast Live Podcast
DONATE here to facilitate the creation of more Geek content!
Blog: Geek Cast Live
Web site: Geek Harder.com
Facebook
Twitter: @GeekCastRy
Jason recommends supporting: Operation Underground Railroad
Listen to MPW:
Add MPW to your Stitcher playlist: Stitcher.com
MPW on iTunes
MPW's RSS feed
Right-click to download the MPW 100 Rap
Josh's links:
Hear Josh named as one of the Top 5 Up-and-Coming Directors on The Film Vault Podcast!
Twitter: @IcarusArts
Josh covers streaming movies on: Movie Stream Cast
Hear Josh on The SciFi Podcast
Hear Josh on Horror Movie Podcast
If you're a Horror fan, listen to Jason and Josh on HORROR MOVIE PODCAST
We'd like to thank The Dave Eaton Element and Dave himself for the use of his music for our theme song. Buy Dave's Eaton's music: BandCamp.com
---
If you like Movie Podcast Weekly, please subscribe and leave us a review in iTunes. If you want to support the show, we have PayPal buttons in our right-hand sidebar where you can make a one-time donation or you can become a recurring donor for just $2 per month. (Every little bit helps!)
Thanks for listening, and join us again next week for Movie Podcast Weekly.
---