Podcast: Play in new window | Download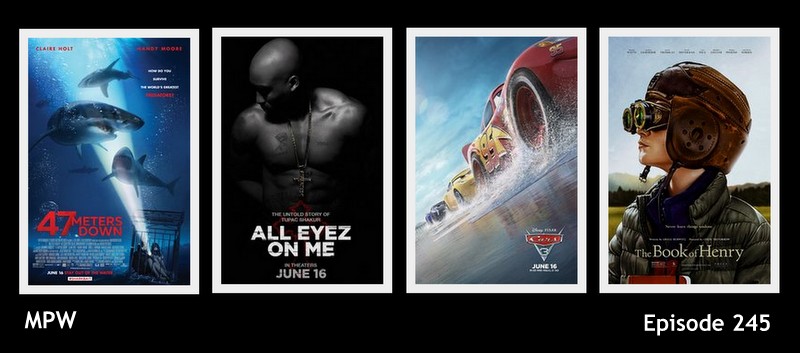 Which is more likely? Jason can rap, or you will get stuck at the bottom of the ocean in a shark cage? We more or less consider the possibilities of both scenarios during Episode 245 of Movie Podcast Weekly. During this show, we are joined by two special guests: namely, one Chase Harrison who is the mastermind of the insightful Reel to Reel movie blog, and later we're also joined by the Wild Man Willis Wheeler of the Terror Troop horror podcast, among others. In Episode 245, we bring you several Feature Reviews of All Eyez on Me (2017) and 47 Meters Down (2017) and Cars 3 (2017) and The Book of Henry (2017) and our third and final installment of The Bottom 5 Worst Movie Titles Ever! Join us! It's nearly worth it!
If you're new to our show… Movie Podcast Weekly typically features four hosts — Jason, Andy, Karl and Geek Cast Ry — along with frequent guests. We give you our verdicts on at least one new movie release from the current year that's currently playing in theaters, as well as several mini reviews of whatever we've been watching lately. New episodes release every single week!
---
SHOW NOTES:
I. Introduction
— Welcome special guest movie blogger Chase Harrison
— Karl learns not to just assume things
— Rob Bass of the Geek Cast Live Podcast doesn't know what a phone book is…
— VidAngel is back (sort of)… Read Chase Harrison's article about VidAngel's return
— Roger Ebert on trailers that reveal too much
---
[ 0:27:39 ] II. Mini Reviews
Karl: Roadhouse, Spotlight, Everybody Wants Some, Aerial Ireland factoid
Jason: The Lord of the Rings trilogy
Chase Harrison: The Mummy (1932), The Mummy (1959), the Pink Panther movies, American Gods, The Mummy (2017)
Ryan: Wonder Woman, Beauty and the Beast (2017), La La Land, Twin Peaks (original series), American Gods, Spotlight, The Keepers
Andy: * * *
---
— Welcome special guest Wild Man Willis Wheeler
[ 0:56:38 ] III. The Bottom 5 Worst Movie Titles Ever (Part 3 of 3):
— Ryan
— Chase Harrison
— Willis Wheeler
---
IV. New in Theaters This Past Weekend [Friday, June 16, 2017]:
All Eyez on Me
Cars 3
Rough Night
47 Meters Down
The Book of Henry
Once Upon a Time in Venice
Jasmine
Maudie
Pray for Rain
The Journey
Lost in Paris
Hearing is Believing
Score: A Film Music Documentary
---
FEATURE REVIEWS HAVE TIME STAMPS:
[ 1:20:22 ] V. Feature Review: ALL EYEZ ON ME (2017)
Jason = 8 ( Theater / Rental )
Willis Wheeler = 7 ( Theater / Rental )
---
[ 1:37:39 ] VI. Feature Review: 47 METERS DOWN (2017)
Jason = 4.5 ( Avoid )
Willis Wheeler = 5 ( Watch on cable someday )
Thanks to Willis Wheeler for joining us. Catch up with Willis at the following places:
Two-Drink Commentaries
NFW Commentaries Podcast
The Wild Man's YouTube Channel
Willis Wheeler on TV's Toy Hunter
Terror Troop horror podcast
Cinema Beef Podcast
Willis on Twitter: @NastyWillDC
Willis on Facebook
---
[ 1:47:57 ] VII. Feature Review: THE BOOK OF HENRY (2017)
Chase Harrison = 5 ( Low-priority Rental )
---
[ 1:54:11 ] VIII. Feature Review: CARS 3 (2017)
Jason = 8 ( Theater / Rental )
Chase Harrison = 7.5 ( Theater / Rental )
---
IX. Wrap-Up / Plugs / Ending
— Special thanks to our generous donors and ongoing supporters:
Stephen H.
Mario L.
Leigh B.
Robert B.
Amos P.
Eric H.
Adam M.
JUAN
Phil E.
Germain R.
Shannon N.
Tony I.
Lance S.
Vance K.
Christian B.
Bonnie B.
Josh G.
— Jason's MPW Ep. 100 Rap
---
COMING UP ON MPW NEXT WEEK:
Episode 246 where we'll be reviewing "Transformers: The Last Knight" and "Oh, Hello on Broadway" (which is currently streaming on Netflix), William Rowan Jr's "The Villa," and William will also be our special guest! Join us!
---
LINKS FOR THIS EPISODE:
Don't forget to check out Chase Harrison's Reel to Reel movie blog, and Willis Wheeler on the Terror Troop horror podcast!
Contact MPW:
E-mail us: MoviePodcastWeekly@gmail.com.
Leave us a voicemail: (801) 382-8789.
Follow MPW on Twitter: @MovieCastWeekly
Leave a comment in the show notes for this episode.
Ryan's new Facebook page
Ry's BIO
Ryan's New Facebook Page
Ry's flagship show: Geek Cast Live Podcast
DONATE here to facilitate the creation of more Geek content!
Blog: Geek Cast Live
Web site: Geek Harder.com
Facebook
Twitter: @GeekCastRy
Jason recommends supporting: Operation Underground Railroad
Listen to MPW:
Add MPW to your Stitcher playlist: Stitcher.com
MPW on iTunes
MPW's RSS feed
Right-click to download the MPW 100 Rap
Josh's links:
Hear Josh named as one of the Top 5 Up-and-Coming Directors on The Film Vault Podcast!
Twitter: @IcarusArts
Josh covers streaming movies on: Movie Stream Cast
Hear Josh on The SciFi Podcast
Hear Josh on Horror Movie Podcast
If you're a Horror fan, listen to Jason and Josh on HORROR MOVIE PODCAST
We'd like to thank The Dave Eaton Element and Dave himself for the use of his music for our theme song. Buy Dave's Eaton's music: BandCamp.com
---
If you like Movie Podcast Weekly, please subscribe and leave us a review in iTunes. If you want to support the show, we have PayPal buttons in our right-hand sidebar where you can make a one-time donation or you can become a recurring donor for just $2 per month. (Every little bit helps!)
Thanks for listening, and join us again next week for Movie Podcast Weekly.
---