Podcast: Play in new window | Download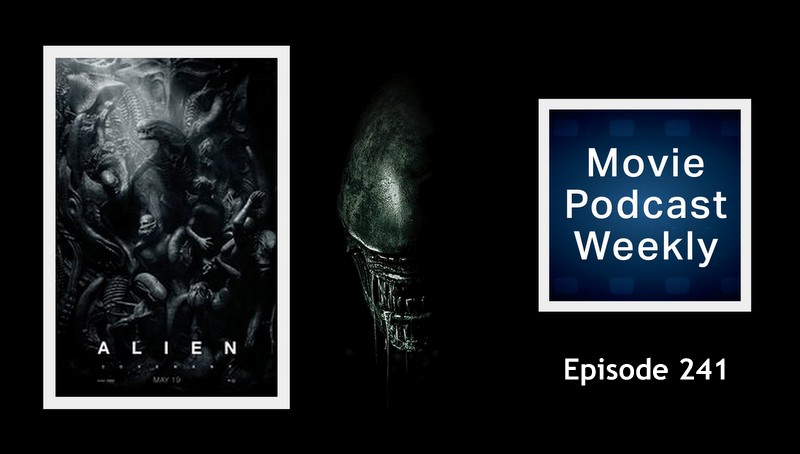 We're gonna need a bigger spaceship… Welcome to Movie Podcast Weekly, Episode 241, where we bring you our Feature Review of Alien: Covenant (2017)! And then for those who have already seen the movie, we provide a SPOILER SECTION for this movie. But don't worry: We'll give you plenty of notice before we reveal any spoilers. This episode also contains a heated rant about the number of trailers that precede movie screenings. Get ready for a lot of [MEEPs]!
If you're new to our show… Movie Podcast Weekly typically features four hosts — Jason, Andy, Karl and Geek Cast Ry — along with frequent guests. We give you our verdicts on at least one new movie release from the current year that's currently playing in theaters, as well as several mini reviews of whatever we've been watching lately. New episodes release every single week!
---
SHOW NOTES:
I. Introduction
— Our thoughts our with the Manchester bombing victims
— And our thoughts our with director Zack Snyder and his family
— Joss Whedon and "Justice League"
— An update on Ryan's Comedy Movie Podcast
— MPW releases on iTunes
---
[ 0:08:56 ] II. Mini Reviews
Ryan: Rant about pre-movie trailers, The Dark Universe and its casting, Tom Hardy plays "Venom" (2018), Mindhorn, Santa Clarita Diet
Karl: Heat special edition Blu-ray, Designated Survivor Season 1, The Discovery
Andy: Available movie streaming options; Norm Macdonald: Hitler's Dog, Gossip & Trickery
Jason: Brian Regan: Live From Radio City Music Hall (2015); Rise of the Planet of the Apes; Dawn of the Planet of the Apes; Prometheus
---
III. New in Theaters This Past Weekend [ Friday, May 19, 2017 ]:
Alien: Covenant
Everything, Everything
Diary of a Wimpy Kid: The Long Haul
Wakefield
Straps
Champion
Paint It Black
The End of Me
Fight for Space
Decomposed
The Men Who Were Super
The Commune
Abacus: Small Enough to Jail
---
FEATURE REVIEWS HAVE TIME STAMPS:
[ 1:08:35 ] IV. Feature Review: ALIEN: COVENANT (2017)
Jason = 8.5 ( Theater / Buy it! )
Karl = 8.5 ( Theater / Buy it! )
Ryan = 8.5 ( Theater / Buy it! )
[ 1:21:14 ] V. SPOILER SECTION: Alien: Covenant (2017) — SPOILERS!
---
VI. Wrap-Up / Plugs / Ending
---
COMING UP ON MPW NEXT WEEK:
Episode 242 where we'll be reviewing "Baywatch," "Pirates of the Caribbean: Dead Men Tell No Tales," "War Machine," and "King Arthur: Legend of the Sword," with special guest Cody Clark
---
LINKS FOR THIS EPISODE:
Contact MPW:
E-mail us: MoviePodcastWeekly@gmail.com.
Leave us a voicemail: (801) 382-8789.
Follow MPW on Twitter: @MovieCastWeekly
Leave a comment in the show notes for this episode.
Ryan's new Facebook page
Ry's BIO
Ryan's New Facebook Page
Ry's flagship show: Geek Cast Live Podcast
DONATE here to facilitate the creation of more Geek content!
Blog: Geek Cast Live
Web site: Geek Harder.com
Facebook
Twitter: @GeekCastRy
Jason recommends supporting: Operation Underground Railroad
Listen to MPW:
Add MPW to your Stitcher playlist: Stitcher.com
MPW on iTunes
MPW's RSS feed
Right-click to download the MPW 100 Rap
Josh's links:
Hear Josh named as one of the Top 5 Up-and-Coming Directors on The Film Vault Podcast!
Twitter: @IcarusArts
Josh covers streaming movies on: Movie Stream Cast
Hear Josh on The SciFi Podcast
Hear Josh on Horror Movie Podcast
If you're a Horror fan, listen to Jason and Josh on HORROR MOVIE PODCAST
We'd like to thank The Dave Eaton Element and Dave himself for the use of his music for our theme song. Buy Dave's Eaton's music: BandCamp.com
Ryan's Fake Movie Titles:
Straps
The End of Me
Decomposed
The Men Who Were Super
---
If you like Movie Podcast Weekly, please subscribe and leave us a review in iTunes. If you want to support the show, we have PayPal buttons in our right-hand sidebar where you can make a one-time donation or you can become a recurring donor for just $2 per month. (Every little bit helps!)
Thanks for listening, and join us again next week for Movie Podcast Weekly.
---