Podcast: Play in new window | Download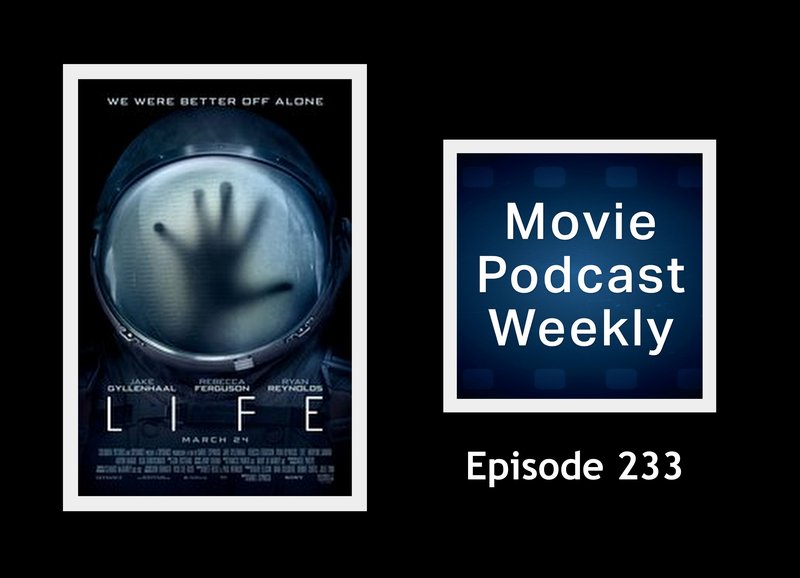 The boys are back in town … mostly. This is Movie Podcast Weekly, Episode 233, where we get our first glimpse of Jason after his surgery. A very frail Jay makes a brief appearance to Feature Review Life (2017) with special guest Mattroid (of The Sci-Fi Podcast). Karl is M.I.A. Ryan is present with his cups, and this episode is hosted by Andy "The Angel of Death." Be sure to join us for this very unusual episode of MPW, where you'll also hear a "fake Feature Review" of "CHiPs," which no one saw… Thanks for listening / tolerating!
If you're new to our show… Movie Podcast Weekly typically features four hosts — Jason, Andy, Karl and Geek Cast Ry — along with frequent guests. We give you our verdicts on at least one new movie release from the current year that's currently playing in theaters, as well as several mini reviews of whatever we've been watching lately. New episodes release every single week!
---
SHOW NOTES:
I. Introduction
— Andy "The Angel of Death" hosts
— No Karl. Special guest Mattroid.
— Jason eulogy
---
II. New Movies That Andy and Ryan Made Up for This Weekend:
Bypass
Glow
Arrhythmia
Tunnel Vision
Code 3
Blood Runneth O'er
Capstones
Fighting Darwin
A Place on the Mantle
Beep Beep Beeeeeeeeeeep
New Releases in Theaters [Friday, March 24, 2017]:
Life
CHiPs
Power Rangers
Bokeh
Car Dogs
The House on Willow Street
Dig Two Graves
Slamma Jamma
Wilson
The Last Face
Victor
Walk of Fame
Tommy's Honour
---
FEATURE REVIEWS HAVE TIME STAMPS:
[ 0:15:53 ] III. Feature Review: LIFE (2017)
Jason = 7.5 ( Theater / Rental )
Mattroid = 6 ( Rental )
---
[ 0:46:37 ] IV. FAKE Feature Review: CHiPs (2017)
Andy = 8.5 ( Theater / Buy it! ) – did not see it.
Ryan = 7.5 – did not see it.
Mattroid = 4 – did not see it.
---
[ 0:57:30 ] V. Mini Reviews
Mattroid: Parks and Recreation, Some Kind of Wonderful, Time Bandits, Jupiter Ascending, Utah JAZZ games, The Americans, Survivor
Random topics: Feats of strength pertaining to milk and what it takes to be a good man; number of children to have; planning vasectomies and other very unpleasant vasectomy-related conversation
Ryan: The Legend of Tarzan, The Walking Dead Season 7, Black Sails, Rick and Morty Season 2, Game of Thrones, MTV's The Shannara Chronicles
Andy: Dave Chappelle's two-part Netflix special, Moana, Trolls
---
VI. Wrap-Up / Plugs / Ending
---
COMING UP ON MPW NEXT WEEK:
Episode 234 where we'll be reviewing "Ghost in the Shell" and "CHiPs" (for real this time) and "The Shack." Join us!
---
LINKS FOR THIS EPISODE:
Hear more from Mattroid on The Sci-Fi Podcast
Read from Mattroid's Gary the Unicorn articles
Hear Ryan's Geek Cast Live crew discuss ancient aliens with the likes of Dr. Donald Zygutis, author of The Carl Sagan Conspiracy.
Contact MPW:
E-mail us: MoviePodcastWeekly@gmail.com.
Leave us a voicemail: (801) 382-8789.
Follow MPW on Twitter: @MovieCastWeekly
Leave a comment in the show notes for this episode.
Ryan's new Facebook page
Ry's BIO
Ryan's New Facebook Page
Ry's flagship show: Geek Cast Live Podcast
DONATE here to facilitate the creation of more Geek content!
Blog: Geek Cast Live
Web site: Geek Harder.com
Facebook
Twitter: @GeekCastRy
Jason recommends supporting: Operation Underground Railroad
Listen to MPW:
Add MPW to your Stitcher playlist: Stitcher.com
MPW on iTunes
MPW's RSS feed
Right-click to download the MPW 100 Rap
Josh's links:
Hear Josh named as one of the Top 5 Up-and-Coming Directors on The Film Vault Podcast!
Twitter: @IcarusArts
Josh covers streaming movies on: Movie Stream Cast
Hear Josh on The SciFi Podcast
Hear Josh on Horror Movie Podcast
If you're a Horror fan, listen to Jason and Josh on HORROR MOVIE PODCAST
We'd like to thank The Dave Eaton Element and Dave himself for the use of his music for our theme song. Buy Dave's Eaton's music: BandCamp.com
Four Fake Movie Titles That Ryan Made Up:
A Place on the Mantle
Glow
Tunnel Vision
Capstones
---
If you like Movie Podcast Weekly, please subscribe and leave us a review in iTunes. If you want to support the show, we have PayPal buttons in our right-hand sidebar where you can make a one-time donation or you can become a recurring donor for just $2 per month. (Every little bit helps!)
Thanks for listening, and join us again next week for Movie Podcast Weekly.
---