Podcast: Play in new window | Download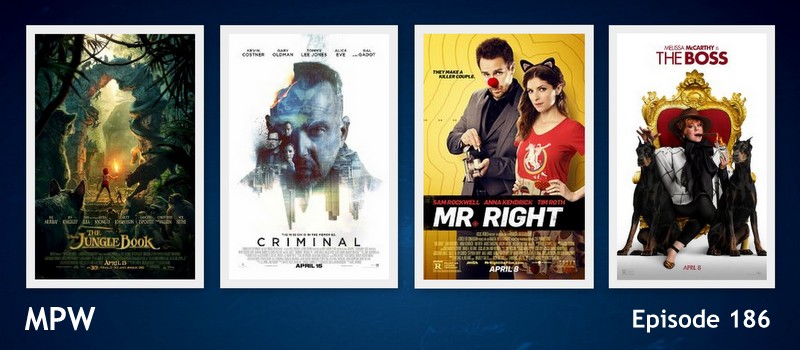 Welcome back to Movie Podcast Weekly! This is Episode 186, and we are nearly Andyless this week… There is no "guy named Andy" on this particular episode (well, except for a brief, pre-recorded appearance), but the rest of us will still bring you Feature Reviews for The Jungle Book and Criminal and The Boss and Mr. Right. We also have an interview with special guest director Richard Boddington who discusses the making of his most recent movie, Against the Wild: Survive the Serengeti. Join us!
If you're new to our show… Movie Podcast Weekly typically features four hosts — Jason, Andy, Karl and Geek Cast Ry — along with frequent guests. We give you our verdicts on at least one new movie release from the current year that's currently playing in theaters, as well as several mini reviews of whatever we've been watching lately. New episodes release every single week!
---
SHOW NOTES:
I. Introduction
— Johnny Depp and Amber Heard's bizarre PSA / apology for bringing their dogs into Australia undeclared
— No Andy this week
— Surprise guest later in the show
— Ryan's Vasectomy: How It All Went Down in Just 10 Minutes
---
[ 0:05:40 ] II. Mini Reviews
Karl: * * * *
Ryan: Teen Mom, Salem TV show, Teen Mom 2
Jason: Phantasm VHS — Thank you!, James Cameron plans FOUR Avatar Sequels, Rogue One trailer, Dr. Strange trailer, New Suicide Squad trailer, Godzilla: Resurgence trailer, Tom Cruise's "Mena" (Ryan: 7-hour trailer for "Ambience")
---
III. New in Theaters This Past Weekend:
The Jungle Book
Criminal
Barbershop: The Next Cut
Green Room (Limited)
Fan
Sing Street
Sworn Virgin
Rio, I Love You
Our Last Tango
Colonia
---
FEATURE REVIEWS HAVE TIME STAMPS:
[ 0:36:57 ] IV. Feature Review: THE JUNGLE BOOK (2016)
Jason = 9.5 ( Theater / Must-See / Buy it! / 2016 Top 10 contender! )
Evan = 10 ( Theater / Buy it! )
Emerson = 10 ( Too scary for a 4-year-old )
---
[ 0:52:25 ] V. Feature Review: THE BOSS (2016)
Karl = 7.5 ( Buy it! )
---
[ 0:58:24 ] VI. Feature Review: CRIMINAL (2016)
Jason = 4 ( Avoid )
---
[ 1:03:33 ] VII. Feature Review: MR. RIGHT (2016)
Jason = 7.5 ( Rental )
---
[ 1:07:43 ] VIII. An Interview With Richard Boddington, director of "Against the Wild: Survive the Serengeti"
---
IX. Wrap-Up / Plugs / Ending
— E-mail from Chris in Richmond, VA
— A big thanks to:
Mario
Patrick H.
Katherine in New York
Jason Dragon from Illinois
Gomez98 from Illinois
---
COMING UP ON MPW NEXT WEEK:
Episode 187 where we'll be reviewing "Elvis & Nixon," "Miles Ahead" and "Colonia." Join us!
---
LINKS FOR THIS EPISODE:
Contact MPW:
E-mail us: MoviePodcastWeekly@gmail.com.
Leave us a voicemail: (801) 382-8789.
Follow MPW on Twitter: @MovieCastWeekly
Leave a comment in the show notes for this episode.
Ry's BIO
Ry's flagship show: Geek Cast Live Podcast
DONATE here to facilitate the creation of more Geek content!
Blog: Geek Cast Live
Web site: Geek Harder.com
Facebook
Twitter: @GeekCastRy
Jason recommends supporting: Operation Underground Railroad
Listen to MPW:
Add MPW to your Stitcher playlist: Stitcher.com
MPW on iTunes
MPW's RSS feed
Right-click to download the MPW 100 Rap
Josh's links:
Hear Josh named as one of the Top 5 Up-and-Coming Directors on The Film Vault Podcast!
Twitter: @IcarusArts
Josh covers streaming movies on: Movie Stream Cast
Hear Josh on The SciFi Podcast
Hear Josh on Horror Movie Podcast
If you're a Horror fan, listen to Jason and Josh on HORROR MOVIE PODCAST
We'd like to thank The Dave Eaton Element and Dave himself for the use of his music for our theme song. Buy Dave's Eaton's music: BandCamp.com
---
If you like Movie Podcast Weekly, please subscribe and leave us a review in iTunes. If you want to support the show, we have PayPal buttons in our right-hand sidebar where you can make a one-time donation or you can become a recurring donor for just $2 per month. (Every little bit helps!)
Thanks for listening, and join us again next week for Movie Podcast Weekly.
---