Podcast: Play in new window | Download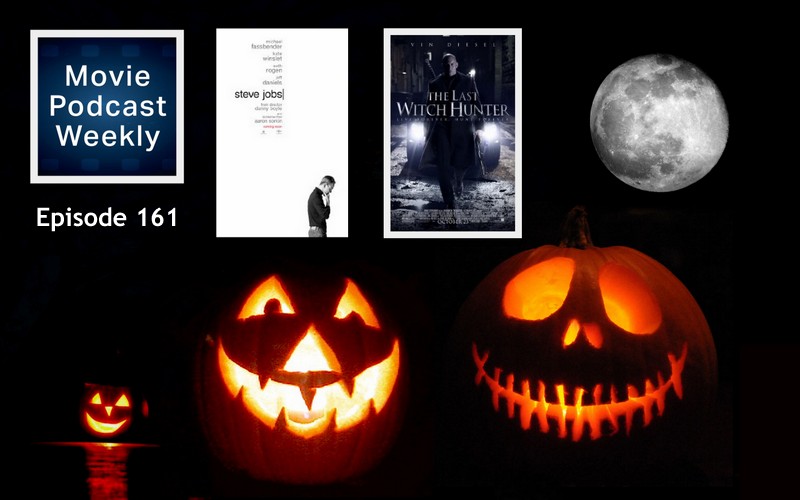 Happy Halloween from your spooky friends at Movie Podcast Weekly, where we're Not Overly Serious About Anything, Except Maybe Movies… We have a special, Halloween-themed episode for you. In Episode 153, we bring you Feature Reviews of Steve Jobs and The Last Witch Hunter. Each MPW host also provides two creepy movie recommendations (plus two bonuses!) that will be perfect for watching during Halloween.
Also in this episode, Jason, Andy and Karl take this opportunity to rate Ryan's performance after his first five months as an official MPW host. Oh, and we should probably warn everyone up front that Andy sparks some controversy with his opinions of "Charlie and the Chocolate Factory" versus "Willy Wonka and the Chocolate Factory." Joins us!
If you're new to our show… Movie Podcast Weekly typically features four hosts — Jason, Andy, Karl and Geek Cast Ry — along with frequent guests. We give you our verdicts on at least one new movie release from the current year that's currently playing in theaters, as well as several mini reviews of whatever we've been watching lately. And we usually provide specialized genre recommendations. New episodes release every single Wednesday.
---
SHOW NOTES:
I. Introduction
— This is our 2015 MPW Halloween Special
— Reporting to James: The MPW David Lynch episode
— Star Wars Episode VII: The Force Awakens – highest box office ever and a new idiot group
— Oct. 21, 2015 Back to the Future Day
---
[ 0:12:58 ] II. Mini Reviews
Karl: PBS Nature series – Pets: Wild at Heart
Jason: (Dark Matter TV series on Netflix), Everest, The Flash Season 1, Episodes 1-7, San Andreas, Rating Geek Cast Ry, From One Second to the Next – Werner Herzog short film documentary
Ryan: * * * (Nothing. Minus two rating points…)
Andy: Charlie and the Chocolate Factory (and Willy Wonka and the Chocolate Factory), Magic in the Moonlight, Kill the Messenger, Fury
---
III. New in Theaters This Past Weekend:
Steve Jobs [ Nationwide Expansion ]
Paranormal Activity: The Ghost Dimension
Jem and the Holograms
The Last Witch Hunter
Rock the Kasbah
Suffragette
I Smile Back
Burnt [ Opens in NYC / LA ]
Nasty Baby
Difret
---
FEATURE REVIEWS HAVE TIME STAMPS:
[ 0:53:11 ] IV. Feature Review: STEVE JOBS (2015)
Jason = 6.5 ( Low-priority Rental )
Karl = 9 ( Theater / Rental )
Steve Jobs article that Jason recommends.
---
[ 1:15:30 ] V. Feature Review: THE LAST WITCH HUNTER (2015)
Ryan = 7.5 ( Buy it! )
---
— Listen to Kyle "Dr. Walking Dead" Bishop on this RadioWest interview about zombies!
[ 1:29:19 ] V. MPW Halloween Special: 10 CREEPY MOVIE RECOMMENDATIONS TO WATCH THIS HALLOWEEN
1. The Vanishing (1988) – Jay's pick.
2. It Follows (2015) – Andy's pick.
3. The Legend of Sleepy Hollow (1949) animated – Karl's pick.
4. Stephen King's It (1990) – Ryan's pick.
5. Dead and Buried (1981) – Jay's pick.
6. John Carpenter's Halloween (1978) – Karl's pick. (Karl also recommended "The Lost Boys" (1987) while not "on the air," after this recording.)
7. Pan's Labyrinth (2006) – Ryan's pick.
8. Trick `r Treat (2009) – Andy's pick.
(Bonus) 9. Let the Right One In (2008) – Andy's pick.
(Bonus) 10. Alice Sweet Alice (1976) – Jay's pick.
---
VI. Wrap-Up / Plugs / Ending
---
COMING UP ON MPW NEXT WEEK:
Episode 162 where we'll be reviewing "Truth," "Burnt," "Bone Tomahawk" and "Scouts Guide to the Zombie Apocalypse." Join us!
---
LINKS FOR THIS EPISODE:
Contact MPW:
E-mail us: MoviePodcastWeekly@gmail.com.
Leave us a voicemail: (801) 382-8789.
Follow MPW on Twitter: @MovieCastWeekly
Leave a comment in the show notes for this episode.
Ry's BIO
Ry's flagship show: Geek Cast Live Podcast
DONATE here to facilitate the creation of more Geek content!
Blog: Geek Cast Live
Web site: Geek Harder.com
Facebook
Twitter: @GeekCastRy
Jason recommends supporting: Operation Underground Railroad
Listen to MPW:
Add MPW to your Stitcher playlist: Stitcher.com
MPW on iTunes
MPW's RSS feed
Right-click to download the MPW 100 Rap
Josh's links:
Hear Josh named as one of the Top 5 Up-and-Coming Directors on The Film Vault Podcast!
Twitter: @IcarusArts
Josh covers streaming movies on: Movie Stream Cast
Hear Josh on The SciFi Podcast
Hear Josh on Horror Movie Podcast
If you're a Horror fan, listen to Jason and Josh on HORROR MOVIE PODCAST
We'd like to thank The Dave Eaton Element and Dave himself for the use of his music for our theme song. Buy Dave's Eaton's music: BandCamp.com
---
If you like Movie Podcast Weekly, please subscribe and leave us a review in iTunes. If you want to support the show, we have PayPal buttons in our right-hand sidebar where you can make a one-time donation or you can become a recurring donor for just $2 per month. (Every little bit helps!)
Thanks for listening, and join us again next Wednesday for Movie Podcast Weekly.
---