Podcast: Play in new window | Download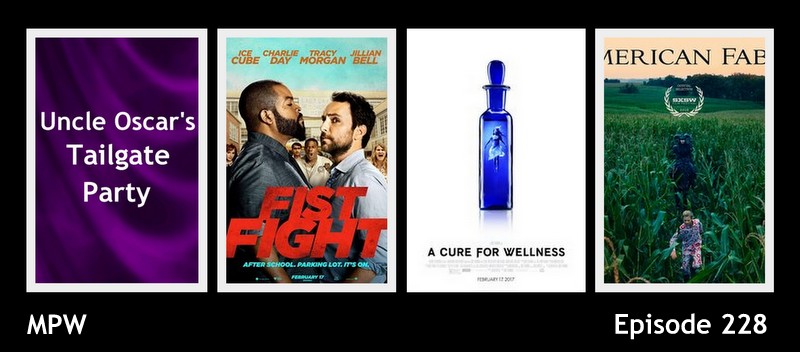 Hear our first ever (and maybe last) Uncle Oscar's Tailgate Party with special guest Dino Ticinelli, whom you can follow on Twitter and Letterboxd. Also in Episode 228 of Movie Podcast Weekly, we bring you three Feature Reviews of A Cure for Wellness and Fist Fight and American Fable. We also bring you a brief guest appearance from Jason's wife, Natalie Pyles.
If you're new to our show… Movie Podcast Weekly typically features four hosts — Jason, Andy, Karl and Geek Cast Ry — along with frequent guests. We give you our verdicts on at least one new movie release from the current year that's currently playing in theaters, as well as several mini reviews of whatever we've been watching lately. New episodes release every single week!
---
SHOW NOTES:
I. Introduction
— Welcome back Dino
— Welcome back Natalie Pyles: No Tomorrow (Netflix series), Arrival
---
[ 0:13:18 ] II. Mini Reviews
Dino and Jason: The Wailing, The Handmaiden (partial review)
---
[ 0:27:07 ] III. Main Event: UNCLE OSCAR'S TAILGATE PARTY with Dino
— revisiting our Top 10 Movies of 2016
— the biggest filmic horse races of 2016 awards contenders
— predictions: which movies will actually win
— wishes: which movies should win
— awards contenders we've seen since our Top 10 (and if anything changed)
— 89th Academy Awards wager
---
IV. New in Theaters This Past Weekend [ Friday, Feb. 17, 2017 ]:
A Cure for Wellness
The Great Wall
Fist Fight
American Fable
Everybody Loves Somebody
Ghost of New Orleans
Guns and Winter
XX
My Name Is Emily
Stolen Valor
You're Killing Me, Susana
In Dubious Battle
Heartache
Lovesong
John and Me
Land of Mine
---
FEATURE REVIEWS HAVE TIME STAMPS:
[ 1:27:36 ] V. Feature Review: FIST FIGHT (2017)
Karl = 6 ( Rental )
---
[ 1:33:21 ] VI. Feature Review: AMERICAN FABLE (2017)
Dino = 5.5 ( Low-priority Rental )
---
[ 1:42:42 ] VII. Feature Review: A CURE FOR WELLNESS (2017)
Jason = 9 ( Theater / Buy it! )
Dino = 7 ( Theater / Rental )
---
VIII. Wrap-Up / Plugs / Ending
— Dino recommends "Tower" (2016)
---
COMING UP ON MPW NEXT WEEK:
Episode 229 where we'll be reviewing the 89th Academy Awards ceremony that takes place on Sunday, Feb. 26. And we'll bring you Feature Reviews of "Get Out" and "The Great Wall." Don't miss it!
---
LINKS FOR THIS EPISODE:
Follow your fellow cinephile, Dino:
on Twitter
on Letterboxd
And for any Horror fans, Jay highly recommends HMP's HORROR CINEMA AWARDS (A must-listen!)
Contact MPW:
E-mail us: MoviePodcastWeekly@gmail.com.
Leave us a voicemail: (801) 382-8789.
Follow MPW on Twitter: @MovieCastWeekly
Leave a comment in the show notes for this episode.
Ryan's new Facebook page
Ry's BIO
Ryan's New Facebook Page
Ry's flagship show: Geek Cast Live Podcast
DONATE here to facilitate the creation of more Geek content!
Blog: Geek Cast Live
Web site: Geek Harder.com
Facebook
Twitter: @GeekCastRy
Jason recommends supporting: Operation Underground Railroad
Listen to MPW:
Add MPW to your Stitcher playlist: Stitcher.com
MPW on iTunes
MPW's RSS feed
Right-click to download the MPW 100 Rap
Josh's links:
Hear Josh named as one of the Top 5 Up-and-Coming Directors on The Film Vault Podcast!
Twitter: @IcarusArts
Josh covers streaming movies on: Movie Stream Cast
Hear Josh on The SciFi Podcast
Hear Josh on Horror Movie Podcast
If you're a Horror fan, listen to Jason and Josh on HORROR MOVIE PODCAST
We'd like to thank The Dave Eaton Element and Dave himself for the use of his music for our theme song. Buy Dave's Eaton's music: BandCamp.com
Ryan's Fake Movie Titles:
Guns and Winter
Stolen Valor
Heartache
John and Me
---
If you like Movie Podcast Weekly, please subscribe and leave us a review in iTunes. If you want to support the show, we have PayPal buttons in our right-hand sidebar where you can make a one-time donation or you can become a recurring donor for just $2 per month. (Every little bit helps!)
Thanks for listening, and join us again next week for Movie Podcast Weekly.
---