Podcast: Play in new window | Download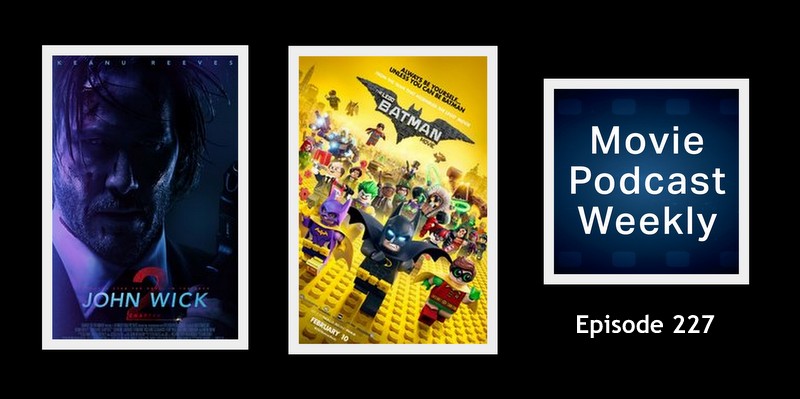 Welcome to Movie Podcast Whiskey, ephs, I mean, Movie Podcast Tipsy, uh, I mean. Ah, forget it. Bottom line: Ryan's been drinking again, so by the time we reach his Feature Review of The LEGO Batman Movie, he's waxing pretty philosophical… Welcome to Episode 227 of Movie Podcast Weekly, where we also bring you a Feature Review of John Wick: Chapter 2.
This episode also features a few MPW firsts! Get this! — you won't believe this stuff: Jason's wife intentionally watches an R-rated movie on Netflix from 1993 and shows it to the kids! And Ryan brings us a live review of a brand-new release as it airs! And you won't believe what happens this week during Ryan's Fake Movie Titles game! Luck of the Irish! Oh, and by the way, Jay's two children might become cannibals someday… Movie Podcast Wasted is all pretty memorable and ridiculous, so join us!
If you're new to our show… Movie Podcast Weekly typically features four hosts — Jason, Andy, Karl and Geek Cast Ry — along with frequent guests. We give you our verdicts on at least one new movie release from the current year that's currently playing in theaters, as well as several mini reviews of whatever we've been watching lately. New episodes release every single week!
---
SHOW NOTES:
I. Introduction
— Beyoncé and The Grammy Awards
— Eminem and Elton John at The Grammy Awards
— Billy Joel in SLC in November 2017!
— Documentary: Eagles of Death Metal: Our Friends (2017)
— Ryan recommends watching Boatlift – An Untold Tale of 9/11 Resilience
— Tower (2016)
— All Eyez on Me trailer
— Avengers: Infinity War – first look featurette
---
[ 0:23:36 ] II. Mini Reviews
Ryan: The Walking Dead (second half) Season 7, Black Sails, The Young Pope, The Bachelor
Karl: John Wick
Jason: John Wick, TV ads and the Future of Television, Alive (1993), The Eighties – Parts 1, 2
---
III. New in Theaters This Past Weekend [ Friday, Feb. 10, 2017 ]:
John Wick: Chapter 2
The LEGO Batman Movie
Fifty Shades Darker
A United Kingdom
Havenhurst
Stick Shift
Stray Bullets
Zipper
Running Wild
Femme
Eagles of Death Metal: Our Friends
Keri
Just Be You
---
FEATURE REVIEWS HAVE TIME STAMPS:
[ 1:06:36 ] IV. Feature Review: JOHN WICK: CHAPTER 2 (2017)
Jason = 6.5 ( Theater / Rental )
Karl = 7 ( Theater / Rental )
---
Ryan is very drunk at this point…
[ 1:21:23 ] V. Feature Review: The LEGO Batman Movie (2017)
Ryan = 7 ( Redbox Rental )
---
VI. Wrap-Up / Plugs / Ending
---
COMING UP ON MPW NEXT WEEK: Episode 228 where we'll bring you MPW's first ever Uncle Oscar's Tailgate Party featuring special guest Dino! And we'll also be reviewing "A Cure for Wellness," "Fist Fight" and "American Fable." Don't miss it!
---
LINKS FOR THIS EPISODE:
Jay recommends checking out HMP's HORROR CINEMA AWARDS for a celebration of 2016's best horror films!
Contact MPW:
E-mail us: MoviePodcastWeekly@gmail.com.
Leave us a voicemail: (801) 382-8789.
Follow MPW on Twitter: @MovieCastWeekly
Leave a comment in the show notes for this episode.
Ryan's new Facebook page
Ry's BIO
Ryan's New Facebook Page
Ry's flagship show: Geek Cast Live Podcast
DONATE here to facilitate the creation of more Geek content!
Blog: Geek Cast Live
Web site: Geek Harder.com
Facebook
Twitter: @GeekCastRy
Jason recommends supporting: Operation Underground Railroad
Listen to MPW:
Add MPW to your Stitcher playlist: Stitcher.com
MPW on iTunes
MPW's RSS feed
Right-click to download the MPW 100 Rap
Josh's links:
Hear Josh named as one of the Top 5 Up-and-Coming Directors on The Film Vault Podcast!
Twitter: @IcarusArts
Josh covers streaming movies on: Movie Stream Cast
Hear Josh on The SciFi Podcast
Hear Josh on Horror Movie Podcast
If you're a Horror fan, listen to Jason and Josh on HORROR MOVIE PODCAST
We'd like to thank The Dave Eaton Element and Dave himself for the use of his music for our theme song. Buy Dave's Eaton's music: BandCamp.com
Ryan's fake movie titles:
Stick Shift
Femme
Zipper
Just Be You
---
If you like Movie Podcast Weekly, please subscribe and leave us a review in iTunes. If you want to support the show, we have PayPal buttons in our right-hand sidebar where you can make a one-time donation or you can become a recurring donor for just $2 per month. (Every little bit helps!)
Thanks for listening, and join us again next week for Movie Podcast Weekly.
---