Podcast: Play in new window | Download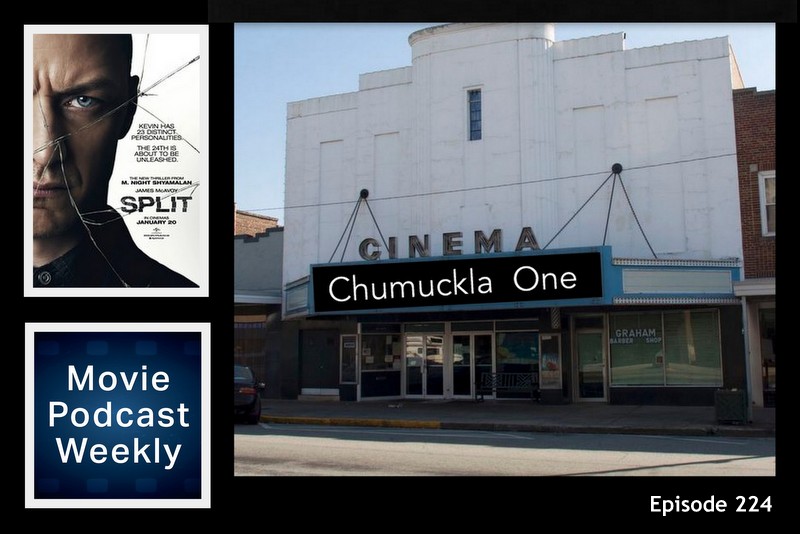 Greetings from The Chumuckla One two-screen movie house down in Chumuckla, Florida! … Are we still talking about "John Wick"? In an unforgettable Episode 224 of Movie Podcast Weekly, you'll hear Karl foolishly challenge listener Jason Dragon (a horror fan with a formidable physique) to a schoolyard fight. During this ridiculous show, Jason brings you a spoiler-free Feature Review of M. Night Shyamalan's Split; we discuss coercion to cancel Netflix; Karl throws a total fit about "Annie Hall" beating "Star Wars" at The Oscars; and we also fight about The Razzies… We're joined by guest host, "Randy," a diesel mechanic from — you guessed it — Chumuckla, in the Florida panhandle. Join us … you'll probably regret it.
If you're new to our show… Movie Podcast Weekly typically features four hosts — Jason, Andy, Karl and Geek Cast Ry — along with frequent guests. We give you our verdicts on at least one new movie release from the current year that's currently playing in theaters, as well as several mini reviews of whatever we've been watching lately. New episodes release every single week!
---
SHOW NOTES:
I. Introduction
— Guest host "Randy," from Chumuckla, Florida
— Why Karl's birthday sucked
— Jason's amazing gift from Ryan
— Eric Herman's incredible photo variations from Ep. 185 (Thanks, Eric!)
---
[ 0:09:29 ] II. Mini Reviews
Karl: Live by Night,
Ryan: New TV purchase, Captain America: Civil War, The Witch: A New England Folktale, The Razzies 2017
Jason: Jim Gaffigan: Cinco, The Simpson's Treehouse of Horror Halloween Special Vol. VII
Andy: Neal Brennan: 3 Mics, Jason Bourne, Taboo
---
III. New in Theaters This Past Weekend [Friday, Jan. 20, 2017]:
Split
xXx: The Return of Xander Cage
The Founder
Yu-Gi-Oh! The Dark Side of Dimensions
Grand Jury
The Resurrection of Gavin Stone
They Call Us Monsters
Detour
Category 5
Antarctica: Ice and Sky
This Too Shall Pass
Axe Murders of Villisca
Trespass Against Us
Red Light
The Red Turtle
"Honey, grab the paper… Let's see what's playing at The Chumuckla One."
---
FEATURE REVIEWS HAVE TIME STAMPS:
[ 0:55:45 ] IV. Feature Review: SPLIT (2017)
Jason = 7.5 ( Theater / Rental )
— Jason's theater rant story about two annoying seat-stealers…
---
[ 1:16:20 ] V. MPW Listener Feedback (and other rabble-rousing)
— Jenifer
— Brian
— Leigh
— Adam
(Ryan falls asleep)
— Jason Dragon
---
VI. Wrap-Up / Plugs / Ending
— A Dog's Purpose controversy
---
COMING UP ON MPW NEXT WEEK: Episode 225 where we'll be reviewing "The Founder" and "Gold." Join us!
---
LINKS FOR THIS EPISODE:
Contact MPW:
E-mail us: MoviePodcastWeekly@gmail.com.
Leave us a voicemail: (801) 382-8789.
Follow MPW on Twitter: @MovieCastWeekly
Leave a comment in the show notes for this episode.
Ryan's new Facebook page
Ry's BIO
Ryan's New Facebook Page
Ry's flagship show: Geek Cast Live Podcast
DONATE here to facilitate the creation of more Geek content!
Blog: Geek Cast Live
Web site: Geek Harder.com
Facebook
Twitter: @GeekCastRy
Jason recommends supporting: Operation Underground Railroad
Listen to MPW:
Add MPW to your Stitcher playlist: Stitcher.com
MPW on iTunes
MPW's RSS feed
Right-click to download the MPW 100 Rap
Josh's links:
Hear Josh named as one of the Top 5 Up-and-Coming Directors on The Film Vault Podcast!
Twitter: @IcarusArts
Josh covers streaming movies on: Movie Stream Cast
Hear Josh on The SciFi Podcast
Hear Josh on Horror Movie Podcast
If you're a Horror fan, listen to Jason and Josh on HORROR MOVIE PODCAST
We'd like to thank The Dave Eaton Element and Dave himself for the use of his music for our theme song. Buy Dave's Eaton's music: BandCamp.com
Ryan's Fake titles:
Grand Jury
This Too Shall Pass
Red Light
Category 5
---
If you like Movie Podcast Weekly, please subscribe and leave us a review in iTunes. If you want to support the show, we have PayPal buttons in our right-hand sidebar where you can make a one-time donation or you can become a recurring donor for just $2 per month. (Every little bit helps!)
Thanks for listening, and join us again next week for Movie Podcast Weekly.
---