Podcast: Play in new window | Download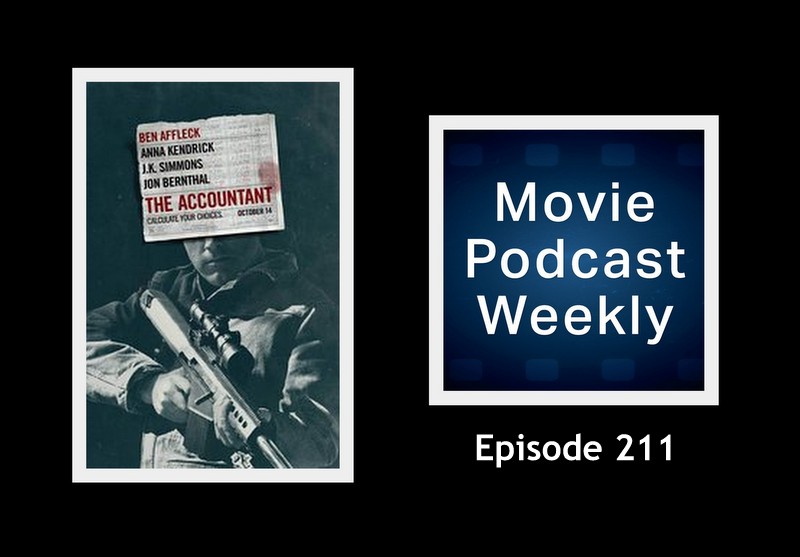 Back for more because we don't know any better, this is Episode 211 of Movie Podcast Weekly. In this show, we bring you a Feature Review of The Accountant with special guest William Rowan Jr. (of The Sci-Fi Podcast). We also have a number of debates that your knuckle-headed hosts have dredged up again, including a six-year-old physics argument from the Considering the Sequels Podcast, as well as our ongoing saga involving spoiler policies… Please let us know how you weigh in on these issues by voting on the two poll questions below, after you've heard this entire episode. Thanks!
If you're new to our show… Movie Podcast Weekly typically features four hosts — Jason, Andy, Karl and Geek Cast Ry — along with frequent guests. We give you our verdicts on at least one new movie release from the current year that's currently playing in theaters, as well as several mini reviews of whatever we've been watching lately. New episodes release every single week!
---
SHOW NOTES:
I. Introduction
— Welcome guest William Rowan Jr.
— William's Billy Baldwin story and "Humble Pie" (2007)
— Listen to The Sci-Fi Podcast
— Debating "Airport '77" (1977) … again
— More on Spoiler Policies
— Comment from Andrew
---
[ 0:23:05 ] II. Mini Reviews
Jason: This Is Us – Eps. 1-3 (TV series), Curious George: A Halloween Boofest, The Day the Earth Stood Still (1951), Exit Through the Gift Shop
Karl: Timeless, Westworld (HBO series),
William Rowan Jr: What We Do in the Shadows, Mascots, William's The Villa project and its Go Fund Me
Ryan: Cubs play-off baseball, Snowpiercer, Westworld Eps. 1-3, Teen Mom
Andy: Non-Stop
---
III. New in Theaters This Past Weekend (Oct. 14, 2016):
The Accountant
Max Steel
Kevin Hart: What Now?
Desierto
Priceless
Jack Goes Home
The Handmaiden
Do Not Resist
Christine
Ordinary World
La Leyenda del Chupacabras
Certain Women
Miss Hokusai
National Bird
---
FEATURE REVIEWS HAVE TIME STAMPS:
[ 1:11:48 ] IV. Feature Review: THE ACCOUNTANT (2016)
Jason = 6 ( Low-priority Rental )
Karl = 9 ( Theater / Buy it! )
William Rowan Jr. = 8 ( Theater / Rental )
---
V. Wrap-Up / Plugs / Ending
— E-mail from Hasse
— Vangelis soundtrack
---
[ 2:00:08 ] VI. Flashback: Excerpt from CTS Podcast: "Airport '77" review
— This excerpt comes from our first show, the Considering the Sequels Podcast. It was recorded late in 2010.
---
COMING UP ON MPW NEXT WEEK:
Episode 211 where we'll be reviewing "Jack Reacher: Never Go Back," "Inferno," "Keeping Up With the Joneses," "Ouija: Origin of Evil," and "Miss Peregrine's Home for Peculiar Children." Join us!
---
LINKS FOR THIS EPISODE:
Please consider helping William Rowan Jr. with his project, The Villa, and its Go Fund Me.
Hear William on The Sci-Fi Podcast as they review their experience at THE VOID.
Contact MPW:
E-mail us: MoviePodcastWeekly@gmail.com.
Leave us a voicemail: (801) 382-8789.
Follow MPW on Twitter: @MovieCastWeekly
Leave a comment in the show notes for this episode.
Ryan's new Facebook page
Ry's BIO
Ryan's New Facebook Page
Ry's flagship show: Geek Cast Live Podcast
DONATE here to facilitate the creation of more Geek content!
Blog: Geek Cast Live
Web site: Geek Harder.com
Facebook
Twitter: @GeekCastRy
Jason recommends supporting: Operation Underground Railroad
Listen to MPW:
Add MPW to your Stitcher playlist: Stitcher.com
MPW on iTunes
MPW's RSS feed
Right-click to download the MPW 100 Rap
Josh's links:
Hear Josh named as one of the Top 5 Up-and-Coming Directors on The Film Vault Podcast!
Twitter: @IcarusArts
Josh covers streaming movies on: Movie Stream Cast
Hear Josh on The SciFi Podcast
Hear Josh on Horror Movie Podcast
If you're a Horror fan, listen to Jason and Josh on HORROR MOVIE PODCAST
We'd like to thank The Dave Eaton Element and Dave himself for the use of his music for our theme song. Buy Dave's Eaton's music: BandCamp.com
---
If you like Movie Podcast Weekly, please subscribe and leave us a review in iTunes. If you want to support the show, we have PayPal buttons in our right-hand sidebar where you can make a one-time donation or you can become a recurring donor for just $2 per month. (Every little bit helps!)
Thanks for listening, and join us again next week for Movie Podcast Weekly.
---