Podcast: Play in new window | Download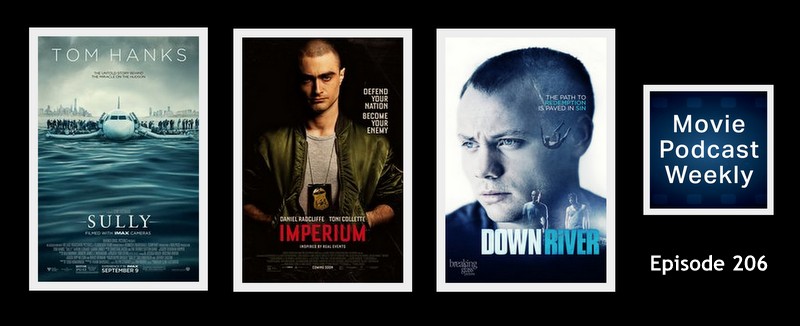 In this heated edition of Movie Podcast Weekly, Jason compels Andy to "refuse to participate" from his Mini Reviews onward, up until the point where Andy eventually hangs up the Skype call. Welcome to Episode 206. This kind of episode is pretty typical for us. Also in this show, we bring you Feature Reviews of Clint Eastwood's Sully and Daniel Radcliffe's Imperium and an Australian film called Downriver. The day we recorded this episode, Sept. 12, 2016, was Ryan's 33rd birthday. Happy birthday, Ryan! Thanks for listening.
If you're new to our show… Movie Podcast Weekly typically features four hosts — Jason, Andy, Karl and Geek Cast Ry — along with frequent guests. We give you our verdicts on at least one new movie release from the current year that's currently playing in theaters, as well as several mini reviews of whatever we've been watching lately. New episodes release every single week!
---
SHOW NOTES:
I. Introduction
— Happy birthday to Ryan!
— MPN MeetUp this week! (See more details below.)
— E-mail from Deadbox Mike
— Eric Herman comment
— Feedback from Andrew in Australia
---
[ 0:09:24 ] II. Mini Reviews
Karl: Morgan, Ocean's Eleven (2001)
Ryan: The Nice Guys, Captain America: Civil War Blu-ray (a day early)
Jason: August: Osage County (revisited), The Angry Birds Movie, Wild
Andy: *** Pouting. Refused to participate ***
---
III. New in Theaters This Past Weekend:
Sully
When the Bough Breaks
The Wild Life
The Disappoints Room
Demon
Ithaca
Happy Birthday
Kicks
For the Love of Spock
Come What May
Brother Nature
Transpecos
London Road
Other People
Author The JT LeRoy Story
---
FEATURE REVIEWS HAVE TIME STAMPS:
[ 0:38:39 ] IV. Feature Review: SULLY (2016)
Jason = 7 ( Theater / Rental )
---
[ 0:58:04 ] V. Feature Review: IMPERIUM (2016)
Jason = 7.5 ( Strong Rental )
---
[ 1:05:00 ] VI. Feature Review: DOWNRIVER (2016)
Jason = 4.5 ( Avoid )
---
VII. Wrap-Up / Plugs / Ending
— Listener Feedback: Robert, David
— More details about the MPN MeetUp on Sat., Sept. 17, at noon in West Lafayette, Indiana!
— Thanks to Robert and Leigh for your donations and support.
---
COMING UP ON MPW NEXT WEEK:
We'll be recording Episode 207 with the listeners who attend our MPN MeetUp! We'll also bring you Feature Reviews of (at least) "Blair Witch" and "Snowden." Join us in person in Indiana!
---
LINKS FOR THIS EPISODE:
— MPN Meetup (THIS IS HAPPENING THIS UPCOMING WEEKEND!) — Saturday, Sept. 17, 2016 in Indiana.
We'll be meeting everyone for lunch at noon at Nine Irish Brothers pub in West Lafayette, Indiana. Then later that afternoon we'll all be seeing "Blair Witch" together (including Karl). More details here:
O'Bryan's Nine Irish Brothers Pub in West Lafayette, Indiana
On Facebook
Quoted from its website:
"Nine Irish Brothers in West Lafayette is a short walk from Wabash Landing, Purdue University, and downtown Lafayette, Ind. Parking is available in our parking lot and in the parking lot directly across Howard Avenue, via valet service (Thursday – Saturday evenings only), or at Wabash Landing. Nine Irish Brothers validates parking passes from Wabash Landing."
119 Howard Avenue
West Lafayette, IN 47906
Contact MPW:
E-mail us: MoviePodcastWeekly@gmail.com.
Leave us a voicemail: (801) 382-8789.
Follow MPW on Twitter: @MovieCastWeekly
Leave a comment in the show notes for this episode.
Ryan's new Facebook page
Ry's BIO
Ryan's New Facebook Page
Ry's flagship show: Geek Cast Live Podcast
DONATE here to facilitate the creation of more Geek content!
Blog: Geek Cast Live
Web site: Geek Harder.com
Facebook
Twitter: @GeekCastRy
Jason recommends supporting: Operation Underground Railroad
Listen to MPW:
Add MPW to your Stitcher playlist: Stitcher.com
MPW on iTunes
MPW's RSS feed
Right-click to download the MPW 100 Rap
Josh's links:
Hear Josh named as one of the Top 5 Up-and-Coming Directors on The Film Vault Podcast!
Twitter: @IcarusArts
Josh covers streaming movies on: Movie Stream Cast
Hear Josh on The SciFi Podcast
Hear Josh on Horror Movie Podcast
If you're a Horror fan, listen to Jason and Josh on HORROR MOVIE PODCAST
We'd like to thank The Dave Eaton Element and Dave himself for the use of his music for our theme song. Buy Dave's Eaton's music: BandCamp.com
---
If you like Movie Podcast Weekly, please subscribe and leave us a review in iTunes. If you want to support the show, we have PayPal buttons in our right-hand sidebar where you can make a one-time donation or you can become a recurring donor for just $2 per month. (Every little bit helps!)
Thanks for listening, and join us again next week for Movie Podcast Weekly.
---