Podcast: Play in new window | Download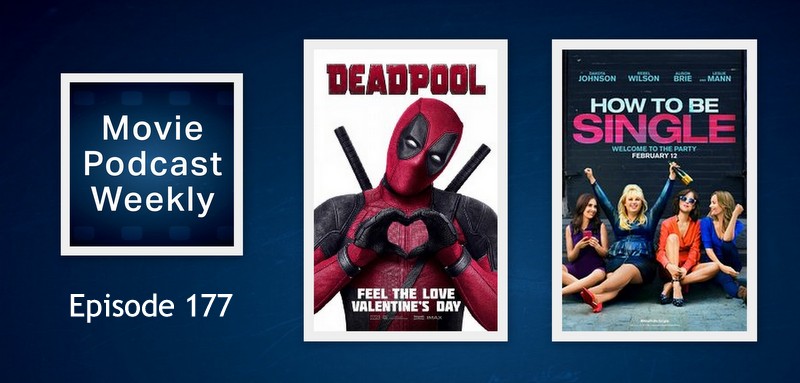 Welcome to Movie Podcast Weekly! This is Episode 177. During this show, we bring you Feature Reviews of How to Be Single and the highest R-rated movie opening ever — Deadpool with special guest Willis Wheeler (of Terror Troop horror movie podcast.) Note: Don't take your kids to see "Deadpool."
If you're new to our show… Movie Podcast Weekly typically features four hosts — Jason, Andy, Karl and Geek Cast Ry — along with frequent guests. We give you our verdicts on at least one new movie release from the current year that's currently playing in theaters, as well as several mini reviews of whatever we've been watching lately. And we usually provide specialized genre recommendations. New episodes release every week.
---
SHOW NOTES:
I. Introduction
— Welcome back special guest Willis Wheeler
---
[ 0:05:23 ] II. Mini Reviews
Karl: Seven Blu-rays that Karl bought and will be reviewing on MPW soon: Soylent Green, Raiders of the Lost Ark, Invasion of the Body Snatchers (1975), The Omega Man, The Great Train Robbery (1979), Indiana Jones and the Last Crusade, Futureworld, The X-Files (2016) and Westworld (2016)
Willis Wheeler: John Wick, The Resurrection of Jake the Snake Roberts, (The Flash, The Arrow, Legends of Tomorrow), and the loss of Vanity
Jason: Father of the Bride; True story: Brad Paisley, Father of the Bride and its sequel, and "Part II"; The Martian (revisited)
Ryan: The Maze Runner, The Walking Dead Season 6 (second half)
Andy: Unbranded, Bridge of Spies, Talladega Nights: The Ballad of Ricky Bobby, The Phantom of the Opera at the Royal Albert Hall (2011), Storm Surfers
Jason: "Part II" of the Brad Paisley story…
---
III. New in Theaters This Past Weekend:
Deadpool
Zoolander 2
How to Be Single
Of Mind and Music
Touched With Fire
Providence
Fitoor
Where to Invade Next
---
FEATURE REVIEWS HAVE TIME STAMPS:
[ 0:54:24 ] IV. Feature Review: DEADPOOL (2016)
Jason = 9 ( Theater / Buy it! )
Andy = 10 ( A perfect movie… Will definitely be in Andy's Top 10 of 2016, but he cannot recommend that anyone see this movie. )
Karl = 9 ( Theater / Buy it! )
Ryan = 10 ( Theater / Buy it! )
---
[ 1:35:53 ] V. Feature Review: HOW TO BE SINGLE (2016)
Karl = 4 ( Avoid )
---
VI. Wrap-Up / Plugs / Ending
Special thanks to our generous supporters:
Steve W. from Sonora, CA
Joel Robertson from Forgotten Flix Remembers and Retro Movie Geek
Marc S.
One Sick Puppy from the Dead as Hell Horror Podcast for purchasing our Cujo commentary
You can hear Jay's guest appearance on Dead as Hell to review Phenomena
---
COMING UP ON MPW NEXT WEEK:
Episode 178 where we'll be reviewing "Risen," "Race," and "The Witch," as well as our Top 10 Films That We Love (But Are Ashamed to Admit It) Join us!
---
LINKS FOR THIS EPISODE:
Be sure to listen to Geek Cast Live Podcast Don's Plum episode to prepare for next week's MPW! (And you can also find Geek Cast Live on SoundCloud now.)
Read Jay's written review of The Witch
Hear Jay's solocast audio review of The Witch on Horror Movie Podcast
Catch up with Willis Wheeler online here:
Two-Drink Commentaries
NFW Commentaries Podcast
The Wild Man's YouTube Channel
Willis Wheeler on TV's Toy Hunter
Terror Troop horror podcast
Cinema Beef Podcast
Willis on Twitter: @NastyWillDC
Willis on Facebook
Contact MPW:
E-mail us: MoviePodcastWeekly@gmail.com.
Leave us a voicemail: (801) 382-8789.
Follow MPW on Twitter: @MovieCastWeekly
Leave a comment in the show notes for this episode.
Ry's BIO
Ry's flagship show: Geek Cast Live Podcast
DONATE here to facilitate the creation of more Geek content!
Blog: Geek Cast Live
Web site: Geek Harder.com
Facebook
Twitter: @GeekCastRy
Jason recommends supporting: Operation Underground Railroad
Listen to MPW:
Add MPW to your Stitcher playlist: Stitcher.com
MPW on iTunes
MPW's RSS feed
Right-click to download the MPW 100 Rap
Josh's links:
Hear Josh named as one of the Top 5 Up-and-Coming Directors on The Film Vault Podcast!
Twitter: @IcarusArts
Josh covers streaming movies on: Movie Stream Cast
Hear Josh on The SciFi Podcast
Hear Josh on Horror Movie Podcast
If you're a Horror fan, listen to Jason and Josh on HORROR MOVIE PODCAST
We'd like to thank The Dave Eaton Element and Dave himself for the use of his music for our theme song. Buy Dave's Eaton's music: BandCamp.com
---
If you like Movie Podcast Weekly, please subscribe and leave us a review in iTunes. If you want to support the show, we have PayPal buttons in our right-hand sidebar where you can make a one-time donation or you can become a recurring donor for just $2 per month. (Every little bit helps!)
Thanks for listening, and join us again next week for Movie Podcast Weekly.
---