Podcast: Play in new window | Download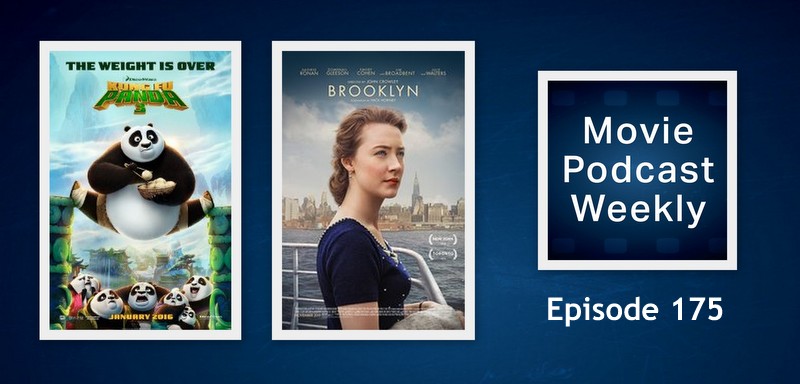 Oh boy! We're back again already with Movie Podcast Weekly, Episode 175! In this episode, your four favorite hosts bring you Feature Reviews of Kung Fu Panda 3 (2016) and Best Picture nominee Brooklyn (2015). We also bring you Mini Reviews and at least 40 minutes of mostly unlistenable and irrelevant, witless banter, but we hope you enjoy it, anyway. It's about as ridiculous as any other episode, so you might as well join us!
If you're new to our show… Movie Podcast Weekly typically features four hosts — Jason, Andy, Karl and Geek Cast Ry — along with frequent guests. We give you our verdicts on at least one new movie release from the current year that's currently playing in theaters, as well as several mini reviews of whatever we've been watching lately. And we usually provide specialized genre recommendations. New episodes release every single Wednesday.
---
SHOW NOTES:
I. Introduction
— An MPW tagline?
— Thanks to the generous donors who literally keep MPW (and HMP) afloat:
Chad Downey
Mark M. from the Netherlands
German
Juan
Pierre from Marland
— Should Karl start a home theater podcast with Chad Downey?
— Jefferson Airplane deaths (and Jefferson Starship)
— Send your brain training tips to TrainYourBrainPodcast@gmail.com or leave it as a voicemail (828) 565-2494 for a chance to win an Amazon gift card from Dr. Trayford of the Train Your Brain Podcast.
— Hear Jason interview Dr. Trayford about the movie "Concussion"
— Great movie-related episode coming up on GCL.ninja on Saturday, Feb. 13! Don't miss it!
— Alan Rickman in the "Eye in the Sky" trailer
— Alan from Wisconsin on "Making a Murderer"
— MPW crew covering the 2016 presidential election? … Seriously? You'd want to hear that?
— MPW listener Christie's Top 10 Most Important Films list
---
[ 0:27:44 ] II. Mini Reviews
Karl: The Towering Inferno, The Great Escape and the insecurity of Steve McQueen
Jason: Titanic, Bolt, Dear Zachary: A Letter to a Son About His Father
Ryan: The X-Files (2016) TV series
Andy: Carnival of Souls, Harry Potter films, Training Day, Horrible Bosses 2, Meet the Fockers, Django Unchained, An Honest Liar
---
III. New in Theaters This Past Weekend:
The Finest Hours
Kung Fu Panda 3
Fifty Shades of Black
Lights Out
Jane Got a Gun
The Pastor
Lazer Team
A Date With Miss Fortune
The Clan
Mountain Men
Portrait of a Serial Monogamist
Rabin, the Last Day
In the Hell of Dixie
---
FEATURE REVIEWS HAVE TIME STAMPS:
[ 1:00:11 ] IV. Feature Review: KUNG FU PANDA 3 (2016)
Andy = 6 ( Theater / Buy it! )
Karl = 9 ( Theater / Buy it! )
Ryan = 7 ( Rental )
Evan = 10 ( Theater /
Emerson = 1 to 10! 1 and 10!
---
[ 1:18:57 ] V. Feature Review: BROOKLYN (2015)
Jason = 6 ( Rental )
— Netflix Owes $11 Billion?
---
VI. Wrap-Up / Plugs / Ending
Post-credits:
"Waltz Into the Water" by Jason Pyles
"Forest Flutter" by Dave Eaton
---
COMING UP ON MPW NEXT WEEK:
Episode 176 where we'll be reviewing "Hail, Caesar" with special guest Geek Cast Nic, as well as "Pride and Prejudice and Zombies" and "The Witch." Join us!
---
LINKS FOR THIS EPISODE:
You can also hear Geek Cast Live Podcast on on SoundCloud
Contact MPW:
E-mail us: MoviePodcastWeekly@gmail.com.
Leave us a voicemail: (801) 382-8789.
Follow MPW on Twitter: @MovieCastWeekly
Leave a comment in the show notes for this episode.
Ry's BIO
Ry's flagship show: Geek Cast Live Podcast
DONATE here to facilitate the creation of more Geek content!
Blog: Geek Cast Live
Web site: Geek Harder.com
Facebook
Twitter: @GeekCastRy
Jason recommends supporting: Operation Underground Railroad
Listen to MPW:
Add MPW to your Stitcher playlist: Stitcher.com
MPW on iTunes
MPW's RSS feed
Right-click to download the MPW 100 Rap
Josh's links:
Hear Josh named as one of the Top 5 Up-and-Coming Directors on The Film Vault Podcast!
Twitter: @IcarusArts
Josh covers streaming movies on: Movie Stream Cast
Hear Josh on The SciFi Podcast
Hear Josh on Horror Movie Podcast
If you're a Horror fan, listen to Jason and Josh on HORROR MOVIE PODCAST
We'd like to thank The Dave Eaton Element and Dave himself for the use of his music for our theme song. Buy Dave's Eaton's music: BandCamp.com
---
If you like Movie Podcast Weekly, please subscribe and leave us a review in iTunes. If you want to support the show, we have PayPal buttons in our right-hand sidebar where you can make a one-time donation or you can become a recurring donor for just $2 per month. (Every little bit helps!)
Thanks for listening, and join us again next Wednesday for Movie Podcast Weekly.
---