Podcast: Play in new window | Download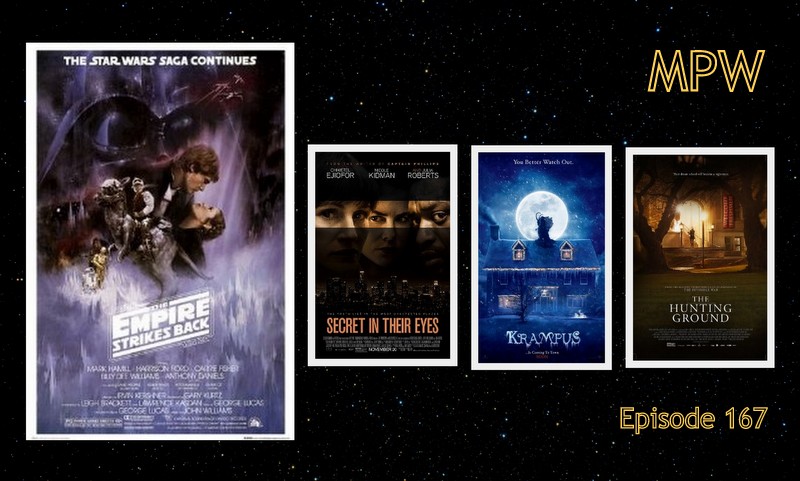 Welcome to Movie Podcast Weekly, Episode 167. We're continuing our coverage of the STAR WARS FRANCHISE. This is part five of seven, where we review Star Wars Episode V: The Empire Strikes Back (1980) with special guest Steve Hernandez. Unfortunately, Jason's three co-hosts get frozen in carbonite about halfway through the show, so Jay brings you the remaining three Feature Reviews solo-cast style: Krampus and Secret in Their Eyes and The Hunting Ground. Join us!
If you're new to our show… Movie Podcast Weekly typically features four hosts — Jason, Andy, Karl and Geek Cast Ry — along with frequent guests. We give you our verdicts on at least one new movie release from the current year that's currently playing in theaters, as well as several mini reviews of whatever we've been watching lately. And we usually provide specialized genre recommendations. New episodes release every single Wednesday.
---
SHOW NOTES:
I. Introduction
— Jason and Andy leave a voicemail on The /Filmcast Ep. 343
— Geek Cast Live Podcast discusses Bone Tomahawk
— The proper pronunciation of At-At
— New "Batman v. Superman" trailer
— Must-Watch: The most egregiously spoiler-ridden trailer in history that gives away the entire movie: "The Choice" trailer (for real — watch this!)
— Twitter message from Adrian
— "The Man in the High Castle" Ads Pulled From NY Subway
---
[ 0:27:03 ] II. Feature Review: STAR WARS EPISODE V: THE EMPIRE STRIKES BACK (1980)
Jason = 9 ( Must-See Buy it! )
Andy = 10 ( Buy it! )
Karl = 9 ( Buy it! / Masterpiece )
Ryan = 10 ( Buy it! )
Steve Hernandez = 8.5 ( Buy it! )
---
III. Serious Business: MPW Top 10 Movies of 2015 Listener Feedback Contest! — Join us!
Do these two things:
1. E-mail your Top 10 movies to: MoviePodcastWeekly@gmail.com
2. Include what you'd like for your prize (for if you win)
— Announcing two winners of the previous contest:
Roger Ebert's Movie Yearbook 2002: Juan
"The Karate Kid" VHS: Sal
---
IV. New in Theaters This Past Weekend:
Krampus
Chi-Raq
The Letters
Macbeth
A Royal Night Out
Youth
Life
The World of Kanako
Hitchcock / Truffaut
Christmas Eve
MI-5
---
FEATURE REVIEWS HAVE TIME STAMPS:
[ 1:32:45 ] V. Feature Review: KRAMPUS (2015)
Jason = 4.5 ( Avoid )
---
[ 1:44:22 ] VI. Feature Review: SECRET IN THEIR EYES (2015)
Jason = 6.5 ( Rental )
---
[ 1:54:29 ] VII. Feature Review: THE HUNTING GROUND (2015)
Jason = 10 ( Must-see / Important Film )
Check out these links:
SeeActStop.org
NotAlone.gov
---
VIII. Wrap-Up / Plugs / Ending
— Thanks to Vance for purchasing our Planes, Trains and Automobiles commentary
---
COMING UP ON MPW NEXT WEEK:
Episode 168 where we'll be reviewing "Star Wars Episode VI: Return of the Jedi" (1983), "Spotlight," "In the Heart of the Sea," "Goodnight Mommy" and "Landmine Goes Click." Join us!
---
LINKS FOR THIS EPISODE:
Contact MPW:
E-mail us: MoviePodcastWeekly@gmail.com.
Leave us a voicemail: (801) 382-8789.
Follow MPW on Twitter: @MovieCastWeekly
Leave a comment in the show notes for this episode.
Ry's BIO
Ry's flagship show: Geek Cast Live Podcast
DONATE here to facilitate the creation of more Geek content!
Blog: Geek Cast Live
Web site: Geek Harder.com
Facebook
Twitter: @GeekCastRy
Jason recommends supporting: Operation Underground Railroad
Listen to MPW:
Add MPW to your Stitcher playlist: Stitcher.com
MPW on iTunes
MPW's RSS feed
Right-click to download the MPW 100 Rap
Josh's links:
Hear Josh named as one of the Top 5 Up-and-Coming Directors on The Film Vault Podcast!
Twitter: @IcarusArts
Josh covers streaming movies on: Movie Stream Cast
Hear Josh on The SciFi Podcast
Hear Josh on Horror Movie Podcast
If you're a Horror fan, listen to Jason and Josh on HORROR MOVIE PODCAST
We'd like to thank The Dave Eaton Element and Dave himself for the use of his music for our theme song. Buy Dave's Eaton's music: BandCamp.com
---
If you like Movie Podcast Weekly, please subscribe and leave us a review in iTunes. If you want to support the show, we have PayPal buttons in our right-hand sidebar where you can make a one-time donation or you can become a recurring donor for just $2 per month. (Every little bit helps!)
Thanks for listening, and join us again next Wednesday for Movie Podcast Weekly.
---