Podcast: Play in new window | Download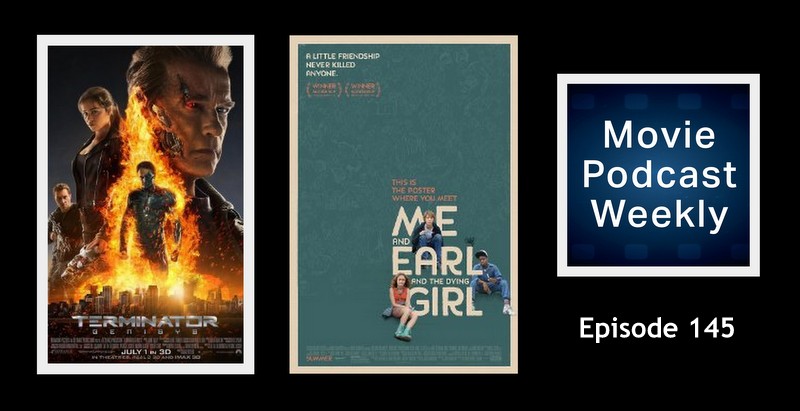 Hi and welcome to Episode 145 of Movie Podcast Weekly. In this memorable show, we are joined by special guest "Dr. Death" (aka Ryan's dad) (aka Kevin). We bring you Feature Reviews of Terminator Genisys and Me and Earl and the Dying Girl. Join us!
If you're new to our show… Movie Podcast Weekly typically features four hosts — Jason, Andy, Karl and Geek Cast Ry — along with frequent guests. We give you our verdicts on at least one new movie release from the current year that's currently playing in theaters, as well as several mini reviews of whatever we've been watching lately. And we usually provide specialized genre recommendations. New episodes release every single Wednesday.
---
SHOW NOTES:
I. Introduction
— Welcome special guest Kevin (Ry's Dad or "Dr. Death")
---
[ 0:05:44 ] II. Listener Feedback, Etc.
— Listener feedback from Episode 144
— E-mail from James: MPW covers David Lynch filmography
— Send us "homework" movies that you'd like for us to review: MoviePodcastWeekly@gmail.com (and enter to win "The Karate Kid" on VHS)
---
[ 0:21:05 ] III. Mini Reviews
Jason: The gripping conclusion of "The R&R Affair" after 25 years… Genuine Risk, Mike Birbiglia: My Girlfriend's Boyfriend, Sleepwalk With Me, Jurassic World. Also check out Horror Movie Podcast Ep. 060: Wolfman Josh's State of the Werewolf Address
Karl: Mr. Robot Season 1, Ep. 2; Daredevil (Netflix series)
Ry's Dad Kevin: The Next Food Network Star
Ryan: This Is Where I Leave You, True Detective Season 2, Ep. 2
---
[ 0:43:50 ] IV. Movie News, Trailers and Real-Life Aircraft Crashes
— Next week's Feature Review: Self/Less or The Gallows?
— Black Mass trailer
— Celebrity Deaths: Jerry Weintraub, Amanda Peterson
— Kevin: 1978 Airforce Jet Crash on University of Arizona Campus
— Jason: July 2, 2015 Pig Hot Air Balloon Crash Beside Jason's Car
— Jason highly recommends listening to:
The /Filmcast Ep. 324: Writer Bradley Jackson on "Balls Out" (starting at 41:22)
The /Filmcast Ep. 63 After Dark: What Happened to Fanboys (An absolute must-listen, 10 out of 10 podcast episode!)
— Thompson on Hollywood: The Best Films of 2015 So Far
---
V. New in Theaters This Past Weekend:
Terminator Genisys
Magic Mike XXL
Amy  [ Limited ]
Faith of Our Fathers  [ Limited ]
Cartel Land   [ Limited ]
Jimmy's Hall  [ Limited ]
Mala Mala   [ Limited ]
Jackie & Ryan   [ Limited ]
FEATURE REVIEWS HAVE TIME STAMPS:
[ 1:02:23 ] VI. Feature Review: TERMINATOR GENISYS (2015)
Jason = 7 ( Theater / Buy it! for Terminator fans )
Karl = 8.5 ( Theater / Buy it! )
Ryan = 7 ( Theater / Buy it in a boxed set four years from now! )
Kevin = 6.5 ( Theater )
---
[ 1:14:23 ] VII. Feature Review: SPOILERS for TERMINATOR GENISYS (2015)
---
[ 1:21:36 ] VIII. Feature Review: ME AND EARL AND THE DYING GIRL (2015)
Karl = 9.5 ( See in theaters to support great cinema / Rental )
---
IX. Wrap-Up / Plugs / Ending
— Thank you to Erik Nelson and Ryan from Nebraska for your generous and helpful donations. Sincerely.
---
COMING UP ON MPW NEXT WEEK:
Episode 146 for our Feature Review of "Self/Less." Join us!
---
LINKS FOR THIS EPISODE:
Follow Ry's Dad, Kevin, on Twitter: @QuotingKMan
Geek Cast Ry's links:
Ry's BIO
Ry's flagship show: Geek Cast Live Podcast
DONATE here to facilitate the creation of more Geek content!
Blog: Geek Cast Live
Web site: Geek Harder.com
Facebook
Twitter: @GeekCastRy
Provo Film Society on Facebook
Provo Film Society on Twitter
Jason recommends supporting: Operation Underground Railroad
Contact MPW:
E-mail us: MoviePodcastWeekly@gmail.com.
Leave us a voicemail: (801) 382-8789.
Follow MPW on Twitter: @MovieCastWeekly
Leave a comment in the show notes for this episode.
Listen to MPW:
Add MPW to your Stitcher playlist: Stitcher.com
MPW on iTunes
MPW's RSS feed
Right-click to download the MPW 100 Rap
Josh's links:
Hear Josh named as one of the Top 5 Up-and-Coming Directors on The Film Vault Podcast!
Twitter: @IcarusArts
Josh covers streaming movies on: Movie Stream Cast
Hear Josh on The SciFi Podcast
Hear Josh on Horror Movie Podcast
If you're a Horror fan, listen to Jason and Josh on HORROR MOVIE PODCAST
We'd like to thank The Dave Eaton Element and Dave himself for the use of his music for our theme song. Buy Dave's Eaton's music: BandCamp.com
---
If you like Movie Podcast Weekly, please subscribe and leave us a review in iTunes. If you want to support the show, we have PayPal buttons in our right-hand sidebar where you can make a one-time donation or you can become a recurring donor for just $2 per month. (Every little bit helps!)
Thanks for listening, and join us again next Wednesday for Movie Podcast Weekly.
---