Podcast: Play in new window | Download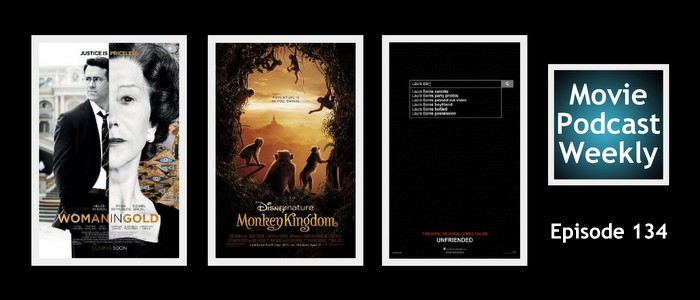 Welcome to the new and improved Movie Podcast Weekly. This is Episode 134. In this show, your favorite podcast hosts bring you Feature Reviews of Unfriended and Woman in Gold and Monkey Kingdom. We're also joined by special guest Willis Wheeler — The Wild Man…
In this episode, you'll also hear how Andy would fare during a zombie apocalypse, and we talk about an MPW foot race between Karl and Andy. Please be sure that you VOTE ON OUR POLL QUESTION to help us improve this podcast. Join us!
If you're new to our show… Movie Podcast Weekly typically features three hosts — Jason, Andy and Karl — along with frequent guests. We give you our verdicts on at least one new movie release from the current year that's currently playing in theaters, as well as several mini reviews of whatever we've been watching lately. And we usually provide specialized genre recommendations. New episodes release every single Wednesday.
---
SHOW NOTES:
I. Introduction
— Welcome Willis Wheeler
---
[ 0:02:48 ] II. Mini Reviews
Karl: House of Cards Season 3, Arrow (TV), The Flash (TV), The Walking Dead
Willis Wheeler: Daredevil (series on Netflix), Back Issues: The Hustler Magazine Story, The Sheik,
Jason: Bernie, The Karate Kid (1984), Annie (2014)
Andy: Chaos, The Company You Keep
---
III. What's New in Theaters This Past Weekend
Unfriended
Monkey Kingdom
Child 44
True Story
Alex of Venice
Beyond the Reach
Felix and Meira
Monsters: Dark Continent
The Dead Lands
Paul Blart: Mall Cop 2
---
[ 0:55:02 ] IV. Andy discusses Paul Blart: Mall Cop 2 (without having seen it)
---
FEATURE REVIEWS HAVE TIME STAMPS:
[ 1:05:13 ] V. Feature Review: UNFRIENDED (2015)
Jason = 0.5 ( Avoid )
Willis Wheeler = 7.5 ( Rental )
---
[ 1:22:01 ] VI. Feature Review: WOMAN IN GOLD (2015)
Karl = 7.5 ( Buy it! )
---
[ 1:30:37 ] VII. Feature Review: MONKEY KINGDOM (2015)
Jason = 4 ( Low-priority Rental )
---
[ 0:00:00 ] VIII. Movie News
— Star Wars VII: The Force Awakens new trailer
— Batman v Superman: Dawn of Justice new trailer
— New Jurassic World trailer
— New Fantastic Four trailer
---
IX. Specialty Recommendation Segments:
ANDY'S UNSEEMLY HOMEWORK:
Husk (2011)
JASON'S "THE-NEXT-DAY-AT-WORK MOVIE RECOMMENDATION (Thanks to Jeremy!)
Source Code (2011)
---
X. Wrap-Up / Plugs / Ending
---
COMING UP ON MPW NEXT WEEK:
Episode 135 when we'll be reviewing "Ex Machina."
---
LINKS FOR THIS EPISODE:
Read about Andy's nationally covered court case.
Jason highly recommends trying out Mattroid and William Rowan Jr.'s new, must-listen show — The SciFi Podcast
Provo Film Society on Facebook
Provo Film Society on Twitter
Jason recommends supporting: Operation Underground Railroad
Contact MPW:
E-mail us: MoviePodcastWeekly@gmail.com.
Leave us a voicemail: (801) 382-8789.
Follow MPW on Twitter: @MovieCastWeekly
Leave a comment in the show notes for this episode.
Listen to MPW:
Add MPW to your Stitcher playlist: Stitcher.com
MPW on iTunes
MPW's RSS feed
Right-click to download the MPW 100 Rap
Keep up with Josh:
Twitter: @IcarusArts
Josh covers streaming movies on: Movie Stream Cast
If you're a Horror fan, listen to Jason and Josh on HORROR MOVIE PODCAST
We'd like to thank The Dave Eaton Element and Dave himself for the use of his music for our theme song. Buy Dave's Eaton's music: BandCamp.com
---
If you like Movie Podcast Weekly, please subscribe and leave us a review in iTunes. If you want to support the show, we have PayPal buttons in our right-hand sidebar where you can make a one-time donation or you can become a recurring donor for just $2 per month. (Every little bit helps!)
Thanks for listening, and join us again next Wednesday for Movie Podcast Weekly.
---