Podcast: Play in new window | Download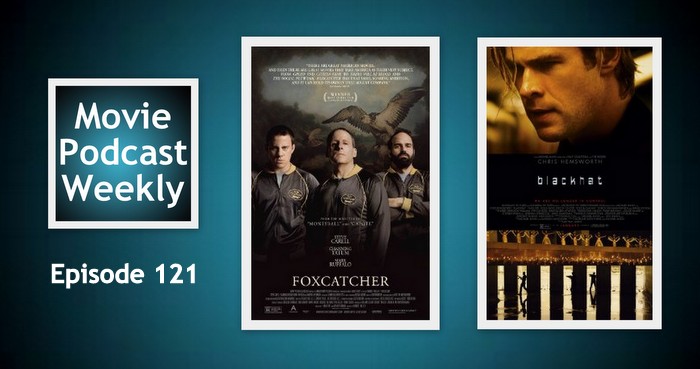 Movie Podcast Weekly Episode 121 brings you two Feature Reviews of Foxcatcher and Blackhat. This week, Jason is broadcasting from West Virginia again, so the audio quality is a little lower than usual; however, to compensate, MPW has brought back special guest William Rowan Jr. for this episode! Your guys also bring you some Oscar talk, where they discuss the nominations (and snubs) of the 87th Academy Awards. Don't miss it!
If you're new to our show… Movie Podcast Weekly typically features three hosts — Jason, Andy and Karl — along with frequent guests. We give you our verdicts on at least one new movie release from the current year that's currently playing in theaters, as well as several mini reviews of whatever we've been watching lately. And we usually provide specialized genre recommendations. New episodes release every single Tuesday. Join us!
---
SHOW NOTES:
I. Introduction
— Welcome special guest William Rowan Jr.
---
[ 0:02:15 ] II. 87th Academy Award Nominations
Jason: The nominees and snubs of this year's Oscars
---
[ 0:26:53 ] III. Mini Reviews
Karl: From Paris With Love, The Lincoln Lawyer
William Rowan Jr: Being There
Andy's Re-runs: The Whole Nine Yards (again), Jack Ryan: Shadow Recruit (again, one year later)…
---
IV. What's New in Theaters This Past Weekend
Foxcatcher [ Expansion ]
Blackhat
American Sniper
The Wedding Ringer
Paddington
Escobar: Paradise Lost
Spare Parts
Son of a Gun [ LA/NY ]
Match [ Limited ]
Little Accidents [ Limited ]
Still Alice [ Limited ]
---
FEATURE REVIEWS HAVE TIME STAMPS:
[ 0:38:35 ] V. Feature Review: FOXCATCHER (2015)
Jason = 7.5 ( Rental )
William Rowan Jr. = 8.5 ( Rental )
---
[ 0:58:39 ] VI. Feature Review: BLACKHAT (2015)
Karl = 8 ( Theater / Buy it! )
---
[ 1:10:02 ] VII. Specialty Segments:
ANDY'S UNSEEMLY HOMEWORK: (Here Andy gives another re-run of Karl's recommendation segment from MPW Ep. 021)
Dark Star (1974) = 7 ( Rental )
JAY OF THE DEAD'S 1970s HORROR-THON:
Grizzly (1976) = 4 ( Avoid )
KARL HUDDLESTON'S GREAT PERFORMANCES AND MIGHTY LINES:
Film: Phenomenon (1996)
Great Performance: John Travolta as George Malley
---
VIII. Wrap-Up / Plugs / Ending
---
COMING UP ON MPW NEXT WEEK:
AMERICAN SNIPER — Join us!
---
LINKS FOR THIS EPISODE:
Hear William Rowan Jr. on Movie Stream Cast!
Movie Stream Cast 41: Snowpiercer
Movie Stream Cast BONUS: Da Sweet Blood of Jesus
Jason recommends supporting: Operation Underground Railroad
Contact MPW:
E-mail us: MoviePodcastWeekly@gmail.com.
Leave us a voicemail: (801) 382-8789.
Follow MPW on Twitter: @MovieCastWeekly
Leave a comment in the show notes for this episode.
Listen to MPW:
Add MPW to your Stitcher playlist: Stitcher.com
MPW on iTunes
MPW's RSS feed
Right-click to download the MPW 100 Rap
Keep up with Josh:
Twitter: @IcarusArts
Josh covers streaming movies on: Movie Stream Cast
If you're a Horror fan, listen to Jason and Josh on HORROR MOVIE PODCAST
We'd like to thank The Dave Eaton Element and Dave himself for the use of his music for our theme song. Buy Dave's Eaton's music: BandCamp.com
---
If you like Movie Podcast Weekly, please subscribe and leave us a review in iTunes. If you want to support the show, we have PayPal buttons in our right-hand sidebar where you can make a one-time donation or you can become a recurring donor for just $2 per month. (Every little bit helps!)
Thanks for listening, and join us again next Tuesday for Movie Podcast Weekly.
---