Podcast: Play in new window | Download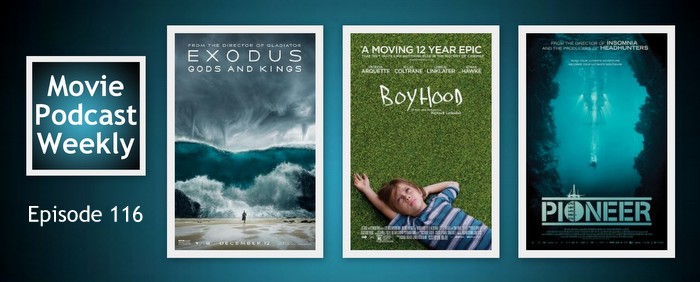 Episode 116 of Movie Podcast Weekly contains spoilers for Santa Claus (which is something we could only talk about because Josh wasn't present…). Jason, Karl and Andy bring you three Feature Reviews for Ridley Scott's Exodus: Gods and Kings and Boyhood and Pioneer. We also practically BEG the audience to e-mail their Top 10 Movies of 2014 to MoviePodcastWeekly@gmail.com by Dec. 27, 2014 to be eligible to win some prizes. And we run down IMDb's Top 10 Movies of 2014 list. Don't miss it!
If you're new to our show… Movie Podcast Weekly typically features four hosts — Jason, Andy, Karl and Josh — along with frequent guests. We give you our verdicts on at least one new movie release from the current year that's currently playing in theaters or on VOD, as well as several mini reviews of whatever we've been watching lately. And we usually provide specialized genre recommendations. New episodes release every single Tuesday. Join us!
---
SHOW NOTES:
I. Introduction
— No Josh this week.
---
II. E-mail Your Top 10 of 2014 Lists!
— E-mail your Top 10 lists to MoviePodcastWeekly@gmail.com by Dec. 27, 2014 to be eligible to win some prizes.
— A Taunting Challenge Is Extended
— IMDb's Top 10 of 2014
---
[ 0:16:26 ] III. Mini Reviews
Jason: The Mummy (1999), Breakup at a Wedding, and later — Ernest Saves Christmas
Karl: Fury
Andy: Snowball Express, The Hangover Part III, Beyond the Edge, Runner Runner, Elf, How the Grinch Stole Christmas
---
IV. What's New in Theaters This Past Weekend
Exodus: Gods and Kings
Top Five
Inherent Vice [ Limited ]
Free the Nipple [ Limited ]
The Color of Time [ Limited ] — reviewed by Jape Man in Ep. 115
Wild [ Expanded ]
---
FEATURE REVIEWS HAVE TIME STAMPS:
[ 1:09:05 ] V. Feature Review: EXODUS: GODS AND KINGS (2014)
Jason = 6 ( Rental )
Karl = 5.5 ( Rental )
---
[ 1:36:22 ] VI. Feature Review: BOYHOOD (2014)
Jason = 10 ( Buy it! / Must-See / Masterpiece )
---
[ 1:51:09 ] VII. Feature Review: PIONEER (2014)
Jason = 4 ( Avoid )
---
VIII. Wrap-Up / Plugs / Ending
---
COMING UP ON MPW NEXT WEEK:
THE HOBBIT: THE BATTLE OF THE FIVE ARMIES and THE HOMESMAN and CALVARY and LIFE AFTER BETH and THE SKELETON TWINS and LIKE FATHER, LIKE SON — Join us!
---
LINKS FOR THIS EPISODE:
Here is how you can potentially win some prizes through our Top 10 Movies of 2014 contest.
Contact MPW:
E-mail us: MoviePodcastWeekly@gmail.com.
Leave us a voicemail: (801) 382-8789.
Follow MPW on Twitter: @MovieCastWeekly
Leave a comment in the show notes for this episode.
Listen to MPW:
Add MPW to your Stitcher playlist: Stitcher.com
MPW on iTunes
MPW's RSS feed
Right-click to download the MPW 100 Rap
Josh's links:
Twitter: @IcarusArts
Josh covers streaming movies on: Movie Stream Cast
If you're a Horror fan, listen to Jason and Josh on HORROR MOVIE PODCAST
We'd like to thank The Dave Eaton Element and Dave himself for the use of his music for our theme song. Buy Dave's Eaton's music: BandCamp.com
---
If you like Movie Podcast Weekly, please subscribe and leave us a review in iTunes. If you want to support the show, we have PayPal buttons in our right-hand sidebar where you can make a one-time donation or you can become a recurring donor for just $2 per month. (Every little bit helps!)
Thanks for listening, and join us again next Tuesday for Movie Podcast Weekly.
---