Podcast: Play in new window | Download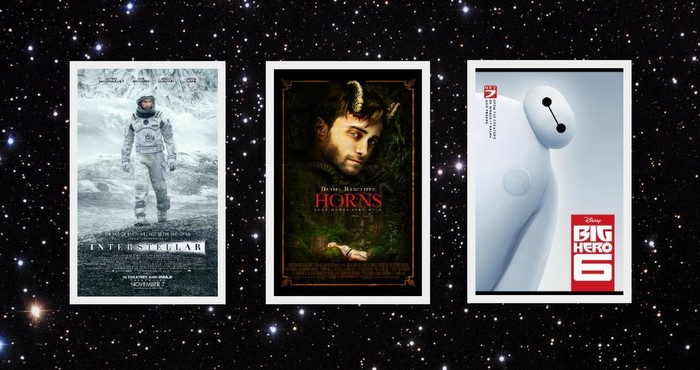 Episode 111 may be the jump sharkiest Movie Podcast Weekly yet! Jason, Andy and Josh welcome back Karl for a visit to help them bring you a 50-minute (spoiler-free!) Feature Review of Christopher Nolan's Interstellar. This episode also has reviews for Horns and Big Hero 6. And of course, we bring you a few Mini Reviews and our recommendation segments. Be sure to weigh in on our controversial poll question:
If you like what you hear, leave us a review in iTunes or leave a donation through our PayPal buttons or both! Above all, subscribe for free in iTunes.
If you're new to our show… Movie Podcast Weekly typically features three hosts — Jason, Josh, and Andy — along with frequent guests. We give you our verdicts on at least one new movie release from the current year that's currently playing in theaters or on VOD, as well as several mini reviews of whatever we've been watching lately. And we usually provide specialized genre recommendations. New episodes release every single Tuesday. Join us!
---
SHOW NOTES:
I. Introduction
II. Mini Reviews
Josh: Zia Record Exchange in Las Vegas, Survivor: All Stars
Jason: The Killing (TV series), Episodes 1 and 2
Andy: Breaking Bad
---
III. What's New in Theaters This Past Weekend
— Interstellar
— Big Hero 6
— The Theory of Everything [ Limited ]
— Jessabelle
— The Better Angels
— Open Windows (which we reviewed in MPW Ep. 109)
— On Any Sunday: The Next Chapter
— National Gallery
---
FEATURE REVIEWS HAVE TIME STAMPS:
[ 0:22:30 ] IV. Feature Review: INTERSTELLAR (2014)
Jason = 7 ( Theater / Rental )
Andy = 8 ( Theater / Buy it! )
Josh = 8.5 ( Theater IMAX / Buy it! )
Karl = 10 ( Theater IMAX / Buy it! )
---
[ 1:09:11 ] V. Feature Review: HORNS (2014)
Jason = 5 ( Rental )
---
[ 1:21:52 ] VI. Feature Review: BIG HERO 6 (2014)
Jason = 8 ( Theater / Buy it! )
---
VII. Specialty Segments:
WHAT WAS THE NAME OF THAT ONE MOVIE? – WITH A GUY NAMED ANDY:
Andy announces two winners:
Juan
Jennifer
E-mail us your movie preferences at MoviePodcastWeekly@gmail.com
"PREVIOUSLY ON SURVIVOR" WITH SURVIVOR JOSH
— Josh brings you the latest on Survivor: San Juan Del Sur (Blood vs. Water 2) and discusses his Survivor Fantasy League status… Catch-up with Josh on this season of Survivor with free episodes on CBS.com!
JAY OF THE DEAD'S 1970s HORROR-THON:
Salem's Lot (1979) = 7.5 ( Buy it! )
---
VIII. Wrap-Up / Plugs / Ending
— Thank you to Scott Teal for another generous donation!
---
COMING UP ON MPW NEXT WEEK:
FORCE MAJEURE and DUMB AND DUMBER TO and AUTOMATA and VIRUNGA — which is currently streaming on Netflix Watch Instantly in the U.S., so join us!
---
LINKS FOR THIS EPISODE:
Josh says watch this for next week: "Too Many Cooks" – Adult Swim
Contact MPW:
E-mail us: MoviePodcastWeekly@gmail.com.
Leave us a voicemail: (801) 382-8789.
Follow MPW on Twitter: @MovieCastWeekly
Leave a comment in the show notes for this episode.
Listen to MPW:
Add MPW to your Stitcher playlist: Stitcher.com
MPW on iTunes
MPW's RSS feed
Right-click to download the MPW 100 Rap
Josh's links:
Twitter: @IcarusArts
Josh covers streaming movies on: Movie Stream Cast
If you're a Horror fan, listen to Jason and Josh on HORROR MOVIE PODCAST
We'd like to thank The Dave Eaton Element and Dave himself for the use of his music for our theme song. Buy Dave's Eaton's music: BandCamp.com
---
If you like Movie Podcast Weekly, please subscribe and leave us a review in iTunes. If you want to support the show, we have PayPal buttons in our right-hand sidebar where you can make a one-time donation or you can become a recurring donor for just $2 per month. (Every little bit helps!)
Thanks for listening, and join us again next Tuesday for Movie Podcast Weekly.
---