Podcast: Play in new window | Download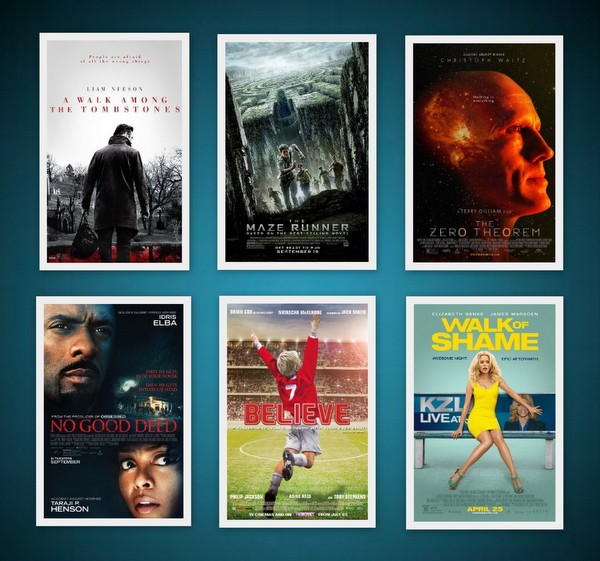 It's Movie Podcast Weekly, the show where we bring you at least one new movie review every single Tuesday. For Episode 104, we have six Feature Reviews for you, including: A Walk Among the Tombstones and The Maze Runner and The Zero Theorem and No Good Deed and Believe and Walk of Shame. You have your usual four hosts and special guest William Rowan Jr.. And as always, we bring you our Mini Reviews of what we've been watching lately, as well as our genre segments. Enjoy!
If you're new to our show… Movie Podcast Weekly typically features four hosts — Jason, Andy, Karl and Josh — along with frequent guests. We give you our verdicts on at least one new movie release from the current year that's currently playing in theaters or on VOD, as well as several mini reviews of whatever we've been watching lately. And we usually provide specialized genre recommendations. New episodes release every single Tuesday. Join us!
---
SHOW NOTES:
I. Introduction
— Welcome guest William Rowan Jr.
— Nice tweet from @ThumbsOfClay
II. Mini Reviews
Jason: The Siege, School of Rock
— Next week we'll review "Tusk."
— Listen to Episode 026 of Horror Movie Podcast.
— Quick recommendations currently streaming on Netflix:
Filth, Cave Man, World's Greatest Dad, Adventureland, The Intouchables, In Bruges, Punch-Drunk Love, God Bless America
— Also streaming: A Fantastic Fear of Everything.
— Jason recalls that Josh recommends: Robot & Frank
— Steve Hernandez text on Godzilla (2014)
Josh: A Perfect Getaway, Godzilla (2014) on Blu-ray, The Descendants (Much later in the show: Non-Stop)
Andy: Mickey Blue Eyes, Kill the Irishman, In a World…, Carrie, Blood Glacier, Charlie Countryman, Contracted, Hugo, Big Bad Wolves, Blue Ruin
William Rowan Jr: Jodorowsky's Dune, Dune (1984)
Karl: Still watching "All Is Lost"
III. What's New in Theaters This Past Weekend
— The Maze Runner
— A Walk Among the Tombstones
— This Is Where I Leave You
— The Guest
— Tusk
— The Zero Theorem [ Limited ]
— Tracks [ Limited ]
— 20,000 Days on Earth [ Limited ]
— Keep on Keepin' On [ Limited ]
— Hector and the Search for Happiness [ Limited ]
— Pump [ Limited ]
— Stop the Pounding Heart [ Limited ]
— Swim Little Fish Swim [ NYC ]
---
FEATURE REVIEWS HAVE TIME STAMPS:
[ 0:48:08 ] IV. Feature Review: THE ZERO THEOREM (2014)
Andy = 8 ( Rental )
Josh = 8 ( Low-priority Rental )
William Rowan Jr. = 8 ( Rental )
---
[ 1:09:41 ] V. Feature Review: THE MAZE RUNNER (2014)
Karl = 9 ( Theater / Buy it! )
---
[ 1:16:42 ] VI. Feature Review: A WALK AMONG THE TOMBSTONES (2014)
Jason = 8.5 ( Theater / Buy it! )
William Rowan Jr. = 8 ( Theater / Rental )
---
[ 1:33:44 ] VII. Feature Review: BELIEVE (2014)
Karl = 6.5 ( Rental )
---
[ 1:38:02 ] VIII. Feature Review: NO GOOD DEED (2014)
Jason = 5 ( Low-priority Rental )
---
[ 1:42:31 ] IX. Feature Review: WALK OF SHAME (2014)
Jason = 5 ( Rental )
---
X. Specialty Segments:
JOSHUA LIGAIRI'S CONTINUING EDUCATION:
Josh has no recommendation this week … except, maybe
Documentary: The Final Member (2012), which he hasn't seen yet…
WHAT WAS THE NAME OF THAT ONE MOVIE? – WITH A GUY NAMED ANDY:
Last week's movie: Zodiac (2007)
CONTEST QUOTATION FOR NEXT TIME:
C: I can put you in Queens on the night of the hijacking.
H: Really? I live in Queens! Did you put that together yourself, Einstein? Got a team of monkeys working around the clock on this?
ANDY'S RULES:
– One entry per listener per week; Entries must be received before the episode discussing the film posts (typically the following Tuesday at 8 a.m.)
– No using the Internet or other reference material to look it up (honor system)
– 3 winners will be selected each month and will receive their choice from Josh's collection of used and new films.
– Entries are made by e-mailing us at MoviePodcastWeekly@gmail.com with the subject line "What's the Name of that one movie?" or tweeting @MovieCastWeekly "What's the name of that one movie?: (your answer)"
JAY OF THE DEAD'S 1970s HORROR-THON:
Countess Dracula (1971) = 4 ( Avoid )
But if you wish to watch it, the full movie is here on YouTube: Countess Dracula (1971)
KARL HUDDLESTON'S GREAT PERFORMANCES AND MIGHTY LINES:
Film: A Prayer for the Dying (1987) = 8 ( Rental )
Great Performance: Mickey Rourke as Martin Fallon
XI. Wrap-Up / Plugs / Ending
— Thank David from the UK and Randy from Tucson for their donations!
— Josh's photos from actual movie locations can be found in the comments section below. Up next week, Josh's photos from locations of the hit televisions show Lost.
---
COMING UP ON MPW NEXT WEEK:
THE EQUALIZER and TUSK. Join us Tuesday!
---
LINKS FOR THIS EPISODE:
Contact MPW:
E-mail us: MoviePodcastWeekly@gmail.com.
Leave us a voicemail: (801) 382-8789.
Leave a comment in the show notes for this episode.
Follow MPW on Twitter: @MovieCastWeekly
Add MPW to your Stitcher playlist: Stitcher.com
MPW on iTunes
MPW's RSS feed
Right-click to download the MPW 100 Rap
If you're a Horror fan, listen to Jason and Josh on HORROR MOVIE PODCAST
Josh's links:
Twitter: @IcarusArts
Josh covers streaming movies on: Movie Stream Cast
We'd like to thank The Dave Eaton Element and Dave Eaton himself for the use of his music for our theme song.
---
If you like Movie Podcast Weekly, please subscribe and leave us a review in iTunes. If you want to support the show, we have PayPal buttons in our right-hand sidebar where you can make a one-time donation or you can become a recurring donor for just $2 per month. (Every little bit helps!)
Thanks for listening, and join us again next Tuesday for Movie Podcast Weekly.
---