Podcast: Play in new window | Download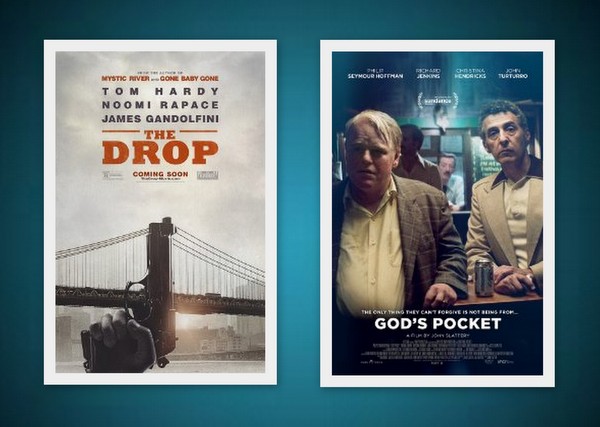 Episode 103 of Movie Podcast Weekly brings you two Feature Reviews of Crime genre films: The Drop and God's Pocket. To help Karl and Jason review these movies, we bring back special guest William Rowan Jr. and a brief, walk-on cameo appearance by his wife, Sharon. William brings us more of his Theater Etiquette scenarios, and of course you'll get our Mini Reviews of what we've been watching lately, as well as our genre segments. Neither Andy nor Josh could join us this week.
If you're new to our show… Movie Podcast Weekly typically features four hosts — Jason, Andy, Karl and Josh — along with frequent guests. We give you our verdicts on at least one new movie release from the current year that's currently playing in theaters or on VOD, as well as several mini reviews of whatever we've been watching lately. And we usually provide specialized genre recommendations. New episodes release every single Tuesday. Join us!
---
SHOW NOTES:
I. Introduction
— No Andy or Josh this week
— Welcome guest William Rowan Jr.
— Thanks to Steve from Jason's home town of Wheeling, WV, for becoming a recurring monthly donor. Check out Steve's horror movie review blog: Horror After Bath Time
II. Mini Reviews
Karl: If I Stay, Discussion about trailers revealing way too much, Moonraker
William Rowan Jr: Alien, Aliens, Alien3, Alien: Resurrection
Jason: For the Love of Movies: The Story of American Film Criticism, The Other Woman, Muppets Most Wanted
III. What's New in Theaters This Past Weekend
— No Good Deed
— Dolphin Tale 2
— The Drop [ Limited ]
— The Skeleton Twins [ Limited ]
— The Disappearance of Eleanor Rigby: Them [ Limited ]
— Atlas Shrugged: Who Is John Galt? [ Limited ]
— Bird People [ Limited ]
— Swearnet: The Movie [ Limited ]
— My Old Lady [ Limited ]
— The Green Prince [ Limited ]
— I Am Eleven [ Limited ]
— Honeymoon [ Limited ] — *Note: We will bring you Feature Reviews of Honeymoon and Tusk on our sister podcast, Horror Movie Podcast.com, during Episode 026.
---
FEATURE REVIEWS HAVE TIME STAMPS:
[ 1:15:01 ] IV. Feature Review: THE DROP (2014)
Jason = 7.5 ( Theater / Rental )
Karl = 9 ( Theater / Buy it! )
William Rowan Jr. = 8.5 ( Theater / Rental )
---
V. Theater Etiquette with William Rowan Jr.
— Featuring special guest appearance by Sharon Rowan
---
[ 1:49:02 ] VI. Feature Review: GOD'S POCKET (2014)
Jason = 8 ( Strong Rental )
---
VII. Specialty Segments:
KARL HUDDLESTON'S GREAT PERFORMANCES AND MIGHTY LINES:
Film: The Elephant Man (1980) = 10 ( Buy it! )
Great Performance: John Hurt as John Merrick
JAY OF THE DEAD'S 1970s HORROR-THON:
A Bay of Blood (1971) = 7.5 ( Strong Rental )
William Rowan Jr. recommends:
Documentary: "The Hamster Factor and Other Tales of Twelve Monkeys" (1996)
Documentary: "Lost in La Mancha" (2002)
Short: "The Crimson Permanent Assurance" (1983)
VIII. Wrap-Up / Plugs / Ending
---
COMING UP ON MPW NEXT WEEK:
A WALK AMONG THE TOMBSTONES and THE MAZE RUNNER and NO GOOD DEED and THE ZERO THEOREM and WALK OF SHAME. Join us Tuesday!
---
LINKS FOR THIS EPISODE:
Steve's horror movie review blog: Horror After Bath Time
Contact MPW:
E-mail us: MoviePodcastWeekly@gmail.com.
Leave us a voicemail: (801) 382-8789.
Leave a comment in the show notes for this episode.
Follow MPW on Twitter: @MovieCastWeekly
Add MPW to your Stitcher playlist: Stitcher.com
MPW on iTunes
MPW's RSS feed
Right-click to download the MPW 100 Rap
If you're a Horror fan, listen to Jason and Josh on HORROR MOVIE PODCAST
We'd like to thank The Dave Eaton Element and Dave Eaton himself for the use of his music for our theme song.
---
If you like Movie Podcast Weekly, please subscribe and leave us a review in iTunes. If you want to support the show, we have PayPal buttons in our right-hand sidebar where you can make a one-time donation or you can become a recurring donor for just $2 per month. (Every little bit helps!)
Thanks for listening, and join us again next Tuesday for Movie Podcast Weekly.
---