Podcast: Play in new window | Download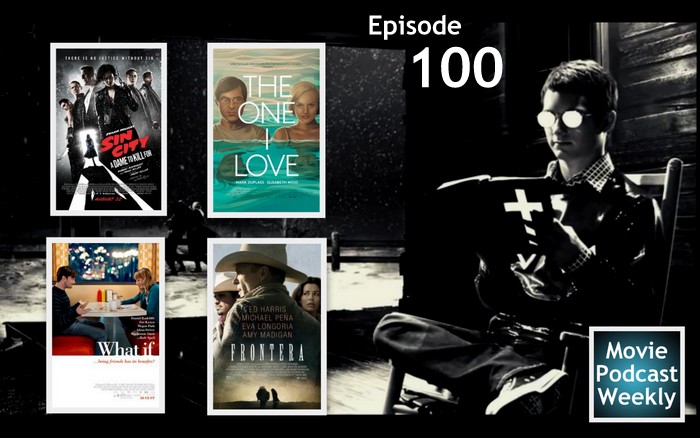 Movie Podcast Weekly has now reached 100 episodes! In that two-year period, we've brought you way over 200 hours of podcast content, delivering Feature Reviews of 231 new releases and nearly 1,600 mini reviews! In this epic, 3-hour, 44-minute episode, you'll hear your hosts — Jason, Andy, Karl and Josh — in rare form: This show includes four Feature Reviews of Sin City: A Dame to Kill For and The One I Love and What If and Frontera. Additionally, we also bring you discussion about well over 100 movies, as we bring you several Top 10 and Top 5 lists. Episode 100 also gives you some dramatic table-readings by Andy and Karl. (You'll finally get to hear the Irish brogue!) And as a special treat for the listeners and his co-hosts, Jason brings you the MPW 100 Rap, written and performed by Jason himself! In this episode, we also find out that Andy hasn't seen "Footloose," and Karl hasn't seen "Monty Python and the Holy Grail."
VOTE ON OUR POLL QUESTION:

survey tool
Movie Podcast Weekly typically features four hosts — Jason, Andy, Karl and Josh — along with frequent guests. We give you our verdicts on at least one new movie release that's currently playing in theaters or on VOD, as well as several mini reviews of whatever we've been watching lately. Sometimes we also provide specialized genre recommendations. New episodes release every single Tuesday. Join us!
---
SHOW NOTES:
I. Introduction
— We've hit 100 episodes!
— The hosts share some "firsts…"
— The loss of Richard Attenborough
— Poll question about MPW's format (please vote above)
II. Statistics Report and Jason's MPW 100 Rap
Click to play or right-click to download a free MP3 of the MPW 100 Rap.
(See the lyrics to the rap below.)
III. What's New in Theaters This Past Weekend
— Sin City: A Dame to Kill For
— The One I Love [ Limited ]
— If I Stay
— When the Game Stands Tall
— Love Is Strange [ Limited ]
— Are You Here [ Limited ]
— To Be Takei [ Limited ]
---
IV. Feature Review: SIN CITY: A DAME TO KILL FOR (2014)
Jason = 6.5 ( Theater / Rental )
Andy = 8 ( Can't recommend to anyone… )
Karl = 6.5 ( Theater / Rental )
Josh = 8.5 ( Theater / Buy it! )
---
V. Feature Review: WHAT IF (2014)
Karl = 8 ( Buy it! )
---
VI. Feature Review: THE ONE I LOVE (2014)
Josh = 8.5 ( Theater / Buy it! )
---
VII. Feature Review: FRONTERA (2014)
Jason = 7.5 ( Rental )
---
VIII. MPW EPISODE 100 MAIN EVENT: 100 MOVIES!
A. Karl's Top 5 Romantic Comedies You Should See Before You Die
1. Arthur (1981)
2. Easy A (2010)
3. Four Weddings and a Funeral (1994)
4. What's Up, Doc? (1972)
5. Bridget Jones's Diary (2001)
B. Karl's Top 5 Sci-Fi Movies That Make You Think
1. Blade Runner (1982)
2. Gattaca (1997)
3. Minority Report (2002)
4. Logan's Run (1976)
5. Contact (1997)
C. Andy's Top 10 Most Enjoyable and Completely Non-Challenging AFI Top 100 Movies (From the 2007 List)
1. Singin' in the Rain (1952)
2. North by Northwest (1959)
3. Some Like It Hot (1959)
4. The General (1926)
5. 12 Angry Men (1957)
6. Butch Cassidy and the Sundance Kid (1969)
7. Tootsie (1982)
8. The Bridge On the River Kwai (1957)
9. The Maltese Falcon (1941)
10. Double Indemnity (1944)
D. Jay of the Dead's Top 10 Creeps and Crime Recommendations That You May Not Have Seen — That Are Currently Streaming on Netflix Watch Instantly!
(Creeps) 1. Kill List (2011)
(Crime) 2. Bullhead (2011)
(Creeps) 3. ATM (2012)
(Creeps) 4. Pontypool (2008)
(Creeps) 5. Contracted (2013)
(Crime) 6. Gomorrah (2008)
(Crime) 7. Compliance (2012)
(Crime) 8. Unknown (2006)
(Crime) 9. Right at Your Door (2006)
(Creeps) 10. Mountaintop Motel Massacre (1986)
E. Josh's Top 10 Documentaries of the Last 10 Years
1. The Act of Killing (2012)
2. The Imposter (2012)
3. The Devil and Daniel Johnston (2005)
4. The King of Kong: A Fistful of Quarters (2007)
5. Grizzly Man (2005)
6. Exit Through the Gift Shop (2010)
7. Best Worst Movie (2009)
8. Happy People: A Year in the Taiga (2010)
9. Man on Wire (2008)
10. When the Levees Broke: A Requiem in Four Acts (2006) – Part One and Part Two
Honorable Mentions: Tabloid, Anvil, Manda Bala, Caves of Forgotten Dreams, The Arbor, Encounters at the End of the World, 45365, Senna, Blackpower Mixtape, The Ambassador, Bananas, Big Boys Gone Bananas, Beauty Day, Chasing Ice, Standard Operating Procedure, Objectified, Resurrect Dead, Shut Up Little Man, Hell and Back Again, Armadillo, If a Tree Falls, My Kid Could Paint That, Stories We Tell
F. Karl's Top 5 Great Leading Performances
1. Jamie Bell in Billy Elliot (2000)
2. Hugo Weaving in V for Vendetta (2005)
3. Donald O'Connor in Singin' in the Rain (1952)
4. Daniel Day-Lewis in Lincoln (2012)
5. Alien (Bolaji Badejo) in Alien (1979)
G. Karl's Top 5 Great Supporting Actor Performances (That Far Exceeded the Leading Actor's Performance)
1. Pat Hingle in Hang 'Em High (1968)
2. John Candy in Planes, Trains & Automobiles (1987)
3. Denzel Washington in Glory (1989)
4. Emma Watson in the Harry Potter franchise
5. Hailee Steinfeld in True Grit (2010)
H. Andy's Top 5 Movies He Has Had on His Queue to See but Hasn't Gotten Around to It, for Some Reason or Another, and Have Occupied His Longest Period on His Queue, so He's Going to Rate Them for You, Anyway
1. The Staircase (2004)
2. Footloose (1984)
3. Latter Days (2003)
4. Cutie and the Boxer (2013)
5. Marmaduke (2010)
I. Jason's Top 10 Movies You've Heard About But Probably Passed Over and Skipped — But You Shouldn't Have!
1. The Savages (2007)
2. Bringing Out the Dead (1999)
3. The Next Three Days (2010)
4. Run, Fatboy Run (2007)
5. Run Lola Run (1998)
6. Julia (2008)
7. Cyrus (2010)
8. The Dead Girl (2006)
9. Ellie Parker (2005)
10. Burning Bright (2010)
J. Josh's Top 5 Classic Films (Prior to 1960) That You Should Watch Right Now!
1. Seven Samurai (1954)
2. Rear Window (1954)
3. Rio Bravo (1959)
4. 12 Angry Men (1957)
5. Intolerance (1916)
Honorable Mentions: In the Heat of the Night, Double Indemnity, Touch of Evil
K. Karl's Top 5 Movies That You Should Watch and Listen as Demo Discs in a Great Home Theater
1. The Incredibles (2004)
2. TRON: Legacy (2010)
3. Master and Commander: The Far Side of the World (2003)
4. Transformers (2007)
5. Black Hawk Down (2001)
Honorable Mention: How to Train Your Dragon
L. Andy's Top 10 Favorite Movie Quotes (From Comedies)
1. From Monty Python and the Holy Grail (1975)
2. From The Lego Movie (2014)
3. From Megamind (2010)
4. From Dumb and Dumber (1995)
5. From Get Smart (2008)
6. From Ghost Town (2008)
7. From The Other Guys (2010)
8. From Easy A (2010)
9. From The Proposal (2009)
10. From My Blue Heaven (1990)
M. Jason's Top 5 Greatest Disappointments of the Last 10 Years That Were Disappointing Because They Could Have Been Masterpieces, and Though They're Still "Good Films," They Fall Just Shy of Greatness
1. Zodiac (2007)
2. American Gangster (2007)
3. The Assassination of Jesse James by the Coward Robert Ford (2007)
4. Robin Hood (2010)
5. Public Enemies (2009)
N. Josh's Top 10 Movies That I Like That You Will Hate
1. Gus Van Sant's "Real Death" Trilogy: Gerry (2002) | Last Days (2005) | Elephant (2003)
2. Upstream Color (2013)
3. The Five Obstructions (2003)
4. Dogville (2003)
5. Marwencol (2010)
6. CQ (2001)
7. Birth (2004)
8. Humpday (2009)
9. Convento (2010)
10. Helvetica (2007) | Objectified (2009) | Urbanized (2011)
Honorable Mentions: Sweetgrass, Leviathan
IX. Josh Wraps Up "The Story of Film: An Odyssey"
X. Wrap-Up / Plugs / Ending
XI. An Encore of the MPW 100 Rap
---
COMING UP ON MPW NEXT WEEK:
AS ABOVE, SO BELOW and THE NOVEMBER MAN and THE ZERO THEOREM and DINOSAUR 13 and GOD'S NOT DEAD. Join us Tuesday!
---
LINKS FOR THIS EPISODE:
Right-click to download the MPW 100 Rap.
Follow MPW on Twitter: @MovieCastWeekly
Add MPW to your Stitcher playlist: Stitcher.com
MPW on iTunes
MPW's RSS feed
Contact MPW:
E-mail us: MoviePodcastWeekly@gmail.com.
Leave us a voicemail: (801) 382-8789.
Leave a comment in the show notes for this episode.
If you're a Horror fan, listen to HORROR MOVIE PODCAST
Josh's links:
Twitter: @IcarusArts
Josh covers movies streaming online on: Movie Stream Cast
Web site: IcarusAE.com
The Documentary Blog Podcast
"Cleanflix" the movie's Web site
We'd like to thank The Dave Eaton Element and Dave Eaton himself for the use of his music for our theme song.
---
If you like Movie Podcast Weekly, please subscribe and leave us a review in iTunes. If you want to support the show, we have PayPal buttons in our right-hand sidebar where you can make a one-time donation or you can become a recurring donor for just $2 per month. (Every little bit helps!)
Thanks for listening, and join us again next Tuesday for Movie Podcast Weekly.
---
MPW 100 RAP
by Jason Pyles
100 episodes of Movie Podcast Weekly…
Ask me if I'm proud — I'll say, "Yes, completely."
We've come a long way since our Sequels show,
when we couldn't even get the damn Skype to go…
Is this thing on? Can you guys hear me?
See what I mean?
Something is wrong with your audio recording settings.
I hate that Skype chick.
We had to get approval from each spouse.
Karl makin' hella noise down at Andy's house.
Actually, it was Andy's basement.
And Karl stepped in as Bill Barnes' replacement.
Considering the Sequels — somethin' was missin'…
Not one person in the world would listen!
I said to my buddies, "Hey Guys, what gives?
They said, "People don't wanna hear about 'Fletch Lives.'"
Like a franchise, CTS ran its course,
for two years we beat on that dead horse.
October 2012, real discreetly,
we launched Ep. 001 of Movie Podcast Weekly.
Soon Josh came along for the ride,
and that's when we really started hittin' our stride.
So, let me take a minute here in this rhyme
to celebrate my co-hosts at this time.
My lead-off batter — an Irish actor,
Karl gets right down to the heart of the matter.
He's wry and spry — and like Bill Nye —
he's fond of science. He's our sci-fi guy.
Complains that Andy's place should be a wee bit warmer,
and thinks the best film that year was "Transformers."
Josh Ligairi — quite contrary —
won't watch "The Exorcist," he thinks Regan's too scary.
But I'll tell you right now what freaks me out:
tryin' to talk to Josh about "Song of the South."
Or "Upstream Color" — What the #%$! — I'm out!
Seriously, what were those pigs about?
Add Andy — hilarity ensues…
He's got loud pants, and he likes to snooze
—and rate movies — that he's never seen!
Thinks he's Ryan Gosling, but he's Charlie Sheen.
Reached high-points in all 50 states.
He can climb damn mountains but can't stay awake
on this podcast, where we talk movies
for over two hours every single Tuesday.
And I am your host. You can call me Jason
or "Jay of the Dead" on our other station —
Horror Movie Podcast — our sister site!
I said "Horror Movie," yeah, you heard me right.
Why is this so hard for you to understand?
Read my lips: I'm a Horror fan!
I love "The Village" by M. Night Shymalan.
He's yet to make a comeback, but I know he can!
So, why all this rappin' on a show about movies?
Listeners out there — it's 'cause we think you're groovy.
Thanks so much for your support,
donations, downloads and smart retorts
and questions. We have such affection
for all your feedback in the comments section
and voicemails. Let's not forget,
we've had great guests; they were all legit.
So, thank you to all our fans.
We want ya'll to know that we've got big plans.
Sure! — How 'bout 100 more,
where Karl opens candy and Andy snores,
and Josh calls in while he's out on tour?
Tell your friends we're free in the iTunes store. (Bee-otch!)
Andy's reviews can be a bit spotty,
but he's a Superstar — he won — we won the Podbodys!
Maybe 'cause Andy disrespects the dead,
and I bleep all the spoilers Karl said.
So, here's to two more years
of MPW in your ears.
100 episodes — we're so elated.
We're your hosts, and we can't be faded!
MPW can't be faded.
Hey … It's fadin'!