Podcast: Play in new window | Download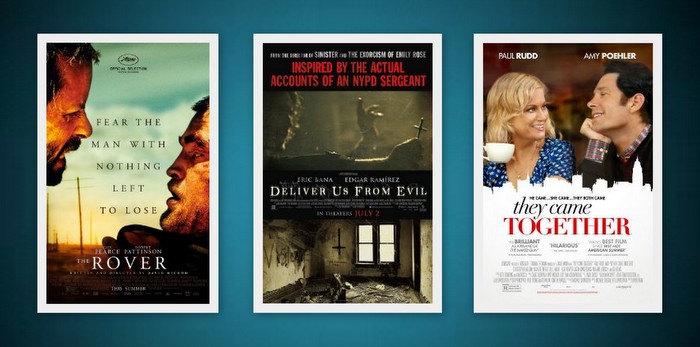 Hi, and welcome to Movie Podcast Weekly, Episode 093. We're missing Karl again this week (badly), so if you feel the same way, send him some love in the comments… In this show, Jason, Andy and Josh bring you Feature Reviews of "Deliver Us From Evil" (2014) and "The Rover" (2014) and "They Came Together" (2014). We also give you a slew of interesting Mini Reviews! You won't want to miss this one! Thanks for listening.
Movie Podcast Weekly typically features four hosts (and frequent guests), who give you their verdict on at least one new movie release that's currently in theaters, mini reviews of what they've been watching lately and specialty recommendation segments. New episodes release every single Monday.
SHOW NOTES:
I. Introduction
II. Mini Reviews
Andy:
Oscar = 4 ( Avoid )
I Heart Huckabees = 8.5 ( Buy it! )
Manhattan Murder Mystery = 8 ( Rental )
Death Sentence = 5 ( Low-priority Rental )
Things to Do in Denver When You're Dead = 6 ( Rental )
Later in the show: Die Another Day = 5 ( Rental )
Jason:
Life Itself = 8.5 ( Downgraded to Rental ) — REVISION
Honey = 3 ( Avoid )
The Core = 5 ( Low-priority Rental )
Josh:
Survivor: Philippines
Fargo – Episode 003 (TV show)
True Detective – Episode 002
Attack the Block = 9.5 ( Buy it! )
The Long Goodbye = 5 ( Low-priority Rental )
Interior. Leather Bar. = 8 ( Rental )
Later in the show: How to Train Your Dragon 2 = 8 ( Theater 3D / Buy it! )
The Story of Film – Part 8: New Directors, New Form = 6 ( Stream it )
III. Melissa McCarthy and movies like "Tammy"
— What happened with "Earth to Echo"
— Melissa McCarthy as a leading lady
( Melissa McCarthy on The Daily Show )
— A film critic you should follow on Twitter: @EricDSnider
IV. Feature Review: DELIVER US FROM EVIL (2014)
Jason = 5.5 ( Rental )
V. Feature Review: THEY CAME TOGETHER (2014)
Andy = 7.5 ( Rental )
Josh = 6 ( Rental )
VI. Feature Review: THE ROVER (2014)
Jason = 6.5 ( Rental )
VII. Wrap-up / Plugs
— Please vote for us for Best Podcast (see links below)
NEXT WEEK:
We will be reviewing DAWN OF THE PLANET OF THE APES and our Bond movie, Casino Royale (2006), and The Story of Film: An Odyssey – Part 9 – American Cinema of the '70s.
Links for this episode:
Please vote for MPW for Best Podcast on Twitter here: @Jape_Man with #Podbodys2014BestPodcastVoting
Josh's Sundance 2011 Podcast for The Documentary Blog featuring: Steve James's The Interruptors interview
Kevin Smith and Scott Derrickson (on Smoviemakers) – Part 1
Kevin Smith and Scott Derrickson (on Smoviemakers) – Part 2
Oh, it's already been broughten!
NEW! Remember to add Movie Podcast Weekly to your Stitcher playlist here: Stitcher.com
Follow Movie Podcast Weekly on Twitter: @MovieCastWeekly
Josh covers streaming movies: Movie Stream Cast
We'd also like to thank The Dave Eaton Element and Dave Eaton himself for the use of his music for our theme song.
Special thanks goes out to singer-songwriter Frederick Ingram and the Blue Claw Philharmonic for the use of their music and the voice talents of Midnight Corey Graham from The Electric Chair Podcast, Willis Wheeler from the Terror Troop Podcast and Spike Real for their help with our recommendation segment intros.
If you like what we do here at Movie Podcast Weekly, please subscribe and leave us a review in iTunes. If you want to support the show, we have PayPal buttons in our right-hand sidebar where you can make a one-time donation or you can become a recurring donor for just $2 per month.
You can always contact us by e-mailing MoviePodcastWeekly@gmail.com. Or you can call and leave us a voice mail at: (801) 382-8789. And you can leave us a comment in the show notes for this episode.
Thank you for listening, and join us again next Monday for Movie Podcast Weekly.