Podcast: Play in new window | Download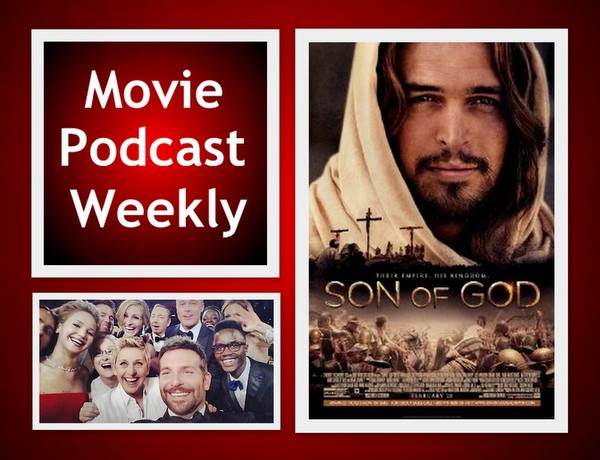 Hi, and welcome to Episode 075 of Movie Podcast Weekly. For this show, your usual hosts (minus Karl) are joined by special guests DAVE "DR. SHOCK" BECKER of DVD Infatuation.com and GEEK CAST RY of the Geek Cast Live Podcast to help us review the 86th Academy Awards ceremony, which took place on March 2, 2014. And Jason also brings you a Feature Review of "Son of God."
Movie Podcast Weekly features four hosts (and frequent guests), who give you their verdict on at least one new movie release that's currently in theaters, mini-reviews of what they've been watching lately, and specialty recommendation segments. New episodes release every single Monday.
SHOW NOTES:
I. Intro
— Welcome special guest Dave "Dr. Shock" Becker
— Welcome special guest Geek Cast Ry
II. Feature Review: SON OF GOD (2014)
Jason: 5 ( Theater / Rental )
III. 86th Academy Awards Ceremony Recap
V. Wrap-Up
NEXT WEEK:
We will be reviewing 300: Rise of an Empire, Non-Stop, Grand Piano and The Broken Circle Breakdown with special guest Willis Wheeler
Links for this episode:
Read about Andy's Recent Victory!
1974 Oscar Streaker Video — a must-watch!
1974 Oscar Streaker Article
The article about the "Noah" adaptation (Thanks, Nisu Shah!)
The Best Picture Podcast, Episode 001 with Dave Becker and Jason Pyles
The Best Picture Podcast, Episode 002 with Dave Becker and Jason Pyles
The Best Picture Podcast, Episode 003 with Dave Becker and Jason Pyles
Dave "Dr. Shock" Becker:
Land of the Creeps
DVD Infatuation.com
Dave on Twitter: @DVDInfatuation
Horror Movie Podcast
Geek Cast Ry's links:
A great time: Geek Cast Live Podcast
Blog: Geek Cast Live
Web site: Geek Harder.com
Facebook
Twitter: @GeekCastRy
Considering the Sequels Podcast
NEW! Remember to add Movie Podcast Weekly to your Stitcher playlist here: Stitcher.com
Jason says to check out his wife (and Andy's wife) discussing books here: Book Review Podcast
Jason and Josh, especially for horror fans: Horror Movie Podcast
Josh covers streaming movies: Movie Stream Cast
Follow Movie Podcast Weekly on Twitter: @MovieCastWeekly
Special thanks goes out to singer-songwriter Frederick Ingram and the Blue Claw Philharmonic for the use of their music and the voice talents of Midnight Corey Graham from The Electric Chair Podcast, Willis Wheeler from the Terror Troop Podcast and Spike Real for their help with our recommendation segment intros.
We'd also like to thank The Dave Eaton Element and Dave Eaton himself for the use of his music for our theme song.
If you like what we do here at Movie Podcast Weekly, please subscribe and leave us a review in iTunes. If you want to support the show, we have PayPal buttons in our right-hand sidebar where you can make a one-time donation or you can become a recurring donor for just $2 per month.
You can always contact us by e-mailing MoviePodcastWeekly@gmail.com. Or you can call and leave us a voice mail at: (801) 382-8789. And you can leave us a comment in the show notes for this episode.
Thank you for listening, and join us again next Monday for Movie Podcast Weekly.