Podcast: Play in new window | Download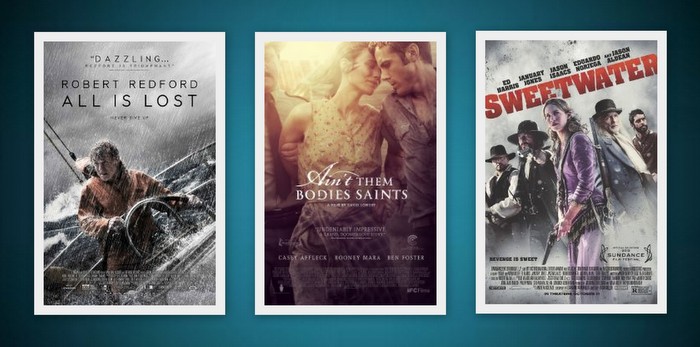 In Episode 060 of Movie Podcast Weekly, your hosts review three films that are currently in limited-release: Logan Miller's Sweetwater with January Jones, Jason Isaacs, and Ed Harris, David Lowery's Ain't Them Bodies Saints with Rooney Mara, Casey Affleck and Ben Foster, and J.C. Chandor's All is Lost with Robert Redford … just Robert Redford.
Movie Podcast Weekly features four hosts (and frequent guests), who give you their verdict on at least one new movie release that's currently in theaters, mini-reviews of what they've been watching lately, and specialty recommendation segments. New episodes release every single Monday.
SHOW NOTES — with Time Stamps!
( 00:00:00 ) I. Intro:
—Watch out for MPW Episode 066
—Josh takes over Movie Stream Cast: find it here!
—Listener praise on iTunes
—Darren Aronofsky's Noah Trailer: find it here!
—Nobody has seen Alpha House but you can: find it here!
—Karl may be related to Loki
(00:14:33) II. Mini-Reviews:
Karl: Watched Andy kick ass in court
Andy: Dead Man Down, A Solitary Man
Josh: Veep, Eastbound & Down
Jason: Unstoppable, Lonesome Dove
( 00:56:06 ) III. Feature review of ALL IS LOST:
Josh: 8 ( Rent It )
Andy: 8 ( Rent It )
Jason: 9.5 ( See It In the Theater / Buy It to Reward Great Cinema )
( 01:24:43 ) IV. Feature review of SWEETWATER:
Josh: 6.5 ( Rent It )
( 01:30:02 ) V. Feature review of AIN'T THEM BODIES SAINTS:
Jason: 9 ( See It In the Theater / Buy It! )
Josh: 9 ( See It In the Theater / Buy It! )
VI. Segments:
( 01:41:32 ) ROBOTIC ROMANCES WITH KARL HUDDELSTON:
Romantic … Political Drama? Charlie Wilson's War
( 01:44:55 ) JOSHUA LIGAIRI'S CONTINUING EDUCATION:
Documentary (Reality TV): Survivor: South Pacific
( 01:49:55 ) ANDY'S ABSURD ASSOCIATIONS:
In keeping with our conversation about single-actor movies:
Moon
( 01:53:10 ) JAY OF THE DEAD'S CREEPS AND CRIME:
Creeps: Night of the Living Dead (1968)
( 02:01:00 ) VI. Wrap-Up
—Jeff Hammer will join us next week
—Hunger Games is great
—Hunger Games is terrible
—No, it's good!
—No, it's not!
—Listen to Josh on Movie Stream Cast: here!
—Watch Andy on The Amazing Race: here!
—Listen to Andy & Karl join Jason on The Donut Show later this week: find it here!
—New Episode of Horror Movie Podcast: "Haunted Houses"
Next Monday on MPW: We will have feature reviews of a CGI-heavy movie made for teenage girls and, what appears to be, the best Vince Vaughn comedy in a decade. Join us!
Links for this episode:
Remember to check out our Thanksgiving premium commentary here: Planes, Trains, and Automobiles
Horror hounds, listen to Jason (as Jay of the Dead), Josh (as Wolfman Josh), and former MPW guest Dave Becker (as Dr. Shock) on: Horror Movie Podcast
Pop culture fanatics, listen to Jason on: The Donut Show
Get help managing you Netflix queue from Josh on: Movie Stream Cast

Special thanks goes out to singer-songwriter Frederick Ingram and the voice talents of Midnight Corey Graham from The Electric Chair Podcast, Willis Wheeler from the Terror Troop Podcast and Mr. Ron Baird for their help with our recommendation segment intros.
We'd also like to thank The Dave Eaton Element and Dave Eaton himself for the use of his music for our theme song.
If you like what we do here at Movie Podcast Weekly, please subscribe and leave us a positive review in iTunes. If you want to support the show, we have PayPal buttons in our right-hand sidebar where you can make a one-time donation or you can become a recurring donor for just $2 per month. You can also check out our Premium podcasts, available at BandCamp for a minimum donation of $2. Lastly, remember to start your Amazon shopping here by clicking through our banner ads at no additional cost to you.
You can always contact us by e-mailing MoviePodcastWeekly@gmail.com. Or you can call and leave us a voice mail at: (801) 382-8789. And you can leave us a comment in the show notes for this episode.
Thank you for listening, and join us again next Monday for Movie Podcast Weekly.