Podcast: Play in new window | Download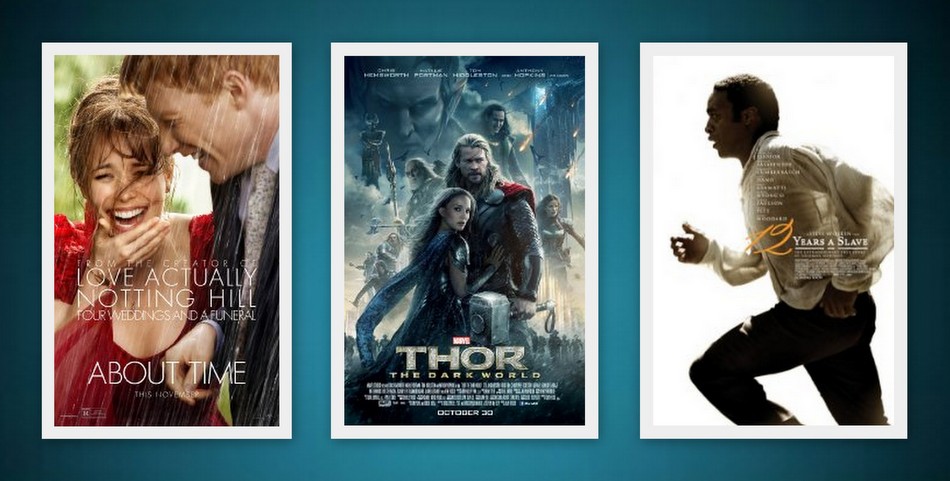 In Episode 059 of Movie Podcast Weekly, your regular hosts are joined by fan-favorite WILLIS WHEELER (Jason's co-host on The Donut Show) for reviews of About Time, Thor: the Dark World, and 12 Years a Slave.
Movie Podcast Weekly features four hosts (and frequent guests), who give you their verdict on at least one new movie release that's currently in theaters, mini-reviews of what they've been watching lately, and specialty recommendation segments. New episodes release every single Monday.
SHOW NOTES — with Time Stamps!
( 00:00:00 ) I. Intro:
—Welcome Willis Wheeler
—Planes, Trains and Automobiles Premium Bonus: find it here!
—Host bios: find them here!
—Josh takes over Movie Stream Cast: find it here!
—Listener reviews on iTunes
(00:10:26) II. Mini-Reviews:
Willis: Orphan, WWE Total Divas, The Amazing Spiderman
Andy: Sexy Beast, The Bay, Stand Off, Lilo & Stitch, Erased
Karl: Redemption, Ender's Game
Josh: The Croods, Rango
Jason: Blood, Thor
( 00:50:10 ) III. Feature review of THOR: THE DARK WORLD:
Willis: 8.5 ( See It In IMAX 3D / Buy It )
Jason: 5.5 ( Rent It )
( 01:08:48 ) IV. Feature review of ABOUT TIME:
Karl: 9 ( See It On a Date / Buy It! )
( 01:17:18 ) V. Feature review of 12 YEARS A SLAVE:
Josh: 10 ( See It Before You Die / Buy It to Share with Others )
VI. Segments:
( 01:38:38 ) ANDY'S ABSURD ASSOCIATIONS:
Don't go see a movie. Go hiking in Southern Utah. Or maybe watch:
127 Hours
No wait…
Butch Cassidy & The Sundance Kid
The Treasure of the Sierra Madre
( 01:41:48 ) ROBOTIC ROMANCES WITH KARL HUDDELSTON:
Sci-fi: iRobot
( 01:46:36 ) JAY OF THE DEAD'S CREEPS AND CRIME:
Creeps: Tourist Trap (1979)
( 01:51:56 ) JOSHUA LIGAIRI'S CONTINUING EDUCATION:
Documentary (Reality TV): Survivor: Cook Islands
( 02:00:15 ) VI. Wrap-Up
—The Best Man Holiday & Karl's racial insensitivity
—New Episode of Horror Movie Podcast: "Haunted Houses"
—Willis' Sausage Fest
—Karl on Plasma TVs and the future of DVD/BluRay
—Blockbuster Closing for Good, Scarecrow Video Closing
—Netflix Making Documentaries
Next Monday on MPW: We will likely have feature reviews of J.C. Chandor's All Is Lost with Robert Redford, Michael Polish's Big Sur with Kate Bosworth, Logan Miller's Sweetwater with January Jones, and David Lowery's Ain't Them Bodies Saints with Rooney Mara and Casey Affleck. Join us!
Links for this episode:
Willis's plugs:
Willis Wheeler on: TV's Toy Hunter
Willis' Terror Troop horror movie podcast
Willis' Cinema Beef / Sausage Fest Podcast
Willis on the NFW Movie Commentary Podcast (mostly horror-related)
Willis on Twitter: @NastyWillDC
Willis On Facebook
Read an article Josh recommends on the closing of Blockbuster here: Variety

Watch the "Video Stores Explained to Modern Kids" video that Josh talked about here: BuzzFeed Yellow YouTube Channel
Read an article Josh recommends on Netflix Making Documentaries here: LA Times
Watch the "Back to the Future In Real Life"video that Josh talked about on YouTube here: Improv Everywhere YouTube Channel
Fund SLC Punk 2: Punk's Dead on IndieGoGo so Josh can shoot the behind-the-scenes doc here: IndieGoGo
Remember to check out our Thanksgiving premium bonus episode here: Planes, Trains, and Automobiles
Follow Movie Podcast Weekly on Twitter: @MovieCastWeekly
Follow Joshua Ligairi on Twitter: @IcarusArts
For horror fans only: Listen to Jason (as Jay of the Dead), Josh (as Wolfman Josh), and former MPW guest Dave Becker (as Dr. Shock) here: HorrorMoviePodcast.com
Check out Jason and this week's guest, Willis Wheeler, on: The Donut Show
Listen to Jason, Josh, and former MPW guest Jeff Hammer on Movie Stream Cast here: MovieStreamCast.com

Special thanks goes out to singer-songwriter Frederick Ingram and the voice talents of Midnight Corey Graham from The Electric Chair Podcast, Willis Wheeler from the Terror Troop Podcast and Mr. Ron Baird for their help with our recommendation segment intros.
We'd also like to thank The Dave Eaton Element and Dave Eaton himself for the use of his music for our theme song.
If you like what we do here at Movie Podcast Weekly, please subscribe and leave us a positive review in iTunes. If you want to support the show, we have PayPal buttons in our right-hand sidebar where you can make a one-time donation or you can become a recurring donor for just $2 per month. You can also check out our Premium podcasts, available at BandCamp for a minimum donation of $1. Lastly, remember to start your Amazon shopping here by clicking through our banner ads at no additional cost to you.
You can always contact us by e-mailing MoviePodcastWeekly@gmail.com. Or you can call and leave us a voice mail at: (801) 382-8789. And you can leave us a comment in the show notes for this episode.
Thank you for listening, and join us again next Monday for Movie Podcast Weekly.