Podcast: Play in new window | Download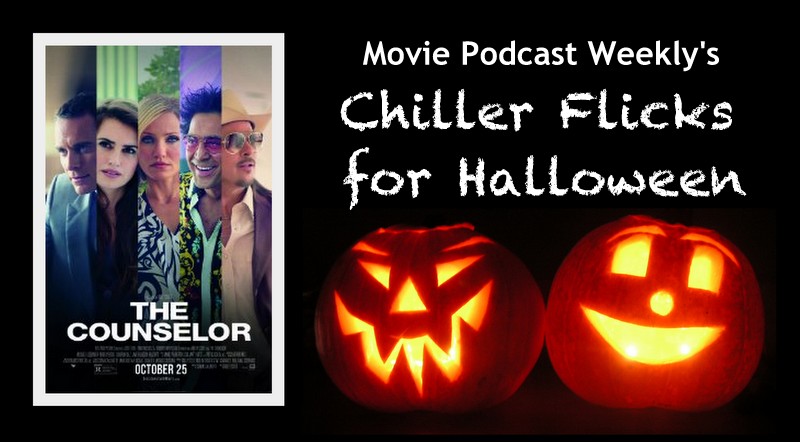 In Episode 057 of Movie Podcast Weekly, the four horseman of the apocalypse are back together again, and joined by Keith Stein (of The Donut Show), for a review of the Ridley Scott / Cormac McCarthy star-studded collaboration, "The Counselor," followed by a bevy of chiller flick picks for your Halloween season.
Movie Podcast Weekly features four hosts (and frequent guests), who give you their verdict on at least one new movie release that's currently in theaters, mini-reviews of what they've been watching lately, and specialty recommendation segments. New episodes release every single Monday.
SHOW NOTES — with Time Stamps!
( 00:00:00 ) I. Intro
—New hosts? Jay of the Dead, The Actor, The Pretty Boy & Wolfman Josh
—Welcome Keith Stein
—Andy's Inventions
—The Donut Show
—Horror Movie Podcast
—Halloween Day Surprise
(00:5:00) II. Mini-Reviews:
Andy: Hot Rock, Zombi 2, If a Tree Falls
Keith: (Not) Hello Dolly, The Omen (2006), Dexter Finale (TV), Eastbound & Down (TV)
Karl: Escape Plan, The Blacklist (TV), Agents of S.H.I.E.L.D. (TV), Dracula (TV)
Josh: The Girl, The Birds, Inside Story: Halloween (TV), Crystal Lake Memories: The Complete History of Friday the 13th
Jason: When Animals Bite Back, When Fish Attack
( 00:27:12 ) III. Feature review of THE COUNSELOR:
Jason: 4 ( Avoid It )
Karl: 3 ( Avoid It, Unless You Love Brad Pitt and Javier Bardem )
Andy: 5 ( Avoid It,  Unless You Like Cool Death Scenes )
( 00:46:40 ) IV. HALLOWEEN PICKS FROM HORROR PODCASTERS:
GregaMortis: Satan's Little Helper, The Worst Witch (1986), The Legend of Sleepy Hollow (1985)
Haddonfield Hatchet: Trick 'R Treat
Dr. Shock: Mulberry Street, Stake Land
Dr. Walking Dead: Signs
Boss Butcher: Let's Scare Jessica To Death
( 01:06:54 ) V. HALLOWEEN PICKS FROM YOUR TRUSTY MPW CO-HOSTS:
For the Kids: It's the Great Pumpkin Charlie Brown, The Nightmare Before Christmas, ParaNorman, Watcher In the Woods, Monster House, Mad Monster Party, The Wizard of Oz, Clue, The Ghost and Mr. Chicken, Beetlejuice, Poltergeist, The Legend of Sleepy Hollow (1949), The Legend of Sleepy Hollow (1980), Monster Squad, ET
Classics: The Horror of Dracula, Alice Sweet Alice, Dawn of the Dead (1978), Night of the Living Dead (1968), The Tingler, Halloween (1978), Arsenic and Old Lace, The Birds, Psycho, Rear Window
B-Movies / Great For a Party: Zombieland, Troll 2, Plan 9 From Outer Space, Killer Clowns From Outer Space, The Killer Shrews, Ghostbusters, The 'Burbs, The Lost Boys
Gore Fests / True Horror / Super Creepy: Silence of the Lambs, Trick 'R Treat, (Not) Battle Royale, Disturbia, The Fly (1986), Slither, Night of the Creeps
Truly Scary / 80s Horror / Ultimate Halloween: Alien, Aliens, What Lies Beneath, Drag Me to Hell, My Bloody Valentine (1981), Intruder, The Orphanage, Ju-on, Misery, Scream, The 'Burbs
And more: Arachnophobia, The Frighteners, Time After Time
VI. Segments:
( 01:36:01 ) JAY OF THE DEAD'S CREEPS AND CRIME:
Creeps: Inside
( 01:39:30 ) ANDY'S ABSURD ASSOCIATIONS:
A Romantic Horror Film:
Let the Right One In

( 01:40:34 ) JOSHUA LIGAIRI'S CONTINUING EDUCATION:
Classic: Vampyr (1932)
( 01:42:39 ) ROBOTIC ROMANCES WITH KARL HUDDELSTON:
Sci-Fi: The Fifth Element
( 01:44:02 ) VII. Listener Feedback
—William Rowan Jr. on Carrie (2013)
—MPW Hosts on William Rowan Jr.'s Nicknames
—Nisu Shaw Wins the Surveillance and Kill List Giveaway
—Go to Episode 56 Comments to Read Vance and Hammer's Bad Theater Experiences
—The Enzian Theater and The Alamo Drafthouse

( 01:55:09 ) VIII. Wrap-Up
Next Monday on MPW: We will have a feature review of the Orson Scott Card adaptation "Ender's Game" and possibly the new Richard Curtis film "About Time." Join us!
Links for this episode:
Clips from the show River Monsters that Josh talked about: Animal Planet YouTube Channel
Honey Badger video that Karl recommends: YouTube
Watch Josh's mash-up of Alkaline Trio's cover of The Misfits "Halloween" to clips from Trick 'R Treat and Halloween H2O here: YouTube
When in the Orlando area, visit the Enzian Theater: Enzian
Watch the Alamo Drafthouse "No Talking or Texting" PSA that Josh talked about here: YouTube
Check out this list of "Unintentional Horror Movies" that Josh talked about here: IMDb
Watch Josh in his horror movie acting debut here: YouTube
This Halloween, remember to check out our very first premium bonus episode here: Cujo Commentary
Also special for Halloween, be sure to check out the premiere episode of the Horror Movie Podcast that features Jason (as Jay of the Dead), Josh (as Wolfman Josh), and former MPW guest Kyle Bishop (as Dr. Walking Dead) here: HorrorMoviePodcast.com
Follow Movie Podcast Weekly on Twitter: @MovieCastWeekly
Follow Joshua Ligairi on Twitter: @IcarusArts
Read Josh's post on Halloween movies here: Icarus Art & Entertainment Blog
Check out Jason and this week's guest, Keith Stein, on: THE DONUT SHOW
Listen to Jason, Josh, and former MPW guest Jeff Hammer on Movie Stream Cast here: Movie Stream Cast.com
Special thanks goes out to singer-songwriter Frederick Ingram and the voice talents of Midnight Corey Graham from The Electric Chair Podcast, Willis Wheeler from the Terror Troop Podcast and Mr. Ron Baird for their help with our recommendation segment intros.
We'd also like to thank The Dave Eaton Element and Dave Eaton himself for the use of his music for our theme song.
If you like what we do here at Movie Podcast Weekly, please subscribe and leave us a positive review in iTunes. If you want to support the show, we have PayPal buttons in our right-hand sidebar where you can make a one-time donation or you can become a recurring donor for just $2 per month. You can also check out our Premium podcasts, available at BandCamp for a minimum donation of $1. Lastly, remember to start your Amazon shopping here by clicking through our banner ads at no additional cost to you.
You can always contact us by e-mailing MoviePodcastWeekly@gmail.com. Or you can call and leave us a voice mail at: (801) 382-8789. And you can leave us a comment in the show notes for this episode.
Thank you for listening, and join us again next Monday for Movie Podcast Weekly.