Podcast: Play in new window | Download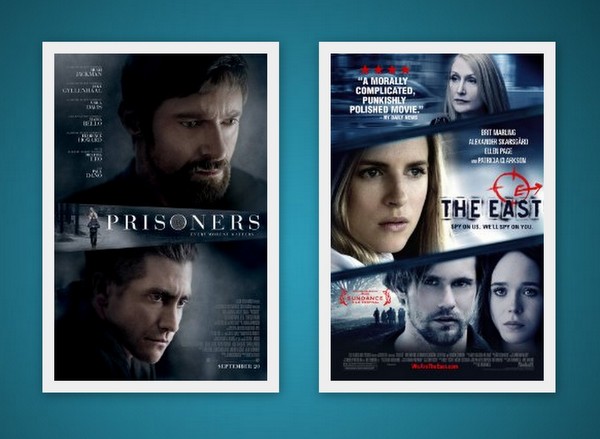 In Episode 052, your favorite Movie Podcast Weekly hosts get back to the basics with their usual format and two great Feature Reviews of "Prisoners" and "The East." Also, Andy and Jason bring you an interview with writer-director MATT THOMPSON, whose new, indie horror film "Bloodline" is scheduled for a Limited release on Friday, September 27, 2013. We'll bring you our feature review of "Bloodline" next week during Episode 053. But in this show, we bring you our Mini Reviews and our Specialty Recommendation Segments. Very fun.
SHOW NOTES
I. Intro
— Listener feedback: Deadboxmike reports on "The Wizard of Oz" in IMAX 3D
II. Mini Reviews
Andy: * * *
Karl: Sleepy Hollow (TV, 2013)
Jason: Children of Men, Deliverance
Josh Ligairi: Peter Pan, Hook
III. Feature review of PRISONERS:
Jason: 8 ( Must-See Rental )
Karl: 9 ( Theater / Rental )
IV. Feature review of THE EAST:
Jason: 6 ( Rental )
Josh: 5.5 ( Rental )
V. An Interview with writer-director Matt Thompson, star of "Bloodline"
VI. Genre Recommendation Segments:
ANDY'S ABSURD ASSOCIATIONS: Favorite Stephen King Movies:
Carrie (1976)
The Shining (1980)
The Dead Zone
Pet Sematary
Misery
The Shawshank Redemption
The Green Mile
JOSHUA LIGAIRI'S CONTINUING EDUCATION:
Documentary (Reality TV): Survivor: Africa
JAY OF THE DEAD'S CREEPS AND CRIME:
Horror: Eraserhead (1977)
ROBOTIC ROMANCES WITH KARL HUDDLESTON:
Action / Children: Thunderbirds (1965)
VII. Wrap-Up
— Karl recommends: NOVA: Season 39, Ep. 19 — Why Ships Sink
Links for this episode:
Links for Matt Thompson and "Bloodline":
On IMDb: Matt Thompson
On IMDb: "Bloodline"
On Facebook: "Bloodline" the Movie
On Twitter: "Bloodline"
Check it out! Josh stars in a reality TV show for documentarists: Pursuit of the Truth
Jason recommends: The Donut Show, Ep. 006: Are We Breaking Bad?
Follow Movie Podcast Weekly on Twitter: @MovieCastWeekly
Follow Joshua Ligairi on Twitter: @IcarusArts
Check out THE DONUT SHOW
Especially for HORROR FANS: Horror Movie Podcast.com
Listen to Jason's Movie Stream Cast here: Movie Stream Cast.com
Special thanks goes out to singer-songwriter Frederick Ingram and the voice talents of Midnight Corey Graham from The Electric Chair Podcast, Willis Wheeler from the Terror Troop Podcast and Mr. Ron Baird for their help with our recommendation segment intros.
We'd also like to thank The Dave Eaton Element and Dave Eaton himself for the use of his music for our theme song. Today is Dave's birthday — happy birthday, Dave!
If you like what we do here at Movie Podcast Weekly, please subscribe and leave us a review in iTunes. If you want to support the show, we have PayPal buttons in our right-hand sidebar where you can make a one-time donation or you can become a recurring donor for just $2 per month.
You can always contact us by e-mailing MoviePodcastWeekly@gmail.com. Or you can call and leave us a voice mail at: (801) 382-8789. And you can leave us a comment in the show notes for this episode.
Thank you for listening, and join us again next Monday for Movie Podcast Weekly.