Podcast: Play in new window | Download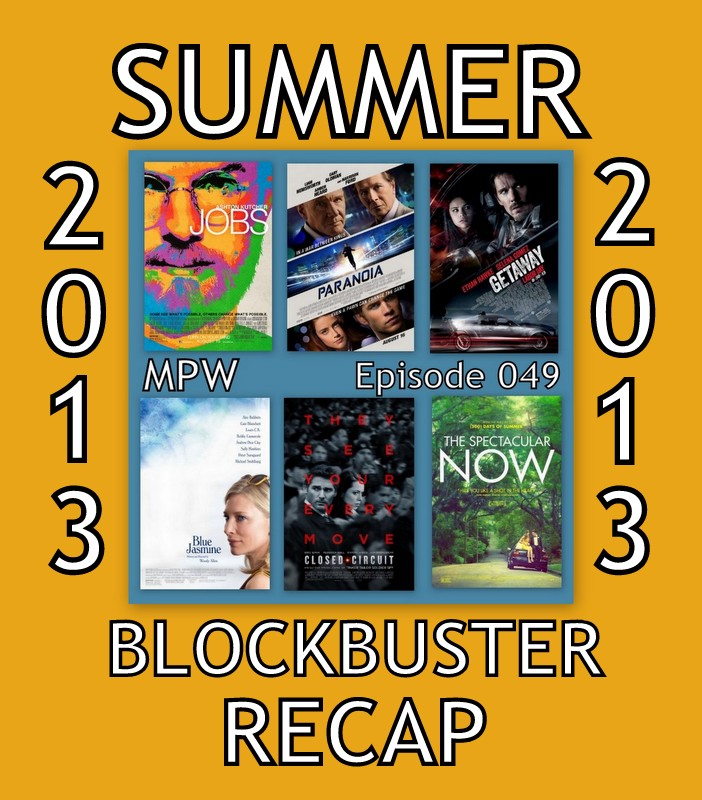 In Episode 049 of Movie Podcast Weekly, besides giving you a nice Summer Blockbuster Recap for 2013, your four hosts proudly bring you 6 feature reviews of new movies that are currently playing in theaters! We give you full reviews, ratings and recommendations on "Closed Circuit" (2013), "Getaway" (2013), "Jobs" (2013), "Blue Jasmine" (2013), "The Spectacular Now" (2013) and Paranoia (2013). We also talk about a number of news items, Mini Reviews, and of course, our recommendation segments. Please vote on our poll question below:
survey software
SHOW NOTES — with Time Stamps!
( 00:00:00 ) I. Intro
( 00:01:20 ) II. MPW Announcements & News
– For Episode 050 we'll bring you an epic show with four new Top 10 lists and a discussion of 50 different movies!
– Blessid Union of Souls following MPW on Twitter
– Bryan Cranston as Lex Luthor
– The Donut Show, Episode 003 featuring actor Todd Bridges
– Oprah and the $38,000 handbag
– Listener Feedback: Jeff Hammer, Nisu Shah, Chad Downey (on Netflix cropping)
( 00:27:36 ) III. Summer Blockbuster Recap: May Through August 2013
– Josh Top 10 Best Films of 2013 — SO FAR…
– Summer Blockbuster Recap 2013: The best, the biggest disappointments and the worst
( 00:59:54 ) IV. Mini Reviews:
Karl: n/a
Andy: Les Miserables, Paranormal Activity 4, Stake Land
Josh: Kill List, Sightseers, To Rome With Love
Jason: London Boulevard
( 01:18:43 ) V. Feature Review of "Closed Circuit"
Ratings and Recommendations for CLOSED CIRCUIT
Karl = 6 ( Rental )
( 01:24:30 ) VI. Feature Review of "Getaway"
Ratings and Recommendations for GETAWAY
Jason = 1 ( Avoid )
( 01:32:58 ) VII. Feature Review of "Jobs"
Ratings and Recommendations for JOBS
Andy = 4 ( Avoid )
— Josh talks about Ashton Kutcher's Teen Choice Awards speech
( 01:45:07 ) VIII. Feature Review of "Blue Jasmine"
Ratings and Recommendations for BLUE JASMINE
Josh = 9 ( Buy it! )
( 01:50:21 ) IX. Feature Review of "The Spectacular Now"
Ratings and Recommendations for THE SPECTACULAR NOW
Karl = 7 ( Rental )
( 01:54:14 ) V. Feature Review of "Paranoia"
Ratings and Recommendations for PARANOIA
Karl = 5 ( Rental )
X. Specialty Recommendation Segments
( 02:00:05 ) ANDY'S ABSURD ASSOCIATIONS: "A List of Biopics That Are Way Better Than 'Jobs'"
Schindler's List
The Pianist
The Social Network
Gandhi
The King's Speech
Bonnie & Clyde
Butch Cassidy & the Sundance Kid
The World's Fastest Indian
Monster
Serpico
Zodiac
The Insider
Chaplin
All the President's Men
127 Hours

( 02:03:13 ) JOSHUA LIGAIRI'S CONTINUING EDUCATION:
Documentary: The Queen of Versailles (2012)
( 02:07:52) JAY OF THE DEAD'S CREEPS AND CRIME:
Crime: Frequency (2000)
( 02:12:19 ) XI. Wrap-Up
NEXT WEEK'S MOVIES: Riddick and Sharknado (and about 48 others…)
Links for this episode:
Chad Downey's link for Netflix's position on cropping (thanks, Chad!): Netflix, Studios Have Very Different Explanations for Widescreen Cropping
Follow Movie Podcast Weekly on Twitter: @MovieCastWeekly
Follow Joshua Ligairi on Twitter: @IcarusArts
Listen to Jason's Movie Stream Cast here: Movie Stream Cast.com
Check out THE DONUT SHOW
Especially for HORROR FANS: Horror Movie Podcast.com
Special thanks goes out to singer-songwriter Frederick Ingram and the voice talents of Midnight Corey Graham from The Electric Chair Podcast, Willis Wheeler from the Terror Troop Podcast and Mr. Ron Baird for their help with our recommendation segment intros.
We'd also like to thank The Dave Eaton Element and Dave Eaton himself for the use of his music for our theme song. Today is Dave's birthday — happy birthday, Dave!
If you like what we do here at Movie Podcast Weekly, please subscribe and leave us a review in iTunes. If you want to support the show, we have PayPal buttons in our right-hand sidebar where you can make a one-time donation or you can become a recurring donor for just $2 per month.
You can always contact us by e-mailing MoviePodcastWeekly@gmail.com. Or you can call and leave us a voice mail at: (801) 382-8789. And you can leave us a comment in the show notes for this episode.
Thank you for listening, and join us again next Monday for Movie Podcast Weekly.