Podcast: Play in new window | Download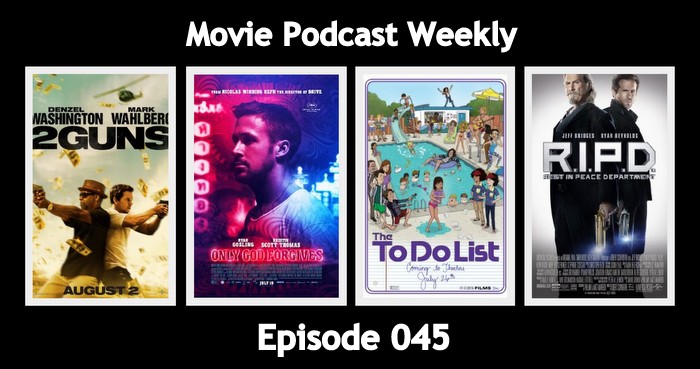 In an atypical Episode 045, we review four new movies that are currently playing in theaters: "2 Guns," "Only God Forgives," "R.I.P.D." and "The To Do List." And and we still clocked in at under 2 hours somehow. Our special guest is Crime Writer ANTHONY BRUNO whose Web site is Anthony Bruno.net. Bruno kicks off the episode by telling us some very cool insider information about the process of writing the novelization for David Fincher's film "Se7en" (1995). And of course, we bring you our Mini Reviews and our specialty recommendation segments, as well.
Movie Podcast Weekly is a show that releases every Monday, giving you reviews of at least one new movie that's currently in theaters. Download this episode and subscribe!
SHOW NOTES — with Time Stamps!
( 00:00:00 ) I. Spoiler Warning / Intro
( 00:02:50 ) II. Bruno discusses writing the novelization of David Fincher's "Se7en" (1995)
III. Mini Reviews:
( 00:10:09 ) Karl: The To Do List, 3D Spies of WWII
( 00:21:03 ) Anthony Bruno: The Hunt, Orange Is the New Black
( 00:28:47 ) Jason: Black Rock, The Call
( 00:43:49 ) Josh: (Black Rock — with Jason's review above), Drive
( 00:48:01 ) III. Review of "2 Guns"
Ratings and Recommendations for 2 GUNS
Jason = 6 ( Rental )
Karl = 7 ( Rental )
Josh = 5 ( Rental )
Anthony Bruno = 5 ( Rental )
( 01:06:24 ) III. Review of "R.I.P.D."
Ratings and Recommendations for R.I.P.D.
Jason = 3.5 ( Avoid )
Karl = n/a
Josh = n/a
Anthony Bruno = n/a
( 01:12:39 ) III. Review of "Only God Forgives"
Ratings and Recommendations for ONLY GOD FORGIVES
Jason = n/a
Karl = n/a
Josh = 7.5 ( Rental )
Anthony Bruno = n/a
V. Specialty Recommendation Segments
( 01:24:46 ) ROBOTIC ROMANCES WITH KARL HUDDLESTON:
Romance: Jane Eyre (2011)
( 01:29:24 ) JAY OF THE DEAD'S CREEPS AND CRIME:
Crime: Goodfellas (1990)
( 01:38:38 ) JOSHUA LIGAIRI'S CONTINUING EDUCATION:
Documentary: Buck (2011)
( 01:40:57 ) V. Wrap-Up
NEXT WEEK'S MOVIE: Elysium
Links for this episode:
Bruno says check out the filmic adaptation of his novel: "The Iceman," starring Michael Shannon, releases on DVD on September 3. (Back on Episode 035, Karl and Jason both agreed that you should check this movie out.)
Anthony Bruno on Twitter: @AnthonyBruno505
As discussed in this episode: The Roppongi Stalker (Kindle)
Book recommendation: The Iceman: The True Story of a Cold-Blooded Killer by Anthony Bruno
Bruno's school: Philadelphia-Aikido.com
As discussed in this episode: Aubrey Plaza | Will Ferrell on MTV Movie Awards
Hear Josh on the Projection Booth Podcast: On Cleanflix
Follow Movie Podcast Weekly on Twitter: @MovieCastWeekly
Follow Joshua Ligairi on Twitter: @IcarusArts
Listen to Jason's review of "Boy Wonder" here: Movie Stream Cast.com
Especially for HORROR FANS: Horror Movie Podcast.com
Special thanks goes out to our special guest, Anthony Bruno, for joining us. And we'd also like to thank all those who have written to us! We also want to thank singer-songwriter Frederick Ingram and the voice talents of Midnight Corey Graham from The Electric Chair Podcast, Willis Wheeler from the Terror Troop Podcast and Mr. Ron Baird for their help with our recommendation segment intros.
We'd also like to thank The Dave Eaton Element and Dave Eaton himself for the use of his music for our theme song.
If you like what we do here at Movie Podcast Weekly, please subscribe and leave us a review in iTunes. If you want to support the show, we have PayPal buttons in our right-hand sidebar where you can make a one-time donation or you can become a recurring donor for just $2 per month.
You can always contact us by e-mailing MoviePodcastWeekly@gmail.com. Or you can call and leave us a voice mail at: (801) 382-8789. And you can leave us a comment in the show notes for this episode.
Thank you for listening, and join us again next Monday for Movie Podcast Weekly.