Podcast: Play in new window | Download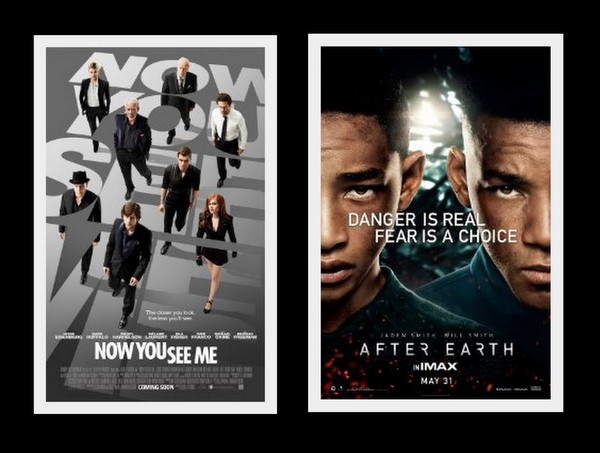 In another epic, 2-hour and 24-minute podcast episode, your hosts Jason, Karl and Josh are joined by filmmaker WILLIAM ROWAN JR. to review "Now You See Me" and "After Earth."
And in addition to our usual Mini Reviews and Genre Recommendations, we bring you some movie news and various other discussions about watching movies on television, nostalgic viewing and our methods for selecting what we watch on Netflix Watch Instantly. We spend a good bit of time discussing Will and Jaden Smith and Gus Van Sant's interesting film "Promised Land." Join us — we think you'll love it!
SHOW NOTES:
I. Intro
II. Movie News Items
– Anthony Bruno will be joining us again!
– Weekend Box Office: After Earth
– Steven Soderbergh's Liberace movie "Behind the Candelabra" (2013)
– Arrested Development, Season 4
– Portia De Rossi's new appearance
III. Mini Reviews:
Karl: W.E.
William Rowan Jr.: !Three Amigos!, Heckler
Josh: 30 Minutes or Less, The Company You Keep
Jason: (Las Vegas / CSI dream come true; Attack the Block), The Last Stand, Promised Land
IV. Review of "Now You See Me"
Ratings and Recommendations for NOW YOU SEE ME
Jason = 5.5 ( Rental )
Karl = 7 ( Rental )
Josh = 6 ( Theater / Rental )
William Rowan Jr. = 5.5 ( Rental )
V. Review of "After Earth"
Ratings and Recommendations for AFTER EARTH
Josh = 3.5 ( Avoid )
William Rowan Jr. = 5 ( Rental )
VI. Genre Recommendation Segments
ROBOTIC ROMANCES WITH KARL HUDDLESTON:
Sci-Fi: Super 8 (2011)
JOSHUA LIGAIRI'S CONTINUING EDUCATION:
Documentary: Gasland (2010)
JAY OF THE DEAD'S CREEPS AND CRIME:
Horror: Rogue (2007)
William Rowan Jr.'s Recommendations:
Heist movie: Snatch (2000)
Sci-Fi: Children of Men (2006)
VII. Wrap-Up
NEXT WEEK'S EPISODE: The Internship and The Purge with special guests John Perkins of SeenTh.at and Jared Johnson of The Reel Doctors
Links for this episode:
Check out William's movie: Cleanflix
Follow William on Twitter: @GalanoPro
Levi George's animated zombie series: Livin With Steve.com
Watch Episode 001 of Livin' With Steve
Josh recommends John Perkins's SeenTh.at
Read Josh's article on: Regional Film-Watching
Listen to Jason's reviews of "The Paperboy" and "The Messenger" here: Movie Stream Cast.com
Especially for HORROR FANS: Horror Movie Podcast.com
Follow Movie Podcast Weekly on Twitter: @MovieCastWeekly
Special thanks goes out to our special guest, William Rowan Jr., for joining us again. And we'd also like to thank all those who have written to us! We also want to thank singer-songwriter Frederick Ingram and the voice talents of Midnight Corey Graham from The Electric Chair Podcast, Willis Wheeler from the Terror Troop Podcast and Mr. Ron Baird for their help with our recommendation segment intros.
We'd also like to thank The Dave Eaton Element and Dave Eaton himself for the use of his music for our theme song.
If you like what we do here at Movie Podcast Weekly, please subscribe and leave us a review in iTunes. If you want to support the show, we have PayPal buttons in our right-hand sidebar where you can make a one-time donation or you can become a recurring donor for just $2 per month.
You can always contact us by e-mailing MoviePodcastWeekly@gmail.com. Or you can call and leave us a voice mail at: (801) 382-8789. And you can leave us a comment in the show notes for this episode.
Thank you for listening, and join us again next Monday for Movie Podcast Weekly.