Podcast: Play in new window | Download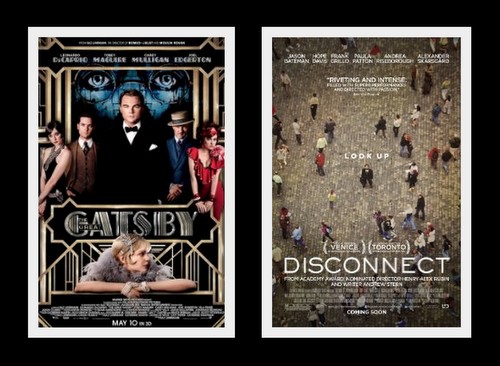 In this epic, 2 and a 1/2-hour episode, you'll hear Andy snoring through our discussion of "The Great Gatsby," which is reviewed by Joshua Ligairi and special guest WILLIAM ROWAN JR., cinephile, writer and co-producer of Cleanflix.
In addition to reviewing "The Great Gatsby," Jason gives some enthusiastic coverage of "Disconnect," a limited release film by Henry Alex Rubin, starring Jason Bateman. Karl doesn't appear on this episode, as he is enjoying the Mother's Day festivities, but before his nap, Andy gives Karl's Mini Review for him.
SHOW NOTES:
I. Intro
II. Mini Reviews
Josh: Upstream Color, Primer
Andy: The Burning, Cropsey (2009), Here Comes the Boom, Otis
Karl (by proxy, via Andy): Mud
Jason: John Dies at the End, Hobo With a Shotgun
William: Superman: The Movie (1978), Doctor Who, Season 3, Episode 10: "Blink"
III. Feature review of "The Great Gatsby"
Ratings and Recommendations for THE GREAT GATSBY
Josh = 6.5 ( Rental )
William = 6 ( Avoid )
IV. Andy snores through the podcast
V. Feature review of "Disconnect"
Ratings and Recommendations for DISCONNECT
Jason = 8 ( Theater / Rental )
VI. Listener Feedback and Misc. tidbits
– Congrats to Dave Becker of DVD Infatuation.com on his 1,000th review!
– Downloading The /Filmcast and does anyone have the first 20 episodes of The Watchers podcast?
– Michal on obtaining "Cleanflix"
– Comments from Nisu Shah and when BillChete will return to horror broadcasting
– Comment from Jared M.
– Vance King on "Pain & Gain"
VII. Genre Recommendation Segments
JOSHUA LIGAIRI'S CONTINUING EDUCATION:
Documentary: Exporting Raymond (2010)
JAY OF THE DEAD'S CREEPS AND CRIME:
Horror: Splinter (2008)
William Rowan Jr.'s recommendation: Of Mice and Men (1992)
VIII. Wrap-Up
NEXT WEEK'S MOVIE: Star Trek Into Darkness with special guest Willis Wheeler
Links for this episode:
Don't forget to watch Josh and William's documentary "Cleanflix," which is currently streaming on Netflix Watch Instantly.
Book recommendation: The Iceman: The True Story of a Cold-Blooded Killer by Anthony Bruno
Midnight Corey's The Electric Chair (horror movie audio and video podcast)
Boss Butcher's Terror Troop Podcast
Follow Movie Podcast Weekly on Twitter: @MovieCastWeekly
Special thanks goes out to our special guest, William Rowan Jr., for joining us again. And we'd also like to thank all those who have written to us! We also want to thank singer-songwriter Frederick Ingram and the voice talents of Midnight Corey Graham from The Electric Chair Podcast, Willis Wheeler from the Terror Troop Podcast and Mr. Ron Baird for their help with our recommendation segment intros.
We'd also like to thank The Dave Eaton Element and Dave Eaton himself for the use of his music for our theme song.
If you like what we do here at Movie Podcast Weekly, please subscribe and leave us a review in iTunes. If you want to support the show, we have PayPal buttons in our right-hand sidebar where you can make a one-time donation or you can become a recurring donor for just $2 per month.
You can always contact us by e-mailing MoviePodcastWeekly@gmail.com. Or you can call and leave us a voice mail at: (801) 382-8789. And you can leave us a comment in the show notes for this episode.
Thank you for listening, and join us again next Monday for Movie Podcast Weekly.