Podcast: Play in new window | Download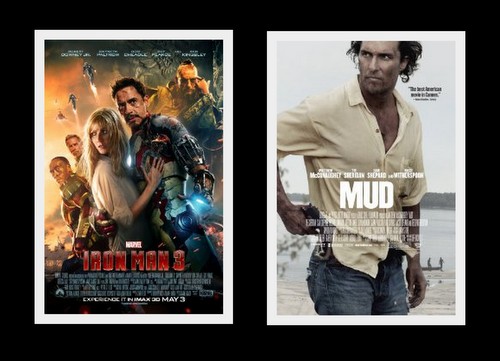 The Summer Blockbuster season has begun, and your hosts at Movie Podcast Weekly unanimously feel that "Iron Man 3" is a great, lead-off hitter for this year's crop of popcorn movies.
And we also bring you a bonus review of "Mud" (2013), an interesting film reviewed by filmmaker Joshua Ligairi, who joins us this week from the road in New York City, where he is in meetings about his upcoming documentary, "Plan 241."
For Episode 032, Karl, Josh and Jason are joined by special guests WILLIS WHEELER of the Terror Troop horror movie podcast and fellow movie buff SCOTT TERAN.
SHOW NOTES:
I. Intro
II. Mini Reviews
Karl: The Company You Keep, The Big Wedding, The Maltese Falcon
Willis: Iron Man, Iron Man 2, Rise of the Planet of the Apes, Hannibal (TV), Bates Motel (TV)
Jason: The Impossible, Miami Connection
Scott: Black Mirror (TV)
Josh: The Place Beyond the Pines, G.I. Joe: Retaliation, Spring Breakers, Trance, Oblivion
III. Feature review of "Iron Man 3"
Ratings and Recommendations for IRON MAN 3
Jason = 7 ( Theater / Rental )
Karl = 8 ( Theater / Buy it! )
Josh = n/a
Willis = 9.5 ( Theater / Buy it! )
Scott = 7 ( Rental )
IV. Feature review of "Mud"
Ratings and Recommendations for MUD
Josh = 9 ( Buy it! )
IV. Genre Recommendation Segments
ROBOTIC ROMANCES WITH KARL HUDDLESTON:
Crime / Romantic Comedy: Take the Money and Run (1969)
JAY OF THE DEAD'S CREEPS AND CRIME:
Horror / Crime / Suspense Thriller: Burning Bright (2010)
JOSHUA LIGAIRI'S CONTINUING EDUCATION:
Documentary: The Arbor (2010)
Willis Wheeler Recommendation: Flash Gordon (1980)
Scott Teran Recommendation: Four Lions (2010)
V. Wrap-Up
NEXT WEEK'S MOVIE: The Great Gatsby
Links for this episode:
Don't forget to watch Josh's documentary "Cleanflix," which is currently streaming on Netflix Watch Instantly.
Jason's Mini Review of "Cleanflix": Movie Stream Cast, Episode 007
Full podcast interview with "Cleanflix" directors Andrew James and Joshua Ligairi: CTS Podcast BONUS: Cleanflix
Midnight Corey's The Electric Chair (horror movie audio and video podcast)
Boss Butcher's Terror Troop Podcast
Follow Movie Podcast Weekly on Twitter: @MovieCastWeekly
Special thanks goes out to our friend, Nisu Shah, for leaving good comments, as well as singer-songwriter Frederick Ingram and the voice talents of Midnight Corey Graham from The Electric Chair Podcast, Willis Wheeler from the Terror Troop Podcast and Mr. Ron Baird for their help with our recommendation segment intros.
We'd also like to thank The Dave Eaton Element and Dave Eaton himself for the use of his music for our theme song.
If you like what we do here at Movie Podcast Weekly, please subscribe and leave us a review in iTunes. If you want to support the show, we have PayPal buttons in our right-hand sidebar where you can make a one-time donation or you can become a recurring donor for just $2 per month.
You can always contact us by e-mailing MoviePodcastWeekly@gmail.com. Or you can call and leave us a voice mail at: (801) 382-8789. And you can leave us a comment in the show notes for this episode.
Thank you for listening, and join us again next Monday for Movie Podcast Weekly.