Podcast: Play in new window | Download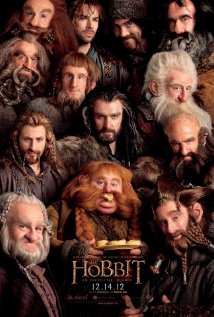 For our review of Peter Jackson's "The Hobbit: An Unexpected Journey," we've brought back special guest DAVE "DR. SHOCK" BECKER from Land of the Creeps and DVD Infatuation.com.
SHOW NOTES:
I. Intro
II. Mini Reviews
Andy: Manic, Prometheus, Intruders
Dave: Spellbound, Lords of Dogtown, Burial Ground, George C. Scott's A Christmas Carol
Jason: Things to Do in Denver When You're Dead, The New Daughter, We Need to Talk About Kevin, High Lane
Karl: The Best Exotic Marigold Motel, Salmon Fishing in the Yemen, Unicorn City, The Dark Knight Rises
III. Feature Review: "The Hobbit: An Unexpected Journey"
Ratings and Recommendations for THE HOBBIT
Jason = 8 ( Theater / Buy It! )
Andy = 7 ( Theater / Buy It! )
Karl = 5.5 ( Theater / Rental )
Dave Becker = 7 ( Theater / Buy It! )
IV. Trailer Talk:
Pacific Rim
Star Trek Into Darkness
Man of Steel
Oblivion
V. Wrap-Up
NEXT WEEK'S MOVIE: Zero Dark Thirty (or Jack Reacher, or The Impossible, or This is 40) with special guest Josh Ligairi
Links:
Dave on Twitter: @DVDInfatuation
Zombie Reckoning: The Battle for Christmas
Considering the Sequels Podcast: Ep. 12 – The Lord of the Rings Trilogy
Follow Movie Podcast Weekly on Twitter: @MovieCastWeekly
We'd also like to thank The Dave Eaton Element and Dave Eaton himself for the use of his music for our theme song.
If you like what we do here at Movie Podcast Weekly, please subscribe and leave us a review in iTunes. If you want to support the show, we have PayPal buttons in our right-hand sidebar where you can make a one-time donation or you can become a recurring donor for just $2 per month.
You can always contact us by e-mailing MoviePodcastWeekly@gmail.com. Or you can call and leave us a voice mail at: (801) 382-8789. And you can leave us a comment in the show notes for this episode.
Thank you for listening, and join us again next Monday for Movie Podcast Weekly.