Podcast: Play in new window | Download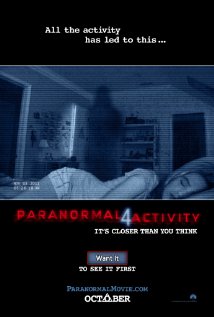 In this epic, 2 hour and 18-minute episode, Jason talks with horror critics Jamie Jenkins and Midnight Corey about "Paranormal Activity 4." Typically we try to keep our episodes between 60 to 70 minutes in length, but we were just having so much fun talking about movies, we lost track of time. Apologies for any inconvenience, but we think you're going to love this episode.
JAMIE JENKINS is a host on Devour the Podcast (a horror movie show) and Evil Episodes (a horror TV podcast). Jamie can also be found at Horrorphilia.com. You can find the Viscera Film Festival here. And this is where you can view Jamie's short film: "Secret Shopper."
MIDNIGHT COREY is the host of The Electric Chair (horror movie audio and video podcast). He runs an entertaining Web site called Midnight Corey.com, where you can also find his original music. Corey was the featured songwriter guest on The Songwriting Podcast, Episode 5. And here are links to some episodes of The Electric Chair that we mentioned during this podcast:
Corey, Jamie and Jason on "Trollhunter": Episode 006: Operation Sweet Death
Corey, Jamie and Jason on "Day of the Dead": Episode 011: Acting on Instinct
Most recent episode: Episode 026: The Green Man
SHOW NOTES:
I. Intro
II. Mini Reviews
Jason: El Mariachi (1992), From Dusk Till Dawn (1996), Warrior (2011)
Jamie Jenkins: Trick `r Treat (2007)
Midnight Corey: The Something Weird Video Collection, Charles Band and Evil Bong (2006), Pot horror films, Taken 2 (2012)
Ratings and Recommendations for PARANORMAL ACTIVITY 4
Jason = 3 ( Avoid )
Jamie Jenkins = 5 ( Rental )
Midnight Corey = 7 ( Rental )
IV. Trailer Talk:
Carrie
Hansel & Gretel: Witch Hunters
Red Dawn
Seven Psychopaths
Mama
V. Wrap-Up
NEXT WEEK'S MOVIE: Cloud Atlas
Other Links:
Follow Movie Podcast Weekly on Twitter: @MovieCastWeekly
Jason's Podcast on NBC's "Revolution": Podcasting Revolution
We'd also like to thank The Dave Eaton Element and Dave Eaton himself for the use of his music for our theme song.
If you like what we do here at Movie Podcast Weekly, please subscribe and leave us a review in iTunes. If you want to support the show, we have PayPal buttons in our right-hand sidebar where you can make a one-time donation or you can become a recurring donor for just $2 per month.
You can always contact us by e-mailing MoviePodcastWeekly@gmail.com. Or you can call and leave us a voice mail at: (801) 382-8789. And you can leave us a comment in the show notes for this episode.
Thank you for listening, and join us again next Monday for Movie Podcast Weekly.