Podcast: Play in new window | Download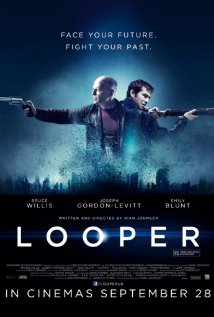 Welcome to Episode 001 of Movie Podcast Weekly, a new show where we review a brand new film that was just barely released in theaters. For this first episode, we review Rian Johnson's "Looper," which was just released this past Friday on September 28.
SHOW NOTES:
I. Intro
II. Mini Reviews
Steve: Star Trek: Enterprise (TV series 2001-2005)
Karl: Trouble With the Curve (2012), The Master (2012)
Jason: Bullhead (2011)
Andy: Breaking Bad, Season 4 (TV series), Shadowboxer (2005)
Guilty Pleasure Recommendations (by Karl): The Expendables 2 (2012), Dark Shadows (2012)
III. Review: Looper
Ratings and Recommendations
Jason = 8 (Theater / Buy It!)
Andy = 9 (Buy It!)
Karl = 8.5 (Buy It!)
Steve = 8 (Rental)
IV. Trailer Talk:
Zero Dark Thirty
Skyfall
Lincoln
Identity Thief
V. Wrap-Up
NEXT WEEK'S MOVIE: Taken 2
Links and notes for this episode:
Follow Movie Podcast Weekly on Twitter: @MovieCastWeekly
Gary the Unicorn Comedy Skits: On Facebook
Karl's short: "Alien Abduction"
Jason's Podcast on NBC's "Revolution": Podcasting Revolution
Jason's written movie review of Looper
We'd also like to thank The Dave Eaton Element and Dave Eaton himself for the use of his music for our theme song.
If you like what we do here at Movie Podcast Weekly, please subscribe and leave us a review in iTunes. If you want to support the show, we have PayPal buttons in our right-hand sidebar where you can make a one-time donation or you can become a recurring donor for just $2 per month.
You can always contact us by e-mailing MoviePodcastWeekly@gmail.com. Or you can call and leave us a voice mail at: (801) 382-8789. And you can leave us a comment in the show notes for this episode.
Thank you for listening, and join us again next Monday for Movie Podcast Weekly.