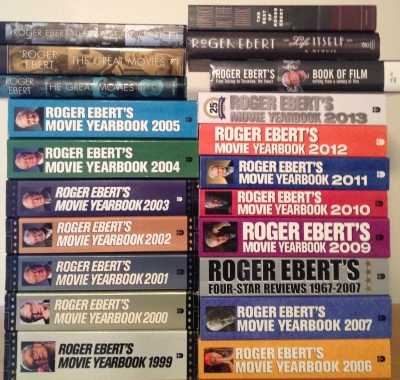 by Jason Pyles | April 4, 2013
Though I never met him, Roger Ebert literally changed the course of my life. So, the following sentiments are about Ebert's influence on me and are therefore about my life, not his. (To hear our celebration of Roger Ebert, my co-hosts and I pay tribute to him during Episode 028 of Movie Podcast Weekly.)
It was 2005, and I was working one of those phone jobs that I hated. But employees were permitted to surf the Web, which led to my discovering that Roger Ebert's movie review site was linked through Internet Movie Database.com for each movie he's reviewed. Simply look up a movie on IMDb and click on the "external reviews" link. Ebert's reviews are always at the top of the list.
The very first reviews I read were for "Armageddon" (1998), which Ebert referred to as "the first 150-minute trailer"; and "Godzilla" (1998), which he called "a big, ugly, ungainly device to give teenagers the impression they are seeing a movie"; and "Independence Day" (1996), which he called "a timid movie when it comes to imagination."
I've always hated that "Godzilla" movie, but I will sheepishly confess here, that at that time (merely eight years ago), I considered "Armageddon" and "Independence Day" to be great movies, and I was exasperated by Ebert's scornful reviews. This fact foreshadows the multiple changes that Roger Ebert wrought in my life. (But just for the record, I still regard "Armageddon" and "Independence Day" as guilty pleasures.)
So, in a two-year period of reading Roger Ebert reviews, five days a week, I estimate that I read more than 3,000 reviews, and that's no exaggeration. At my local library, I discovered Roger Ebert's Movie Yearbook 2001 (the gray one), and was enthralled to realize that Ebert published books filled with his reviews annually. That year I bought Roger Ebert's Movie Yearbook 2005 and have been collecting them and his other publications ever since (as you can see in the photo with this post).
I was hooked. I started learning so much more about movies — and about writing effectively. It occurred to me that a huge part of the reason I quickly started respecting his opinion was merely because his writing was so intelligent. I guess I concluded, "How could a guy who's this smart when it comes to grammar also be wrong about movies?" So Roger Ebert was responsible for my aspirations to become a better writer. With every review I read, I learned more about the cinema and more about writing.
To make a very long story much shorter, I eventually became a newspaper film critic, too — just like my hero, Roger Ebert. And by the way, I got that job because I was a copy editor, a skill I learned due to Roger Ebert's influential writing. Unfortunately, this was during the death of print film criticism, so I only got to work my dream job for nine months. But from "Star Trek" (2009) to "Invictus" (2009), I got to cover the new releases and my reviews were printed in an actual newspaper. It was the proudest work I've ever done.
And condensing this story further, thanks to Roger Ebert and my friends, Andy, Karl, Josh, Dave Becker, Rob Booker, Cody Clark, Cliff "The Podcast Answer Man" Ravenscraft, BillChete, and The /Filmcast, I have continued my film criticism in the audio podcasting arena, and I currently make a large part of my income through podcasting.
So, as I sadly reflect on Roger Ebert's death today, I realize that where I stand in my professional life and even in my hobbies is undeniably due to his work and inspiration. Thank you, Roger, for everything you did for me, without even knowing it. You will be sorely missed.